Vizzy Hard Seltzer already stands out on shelves with its signature orange packaging. Now it's upping the ante with limited-edition packaging in key markets that celebrate Pride Month.
Created in partnership with the Human Rights Campaign, Vizzy's papaya passionfruit hard seltzer will be sold in slim cans featuring seven vibrant colors and text that reads: "Love Your Identity, Live Past Labels."
"What we love about this packaging is that it goes beyond the standard rainbow packaging you see this time of year. Vizzy has always been very different – we're bold, we're orange, we stand out – and we wanted our Pride packaging to do the same thing," says Katie Powell, associate marketing manager for Vizzy. "We wanted something that had meaning and would resonate with LGBTQ+ individuals and allies."
The limited-edition Pride packaging is available in dozens of markets, including Chicago, Denver and Dallas. Consumers can use Vizzy's product locator to see if it's available in their market.
Vizzy has sought to make inroads in the LGBTQ+ community since its debut last spring. Its efforts include a three-year partnership and $1 million donation to the Human Rights Campaign, or HRC, the nation's largest LGBTQ+ advocacy organization.
Molson Coors Beverage Company has long been a supporter of HRC. It has supported events, including its annual National Dinner, and has notched a perfect score on HRC's Corporate Equality Index for 18 years and running.
"Vizzy is a strong advocate for the LGBTQ+ community and a brand that champions the community 365 days a year, not just during Pride," Powell says.
To that end, Vizzy has established the Vizzy Live Proudly Registry, which may be the first gift registry created specifically for transgender people. Vizzy designed its Vizzy Live Proudly Registry to allow people in the trans, queer and nonbinary communities, to curate a list of items to aid them in their transition. The list can be shared with friends and allies who can donate or purchase items on their behalf.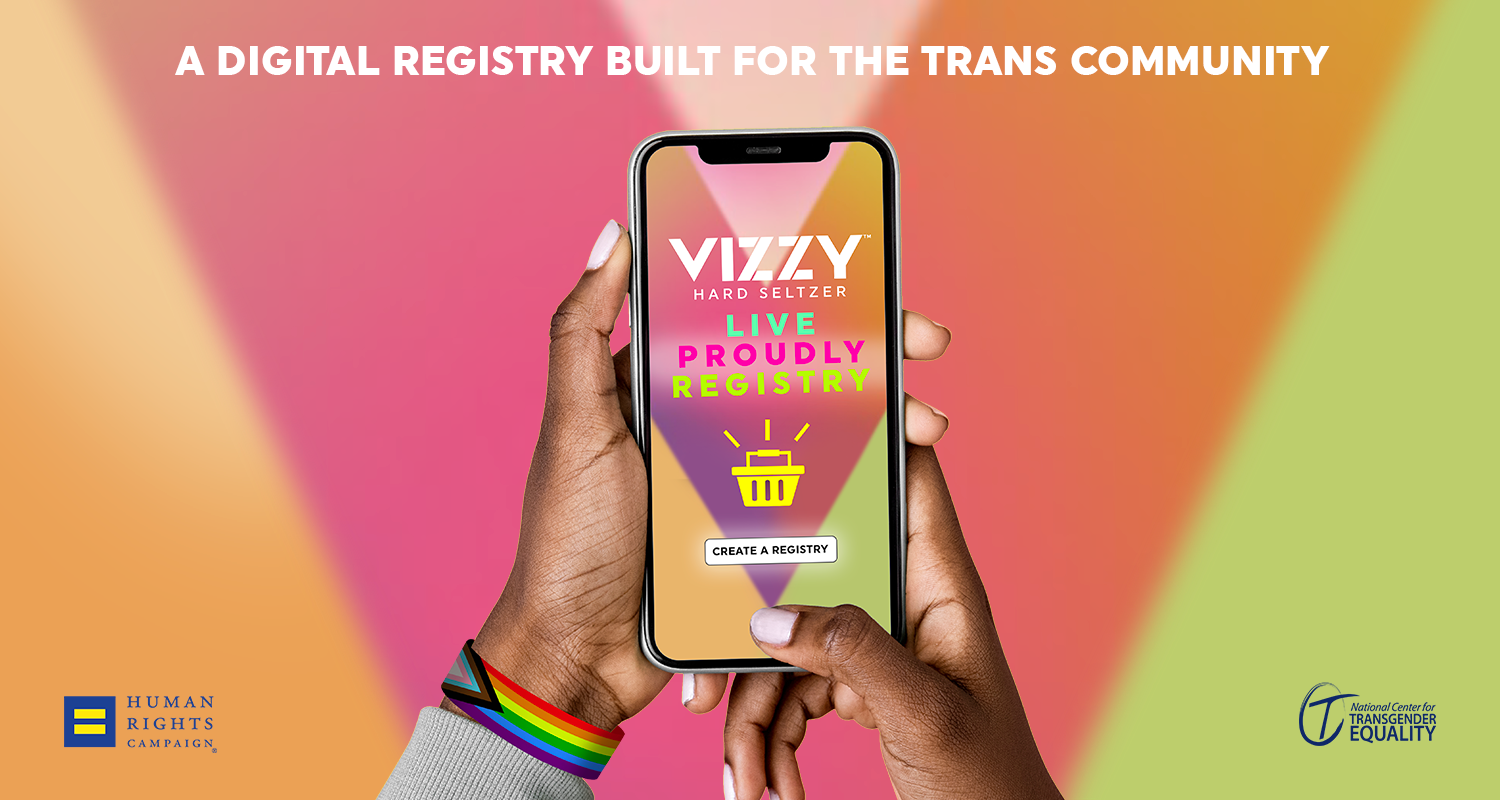 "The Live Proudly Registry was created to celebrate and affirm the trans and non-binary communities as they journey towards becoming their true selves," Powell says. "Our hope with this platform is to shine a light on this community and celebrate people as they are."
Vizzy partnered with four trans- and queer-owned businesses:
As part of the campaign, Vizzy also will randomly select 50 participants who will receive $500 toward the purchase of items on their registry.
Vizzy is working with well-known trans actors and activists Carmen Carrera and Angelica Ross on the campaign. It's also donated $25,000 to the National Center for Transgender Equality, an organization that advocates to change policies and society to increase understanding and acceptance of transgender people, who lack many legal protections and are subject to harassment, discrimination and poverty.
The announcements follow Vizzy's work in Canada, where the brand is working with drag icon Queen Priyanka to support LGBTQ+ artists affected by the pandemic. Together they launched Vizzy's first Canadian national campaign, the #Vizzybility Project, which will provide grants and mentorship to four Canadian LGBTQ+ artists, part of a $1 million investment in LGBTQ+ support and visibility.
The #Vizzybility Project will award one artist from each Canadian region with grants valued at $35,000, which includes one-on-one mentorship with Queen Priyanka and national visibility for their work. To apply, artists can visit Vizzy's website and upload a 90-second video, explaining who they are, what their art is about and how they would use the grant to finish a project. The deadline for applications is June 14.
"We're proud to support the LGBTQ+ community from a grassroots perspective," says Maddie Gillmeister, brand manager for Vizzy in Canada. "Together, with Queen Priyanka and the Queer Collective, we can't wait to bring more visibility to exciting underrepresented artists across Canada."