Boughs of holly have nothing on Miller Lite's holiday plans.
The beer brand's famous holiday knitwear is back this winter, as are its uber-popular Beernaments, which debuted last year and quickly sold out. And new this year is the ultimate Christmas tree accessory: Miller Lite's new Christmas Tree Keg Stand.
A fully functional tree stand that fits around a quarter-barrel keg, its sides are festooned with the Miller Lite logo, and its design makes it seem as if beer is being poured from the tree, says Sarah Showak, associate marketing manager for Miller Lite.
"It's playing off the success of Beernaments, making beer part of the holiday," she says. "Miller Lite stands for great taste and celebrating with people. The Keg Stand brings beer front and center to some of the year's most special moments."
Starting Nov. 10, the Miller Lite limited-edition Christmas Tree Keg Stand can be purchased online for $49.99.
Miller Lite's annual holiday merch release gives it a recognizable platform as friends and family gather, whether in cozy settings at home or parties. It's also a way to ensure Miller Lite is relevant for consumers during a time of year when liquor sales rise, often to the detriment of beer. This year, the brand is looking to increase drinkers' consideration through in-store displays that feature its popular Beernaments.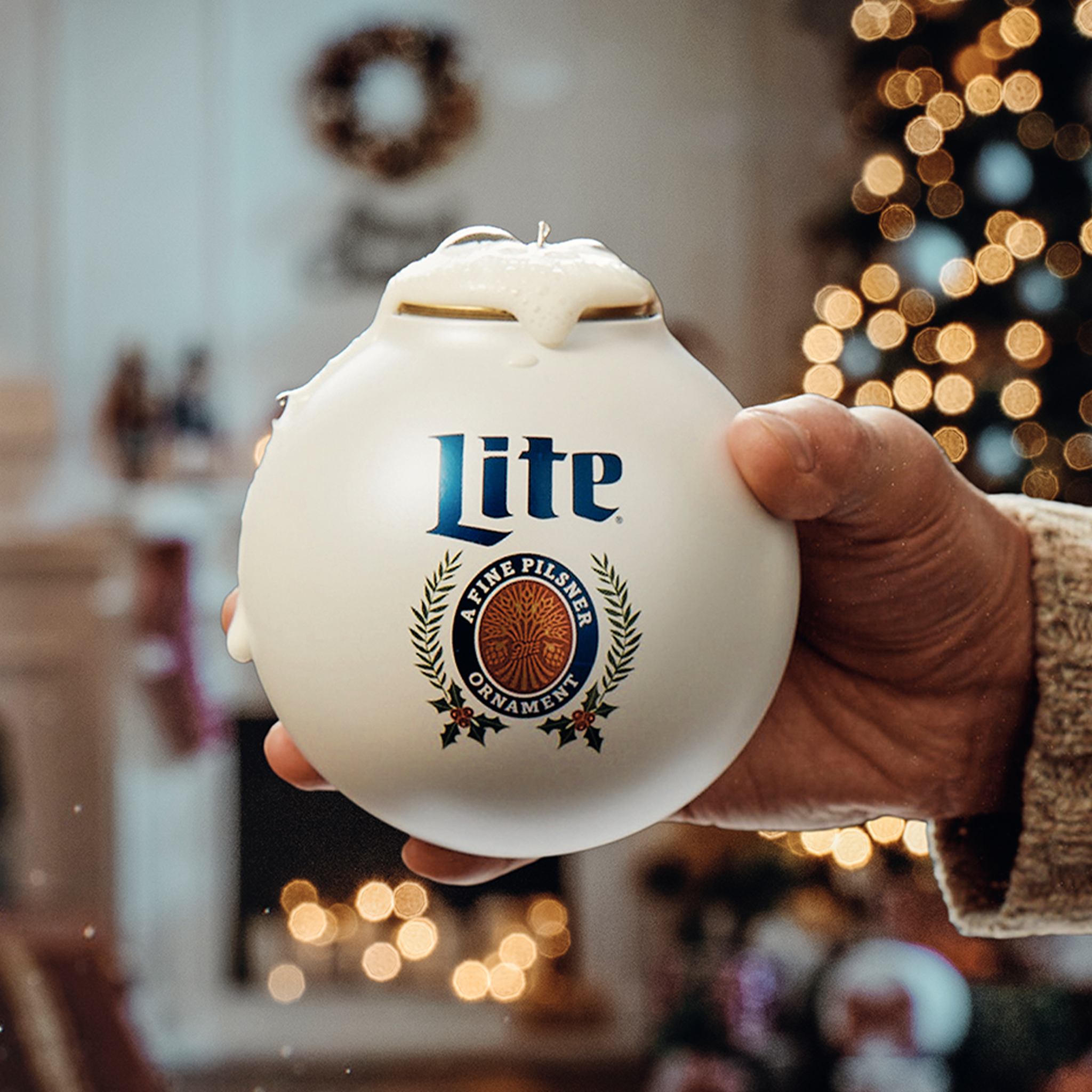 Last year's Beernaments were a hot ticket, with each batch of the limited-edition drinkable ornaments selling out almost immediately upon release. In response, the brand this year has bumped up its inventory and increased the branded ornaments' capacity to fit 12-ounce standard cans.
"Beernaments really resonated with peopled because they're fun and simple. Decorating a tree with your friends or family is really the epitome of Miller Time, and Beernaments are front and center on the tree," Showak says.
Six-packs can be purchased online for $35.50. A new batch will be released each week through Dec. 6.
Also back this year are Miller Lite-branded holiday knitwear. Joining the traditional "ugly" holiday sweater are beanies, socks, tap handle sweaters and a polo shirt with snowflake, trees and hops patterns.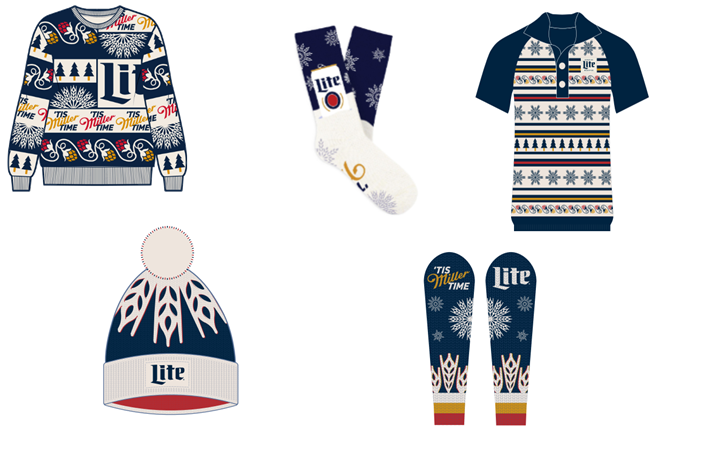 "It's hard to call these ugly sweaters; they're actually very cool," Showak says. "Miller Lite's been doing this for six years, and every year the collection gets better."
The new holiday gear comes as Miller Lite wrapped up an impressive third quarter, where it grew net sales revenue by double digits, while growing dollar share in the premium lights category, Molson Coors CEO Gavin Hattersley told analysts yesterday during the company's quarterly earnings call.
"We have fantastic momentum behind Miller Lite right now," he said.