With summer's unofficial kickoff approaching, Coors Light is planting its flag as "The Official Beer of Everything Unofficial."
Weddings? Graduations? Fourth of July? All official summer events.
Relaxing after mowing the lawn? Snagging a seat behind home plate? It's those less-heralded, but just as gratifying, moments that Coors Light is celebrating as the weather warms.
"We're celebrating those unofficial moments that make summer the best time of year," says Lindsey Wesloski, associate marketing manager for Coors Light. "Summer is packed with these official events that can be stressful and very unchill, but the in-between, unofficial moments bring chill and refresh spirits."
The brand has released a new 15-second ad on must-see TV and across digital and social media channels commemorating those moments, like unwinding in an inflatable pool, borrowing seats at a ballgame without anyone noticing, basking in the chill of a beer cooler.
"The best things in summer are unofficial," a narrator says. The campaign is also supported by traditional out-of-home advertising and tie-ins with influencers.
The ad launches as Coors Light's new summer packaging hits shelves, putting a new twist on its successful "Made to Chill" campaign that's propelled the brand to share growth since it debuted two years ago. The brand's primary cans are emblazoned with "Chill" and are designed to look like they're encrusted with ice. There are six different cans, each celebrating a chill part of summer: days, views, jams, nights, trips and vibes.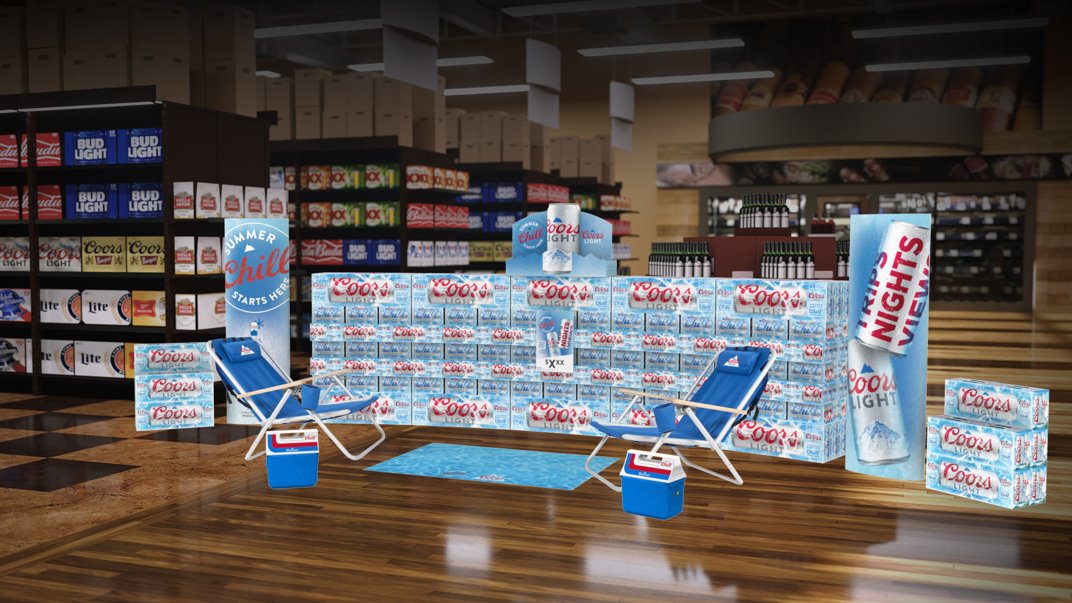 The secondary packaging shows ice-cold large Coors Light cans that feature the brand's script and "Chill" in big letters.
"The summer packaging is always popular, and this year we expect to see lots of selfies on social media," Wesloski says. "The secondary packaging makes for easy retail theater. It can be stacked to create incredible displays that immediately cue refreshment to the consumer."
QR codes located on both the primary and secondary packaging unlock experiences and the chance to win prizes for consumers all summer. The brand led off with events at bars across the country to celebrate the unofficial start of summer.
"This is one of the strongest lineups for summer that we've had in years," says Wesloski. "From on-premise localization efforts to national TV, we've covered all the bases and Coors Light is bringing the chill to the hottest season of the year."
Meanwhile, Coors Light grew its revenue in the first quarter; along with Miller Lite, the pair of powerhouses generated their best combined industry share performance in five years. Meanwhile, the brand has grown its share of the premium lights segment 0.4 points, according to IRI multi-outlet and convenience store data for the four weeks that ended May 22.
"People want refreshment. They want a moment to chill," Wesloski says. "That's what Coors Light is all about and that's why drinkers keep coming back. We plan to keep this momentum going throughout summer."