Last week on a tour stop in Colorado, one of the hottest acts in music paid a special visit to one of the largest breweries on earth.
Coors Light superfans and pop superstars Jonas Brothers spent a few hours at the Coors brewery in Golden, Colo., helping to make a limited-edition batch of Coors Light that will be available for purchase in mid-November in select markets.
Kevin, Joe and Nick Jonas teamed up with brewers and Coors brothers David and Peter to help mash, sparge, pitch yeast and add hops to the brew, which will be lagered, then carbonated and packaged in special bottles with custom labels featuring photos of the Jonas Brothers.
Six-packs of the limited-edition bottles are slated to be sold in five markets: Boston, Chicago, Philadelphia, Tampa, Fla., and Nashville, Tenn. They will be priced in-line with Coors Light.
"We are long-time fans of Coors Light and were really excited to be invited out to the Coors brewery," Jonas Brothers said in a statement. "We can't wait for our fans to try the limited edition six-packs of Coors Light that we helped to brew. And it's pretty amazing that our faces are on the iconic mountains on the bottle."
The collaboration is the latest rendezvous between Coors Light and Jonas Brothers, which have a long and well-documented love affair. Over the years, it has not been uncommon for any of the brothers to be pictured holding Coors Light, and the beer makes frequent cameos in their Instagram feeds. This year alone, Joe Jonas had Coors Light bottles with custom labels at his European wedding. And a bottle of Coors Light and Kevin Jonas shared a moment in the music video for the band's hit "Only Human."
The brothers' Golden brewery visit, which came on the same day of their show at Denver's Pepsi Center, "was an awesome day for everyone, and we were so excited to have them come out and see the place and be part of the whole process of learning how to brew," says Katie Lombardi, marketing manager for Coors Light. "The JoBros have been big fans of Coors Light for a long time, and it was really cool to have them in Golden."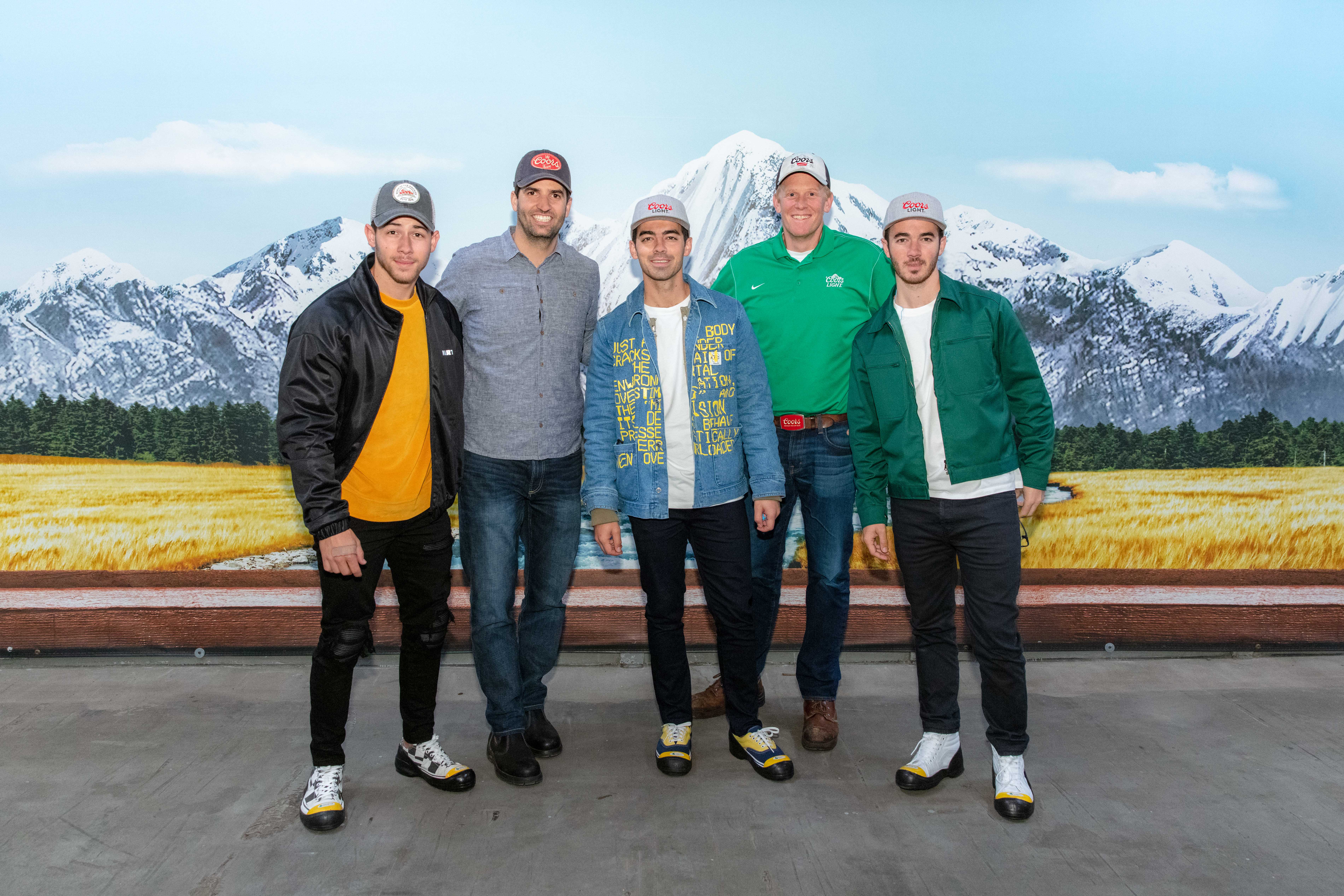 They brewed alongside and got a guided tour of the brewery from Peter J. Coors, quality director for the Golden brewery, and David Coors, president of AC Golden Brewing, a craft brewery housed inside the Golden brewery.
"It was amazing to see their reaction when they walked onto the brewery floor," says David Coors, who was also a guest of the band at the Oct. 1 show, which was part of its Happiness Begins Tour. "It was pure, genuine excitement."
Even better, he says, is that the brothers are genuine fans of the brand. "There's nothing more powerful than authentic fans, and for global superstars to support the brand because they truly love it is as good as it gets."