Early in 2013, Miller Lite teamed up with Ford to offer those who pledge to become a designated driver the chance to win a brand-new 2014 Ford Fusion. After nine months and an entire NASCAR season, we found a winner. It was up to my colleague (Kylie Burness) and I to award this lucky individual with his or her new wheels. We arrived in Big Rapids, Mich., on a cold Sunday afternoon to award local resident Michelle Rogers her prize. However, as many of you know, nothing can be that simple. We were greeted by eight inches of snow with no sign of a change in the weather. There were times where we weren't sure where the snow ended and the road began. We knew we had a challenge in front of us if we were going to pull this event off.
Quick thinking from everyone resulted in us hosting a surprise party for Michelle and about 20 of her friends and family. Michelle knew she was getting a car, but what she didn't know is that the 2012 NASCAR Sprint Cup champion, driver of the No. 2 Miller Lite Ford Fusion and Michigan native, Brad Keselowski had flown in from Charlotte, N.C. to give her the keys.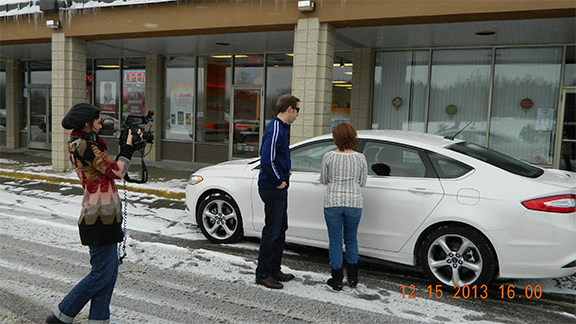 Friends, family and onlookers took photos throughout the afternoon and shared in the awesome experience. Kylie and I were thrilled to be a part of a moment that Michelle will remember for the rest of her life.  It is pretty easy to get, as they say, jaded, working in the beer business. It's an industry where once-in-a-lifetime experiences are anything but. Before I went to the event that morning, I spoke to a dear friend about the day I had ahead of me and he told me, "you get to go make someone's day and this time of year, that is pretty special."
Overall, the event was a great success and everyone left with a giant smile on their face; none bigger than the one plastered on Michelle's face. Can you blame her? Who doesn't want a new car for the holiday season? A huge thanks goes out to everyone involved in the process including Babb Ford Sales, Penske Racing and of course, Brad Keselowski.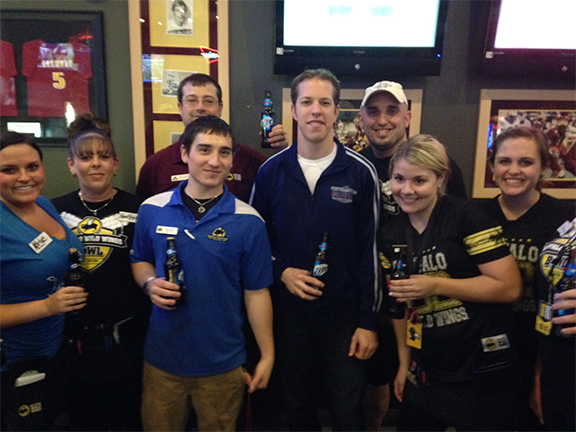 Northern Michigan's 9&10 News joined us to congratulate Michelle on her new car. Click here to view the segment.
Now it wouldn't be right to tell you about this program and NOT talk about why we are here in the first place—and that is responsibility. As you enjoy a few beers this holiday season, we encourage you to remember that great beer deserves great responsibility and always designate a driver and think ahead! Stay the night at a friend's house or call a cab.  Just remember that Miller Lite reminds you to always plan ahead for a safe celebration. Happy holidays!