We had the opportunity to show our friends in the City of Brotherly Love a little extra love to help kick off the Philadelphia Eagles regular season this past week—and they returned the feeling!
Working with our Northeast Field Marketing Manager Melissa Riggs and Muller Distributing, we brought our signature Free Rides program to the Eagles home opener against the San Diego Chargers. While the Eagles lost in a heartbreaker, fans walked away with a lift courtesy of Miller Lite. It was an amazing partnership topped off by our media partners over at Titan, who threw in an additional space available bonus on their Southeastern Pennsylvania Transportation Authority (SEPTA) digital platforms during the week of the free ride AND hosted a tailgate party in honor of the Free Rides program. How cool are those guys?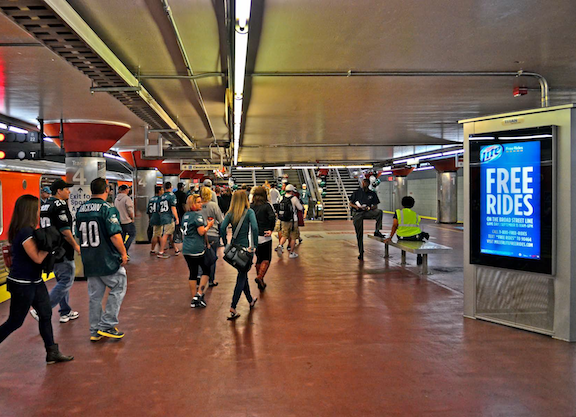 Even linebacker Connor Barwin showed the program some love when he donned a SEPTA Free Rides shirt in the locker room. Unfortunately, I didn't get locker room access for this photo, but it showed up on the Daily Times' Eagles Blogger Room. Talk about love!
The SEPTA commuter train runs all over the city, but Miller Lite provided free rides on the Broad Street line to and from Lincoln Financial Field for the September 15 game. From 10 a.m. to 6 p.m., the gates were open and fans could ride the train for free.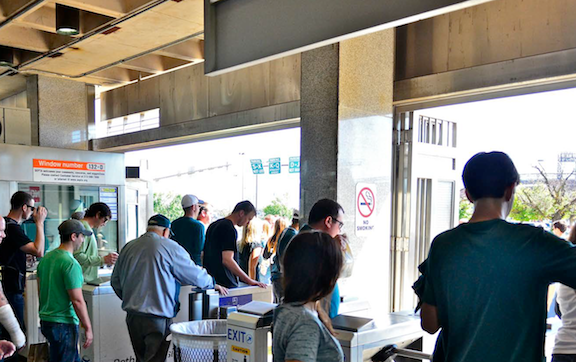 They showed up in massive quantities. Preliminary reports indicate that while ridership is heavy for Eagles games, Titan estimated the AT&T Station at the stadium saw one of the largest turnouts since the October 2006 Eagles-Cowboys game. You remember that game, right? C'mon, people! That was the game where wide receiver Terrell Owens returned to Philadelphia as a Cowboy. It was the game of the season, where the Eagles ended their losing streak to the Cowboys. Epic!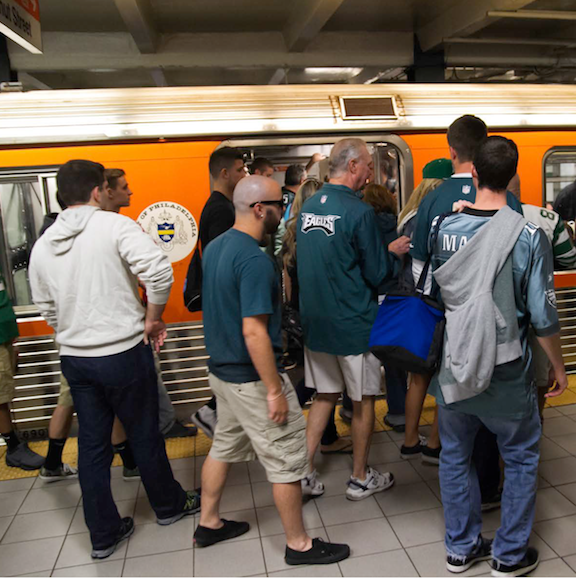 Local police said they could not predict if the Philadelphia free rides would reduce drunk driving after the game, but they appreciated any effort to provide fans with an alternative way to get home.
Let's face it, Eagles fans are famous—they bleed green. What about Silver Linings Playbook? Need I say more? These folks practically invented the tailgate in that south lot. But as tough as they are on the outside, Miller Lite Free Rides was a natural fit for the City of Brotherly Love.
What better opportunity to foster the bonds of friendship than with a free ride?