Ask anyone at MillerCoors what's the best thing about their job and you'll hear it again and again — the people.
Though when Justin Bailey says it, it's a little tough to believe him.
Because the perks of his job are particularly mind-blowing.
To be sure, MillerCoors offers all employees sweet extras like beer education, homebrew classes and yes, some free beer.
But Justin works in sports marketing, which comes with even more perks. A few of his career highlights:
Taking a sip of Molson Canadian out of the Stanley Cup after the Detroit Red Wings won it all in 2008.
Throwing out the first pitch at a Detroit Tigers game. ("It's borderline if it was a strike or not, but I didn't bounce it and threw it from the rubber," he says with a laugh.)
Putting the championship pilsner glass onstage when Brad Keselowski, driver of the No. 2 Miller Lite car, won the first NASCAR Cup Series championship for MillerCoors and Team Penske, at Homestead-Miami Speedway in 2012.
"Sitting there in Victory Lane, cracking a beer with confetti all around and being a part of that moment was special — that's something I'll remember forever," he says.
Even with those once-in-a-lifetime experiences, Justin says the best part of his job is the people he works with in the beer industry he loves.
"The people here are so passionate, so competitive, outgoing and fun." he says. "It's really energizing to all be on the same team headed to the same goal."
Spoken like a true sports fan. We sat down with Justin to find out how he got to be, well, him, and to get some tips on breaking into sports marketing (and beer).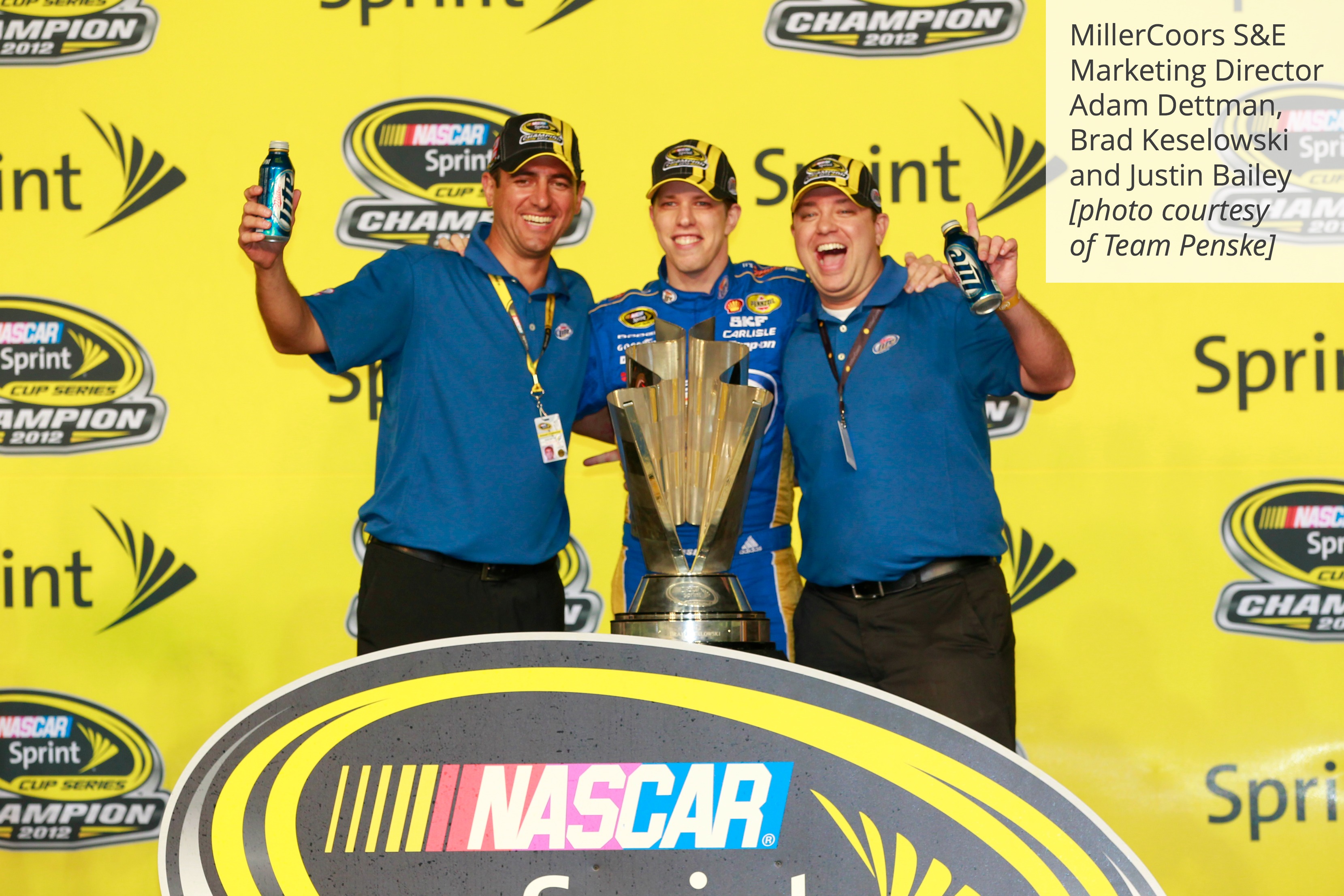 Team S&E
Justin is one of just six people in the MillerCoors sports and entertainment marketing department.
Based at company headquarters in Chicago, the S&E team identifies, plans and executes sports partnerships that are the right fit for the business.
That is, they create opportunities to sell beer.
Which can be a challenge because if Justin's job has a downside, it's that sports alliances are expensive. And we're not the biggest player in the game.
"They may have a bigger bag of money than us across the street, but we will find ways to be more innovative," says Justin, a MillerCoors S&E marketing manager.
Sports marketing programs can include just about everyone in the beer business — our beer brand teams, field marketers, retailers, beer distributors, event agencies and other partners. Sometimes it means working with our breweries on special packaging ("also really expensive," Justin says).
And it of course includes the sports teams. These days Justin is in charge of hockey, motorsports, combat sports (boxing, wrestling, MMA), endurance sports and obstacle courses, extreme sports, hunting, fishing, rugby, and veterans and military teams. Also: e-sports, aka competitive video gaming.
"E-sports is growing fast and there are so many ways in — we're really trying to get our hands around the right opportunities," he says. "We're active in that space, but we expect it to become bigger and bigger."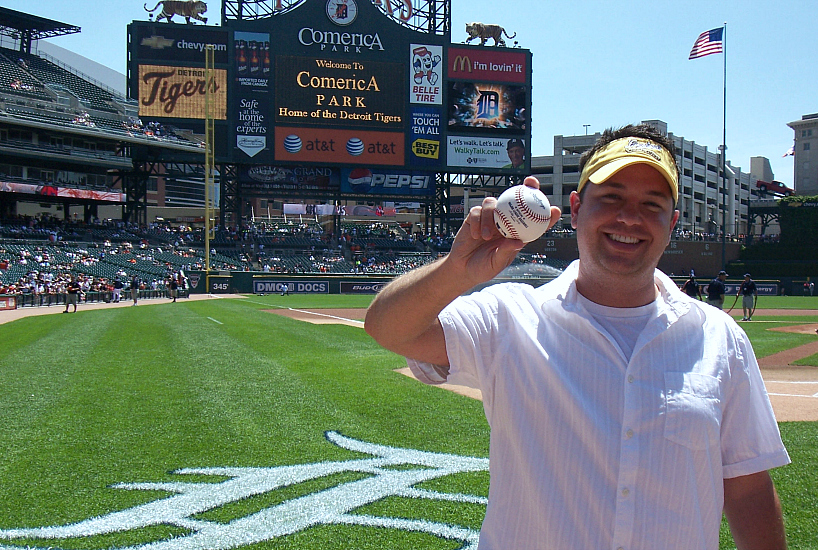 Meetings and travel
Though sports marketing at MillerCoors is an exciting place to be, most days don't include throwing out the first pitch at a baseball game.
For the record, Justin was working when he got the call up from Detroit, a Miller Lite partner team. Whoever was scheduled to do the honors couldn't make it at the last minute.
Justin explains: "I'd been talking with one of the guys from the team and mentioned that it'd be really cool to throw out the first pitch someday. Later he shot me a text: 'Hey man, are you ready? How 'bout now?'"
No, most days are packed with meetings. Because the S&E team is the primary point of contact for everyone involved in planning and executing a sports deal on behalf of your favorite beer.
"As we're putting together next year's program for a particular sport we're in the middle of executing this year's program — if it's even started," he says. "That means seeing how the company is feeling, getting feedback from distributors and retailers, and pivoting if necessary."
Pretty intense. Plus there's the travel.
Like for NASCAR — one of the longest seasons in professional sports.
Coors Light is the Official Beer of NASCAR and sponsors the Coors Light Pole Award for the Monster Energy NASCAR Cup Series and Xfinity Series. The Keystone Light Pole Award goes to the pole position winner of the NASCAR Camping World Truck Series.
"We get to go to a lot of the races, but when we're there we're working," he says. "We make sure that all our employees, distributor employees, key customers and consumer winners are really getting the full experience."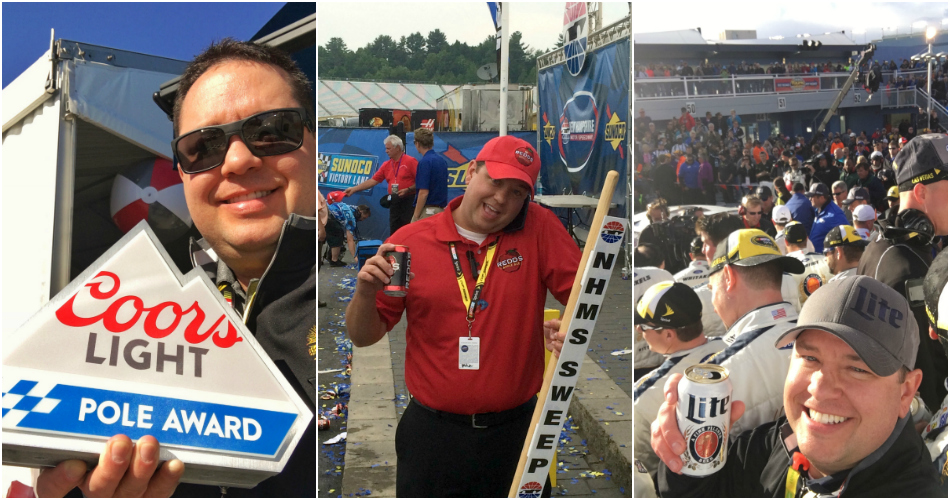 Career in beer
Justin may have landed a dream job, but it definitely took work to get there.
His career in beer started with an internship at Miller Brewing Co. in Milwaukee (now part of MillerCoors) during his senior year at the University of Wisconsin-Whitewater.
He made a ton of connections, including an important one with folks at a promotional agency working on the Miller business. After college that agency hired him to work as an on-site rep at Miller.
"I was there almost four years working every day at Miller, so I got a great grounding in beer," Justin says. "I loved the business, loved the people. I went on to work in other marketing roles in other industries, but I always wanted to come back to beer."
He built up his skills at other companies and stayed in touch with his Miller contacts.
In 2007, he was hired by Miller as a field marketing manager in Detroit. He gained experience planning and executing marketing strategies, especially around our Detroit alliances in baseball, hockey and motorsports.
At night he went to University of Michigan's Ross School of Business to earn his MBA. ("It kind of stunk, to be honest with you!" he says of juggling school and a full-time job.)
And in 2011 he came to MillerCoors HQ to work in brand marketing before taking on his current role in sports.
Sports marketing strategy
His S&E teammates came to the company from sports teams, sports and marketing agencies, and the beer business.
But their résumés have one thing in common.
"Everybody on our team has agency background," he says. "We also work closely with agencies to help plan and execute sports programs, so agency experience is key."
And if you want to get into sports marketing, Justin has a couple of other tips:
A big-name team isn't your only option. "Look at minor leagues, facilities, and agencies running sports partnerships and events," he says. "The experiences and the lessons that you learn there will translate."
Keep at it. "People want to work in sports, so you're going to hear a lot of noes," he says. Work your network, try to get experience, volunteer and pitch in.
People also want to work in beer, so Justin knows he's got an especially good thing going.
"I work in sports for a beer company — it doesn't get any better than that."
To explore your own career in beer, go to MillerCoors.com/Careers (for the vast majority of jobs you must be 21+).
---
Homebrew champ
One more career highlight for Justin Bailey — he and his sports and entertainment teammates are the reigning MillerCoors employee homebrewing champions. Every year MillerCoors hosts a homebrew contest at Chicago HQ, where entries are judged by a panel of pro brewers, beer bloggers and members of the media. S&E won the title with Bloody Great Wit — a Belgian-style witbier brewed with blood orange and wildflower honey. MillerCoors Master Cicerone Jason Pratt said it was "extremely well-balanced," Justin says proudly.