The Molson Coors brewery in Moncton, New Brunswick, has long made beers like Molson Canadian and Coors Light, which are known across Canada.
Now the Moncton brewery is producing a new craft brand for the Maritime provinces to call their own, Fine Company. The new brand's beers began hitting shelves this week in two styles, Fine Company Blonde Lager and Fine Company Session IPA.
Distributed in New Brunswick, Nova Scotia and Prince Edward Island, the beers are inspired by the friendly personalities found across the Maritime provinces, embodied by the charming characters on the packaging (Henry representing the lager and Margaret on the IPA), says James Hall, senior manager of innovation for Six Pints Specialty Beer Company, Molson Coors Beverage Company's Canadian craft division.
Fine Company's beers are meant to showcase the skills of the Molson Coors brewers who have until now concentrated on lagers popular nationwide, he says.
"These guys love to brew Molson Canadian and Coors Light, but until now they haven't had anything to call their own," Hall says. "They wanted to start with styles that were easy drinking and appreciated by all. There's a reason they are two of the top styles in craft beer."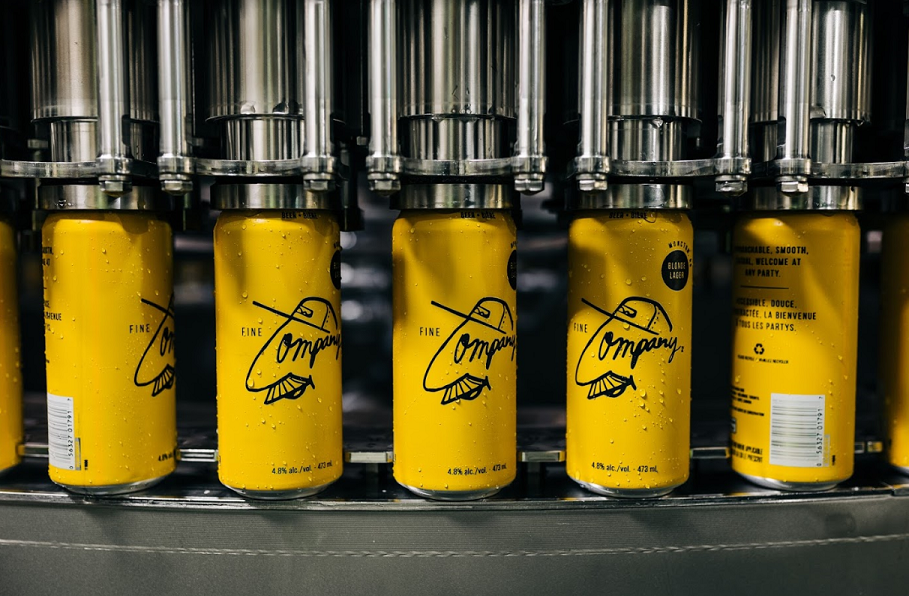 IPA has continued to dominate craft sales in North America, including across the Maritimes, growing more than 21% in New Brunswick & more than 10% in Nova Scotia over the last 12 months in select retailers, according to Beer Canada data. However, in recent years, more craft breweries are tapping into the globe's most popular style, lager, which accounts for about 45% of North American sales volume, according to Nielsen data.
Hall says Fine Company's blonde lager and IPA will serve to recruit new craft drinkers in the Maritimes who would typically default to traditional premium lagers.
"We are creating those gateway, easy-drinking styles so there is an opportunity to introduce someone to craft for the first time," he says.
Fine Company Blonde Lager, with 4.8% alcohol by volume, has a malty flavor that's countered by a slight peppery kick from Saaz hops. Its moderately sweet, malty aroma has slight hints of caramel and bread. It has a light-textured mouthfeel and a long, pleasing finish with the undertone of grain.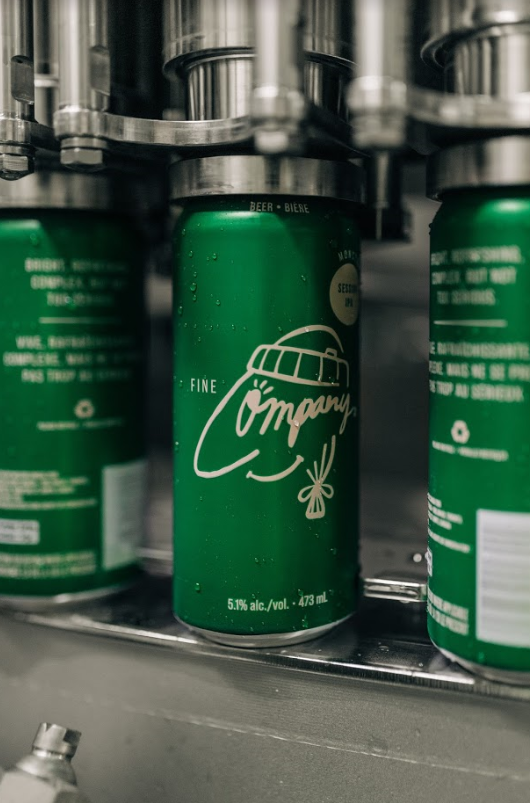 The 5.1%-ABV Fine Company Session IPA has a rich pale-amber haze appearance with aromas of tropical fruits like mango, pineapple and orange. At 45 IBU, it brings flavors of fruity hops balanced against sweet caramel malt, a slightly dry mouthfeel with a hint of acidity and moderate bitterness.
Fine Company is available in four-packs of 473-ml cans and 473-ml singles at retail locations across the three provinces, where the brand expects to catch consumers' eyes with its bright and playful packaging. Each beer's packaging is associated with its characteristics. For instance, the Blonde Lager's yellow packaging matches the color of the lager, while the Session IPA's green hue brings hops to mind.
"We really wanted to have fun with these brands. They do not take themselves too seriously," Hall says. "You take one look at Henry and his mustache, and if you're not smiling, we're not doing our job."
Fine Company also has plans to move into bars and restaurants across the Maritimes.
The Maritime provinces have seen a resurgence in recent years, with a growing millennial population attracted to a growing economy and relatively low cost of living. Five cities – Halifax; Fredericton, St. John's and Moncton, New Brunswick; and Charlottetown, Prince Edward Island – are among the top 50 Canadian cities for millennials, according to one real estate survey.
The area has also seen a growing demand for craft beer brands which has only been fueled by the "Support Local" movements, a trending outcome of COVID-19, Hall says.
"It felt like now or never," he says.
Fine Company is Six Pints' latest effort at broadening Canadians' exposure to craft beer. It already counts four craft breweries coast-to-coast in its portfolio: Vancouver's Granville Island Brewing; Creemore Springs in Creemore, Ontario; Trou du Diable in Shawnigan, Quebec; and Brasseur de Montreal.
Last month, Six Pints also signed a deal with Belgian craft brewer Brouwerij Duvel Moortgat to distribute its collection of European beers across most of Canada.
While Fine Company is debuting with two beers with their own unique Maritime personalities: "We've got more than a couple of friends," Hall says. "We want to expand the family in 2021. Craft consumers want variety, and I think this brand becomes more and more interesting with each new character we add to the family."