Vizzy Hard Seltzer's got a hit on its hands.
Its Orange Cream Pop flavor has already sold more than $5.7 million of product, according to Circana all-outlet data for the 13 weeks that ended July 30. It's given the Vizzy franchise a boost, contributing to the franchise's 64% dollar sales growth versus the prior 13-week period, Circana data show.
The limited-time offering has succeeded, in part, by playing off legal-age drinkers' taste for nostalgia, says Rose Bleakley, associate marketing manager for Vizzy.
"People remember getting orange cream pops from the neighborhood ice-cream truck. That flavor and smell bring back a lot of great summertime memories," she says, noting more than 76% of consumers ages 22 to 55 reporting they love things that remind them of the past, according to Mintel.
It's coincided with more momentum for Vizzy, which introduced colorful new packaging beginning in the spring. Its dollar share has grown by a third over the last 13 weeks versus the period that ended April 30, according to Circana. For the 13 weeks that ended July 30, dollar sales, excluding Orange Cream Pop,are outpacing the segment, Circana data show. Meanwhile, Vizzy was second fastest-growing hard seltzer from a major brewer in U.S. foods in the second quarter, behind Topo Chico Hard Seltzer.
The new look, which included a reshuffled lineup of dual-flavored hard seltzers in colorful packaging that stands out on shelves, helped drive sales, Bleakley said. And Vizzy's ongoing partnership with the Professional Pickleball Association has put it right in the middle of America's fastest-growing sport.
"Overall, Vizzy's been gaining some great momentum this summer. The success of Orange Cream Pop has been the cherry on top," she says.
Vizzy, Hardscoop team up for frozen treat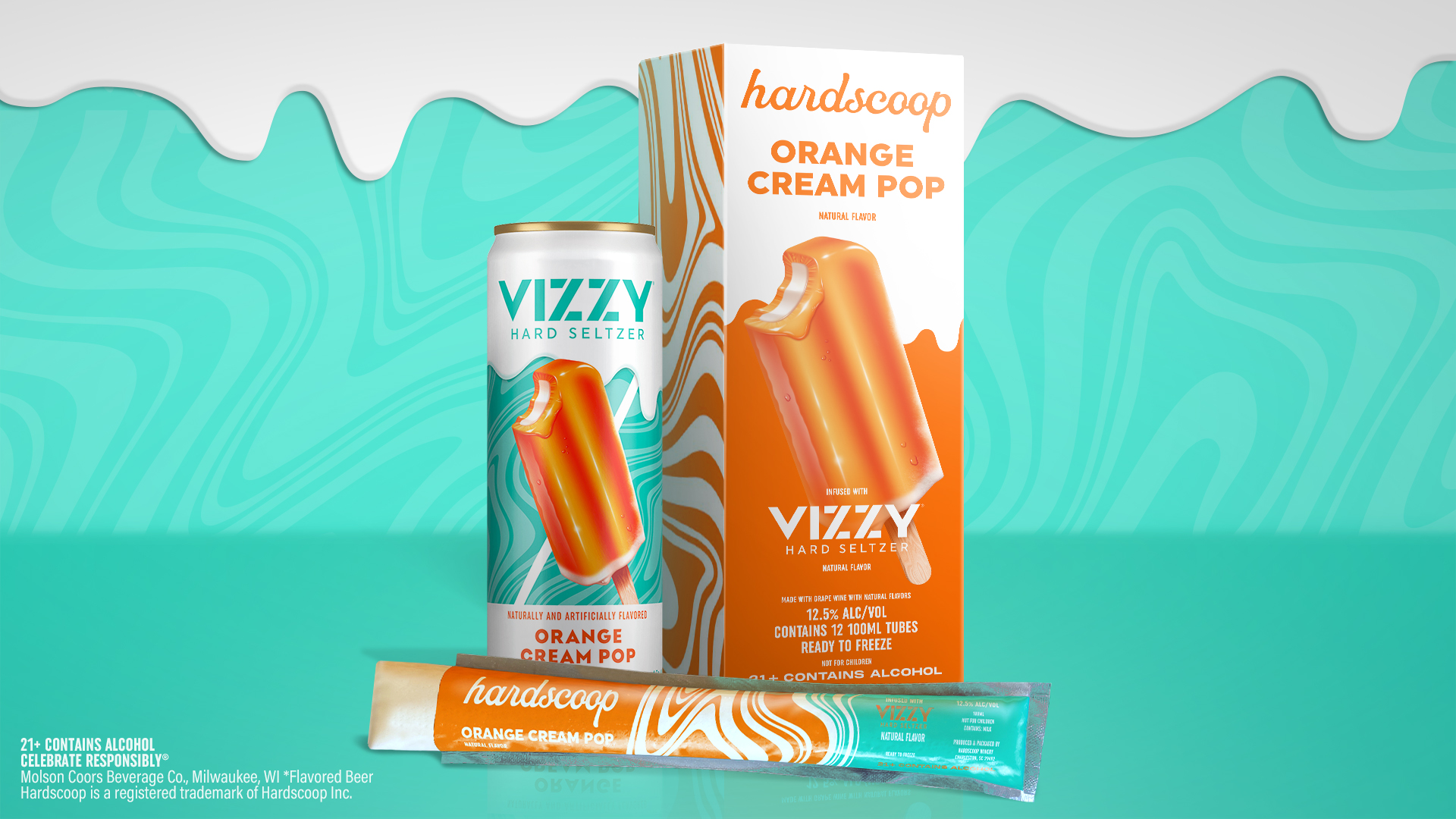 Vizzy is teaming up with alcoholic ice-cream maker Hardscoop to let fans enjoy Orange Cream Pop flavor in a new way before summer's over.
To celebrate National Creamsicle Day today, Vizzy and Hardscoop are releasing a limited-edition frozen treat infused with Vizzy Orange Cream Pop Hard Seltzer, which legal-age drinkers can buy online.
"People have fallen in love with Orange Cream Pop this summer, so we're excited to give them a way to enjoy it a little differently," Bleakley says.
Six-packs of the creamsicles are available on Hardscoop's website for $24.99 while supplies last. They can be shipped to most U.S. states.