In a summer where face masks play as important a role in daily wardrobes as bathing suits and sandals, brewers are facing a barrage of unknowns during what is traditionally beer's biggest selling season.
Among the unanswered questions: When will bars and restaurants reopen? Will customers feel safe enough to return?
Add in a patchwork of regulations that differ from state to state – even county to county – and nationwide demand for large packs of core brands, and the summer of 2020 is one of the strangest in memory.
But while this summer offers unprecedented changes and challenges, in particular the almost-total evaporation of on-premise sales for most of the spring, brewers say there is no mystery about how they're approaching summer sales this year: Focus on what sells.
"What we've seen over the past 60 days is a consumer shift back into brands that they know and trust," says Jenn Schmid, Molson Coors Beverage Co.'s general manager for sales in Colorado, Wyoming, Montana and Utah. "My focus in the off-premise is pretty simple: Focus on the core portfolio. How do we win with our biggest brands?"
Data show the biggest brands are winning. And they're carrying the industry at a time of immense uncertainty.
Off-premise beer sales, powered by pantry-loading in the early days of stay-at-home orders, have been on fire since the pandemic forced most bars and restaurants to shut their doors. Brewers have posted four-week growth of more than 18% and year-over-year growth of more than 10%, according to Nielsen data through May 30, the most recent information available. While an impressive bright spot for the industry, the off-premise growth is not nearly enough to offset the loss of on-premise sales.
Leading the way are American light lagers such as Miller Lite, Coors Light and Bud Light. These top-selling beers have each posted double-digit growth, with Miller Lite and Coors Light sales up about 14% each over the last four weeks, and 8.7 and 7.4% over the last year, respectively. Sales of Bud Light also have grown 7.6% over the last four weeks and 1% over the last year, according to Nielsen. Hard seltzers, too, are on a torrid run, boosting established brands like White Claw and Truly, as well as differentiated new entrants such as Molson Coors' Vizzy Hard Seltzer.
Leading crafts like Blue Moon's Belgian White and its new Blue Moon LightSky have continued to grow as well, posting growth of more than 30% over the last four weeks and 17.4% over the last year, a rate of growth in the segment second only to New Belgium, according to Nielsen.
With packaged beer sales consistently approaching July 4 levels, resulting in a strain on the nation's aluminum can supply, focusing on the core is a strategy that makes nothing but sense, says Harry Schuhmacher, editor of Beer Business Daily: "Nobody's going to the grocery store to explore."
But they are going to the store, and Memorial Day sales paint a rosy picture for the beer industry, even with the promise of limited on-premise openings. Off-premise beer sales ahead of Memorial Day weekend were up 28% versus 2019, according to IRI data, and the weeks bookending Memorial Day saw a billion dollars in sales, Nielsen reported . What's more, the product is virtually selling itself, Schuhmacher says.
"Major chains (did not discount) beer like they normally would during a Memorial Day weekend. Regional chains are still discounting certain packages, but the major chains don't feel a need to when you're up 20 to 30% with your beer sales," he says.
That large packs of core brands have driven sales is no surprise either to Nigel Tordoff, Molson Coors' chief customer officer. When it was clear the pandemic would change how people consumed beer – at home, in small groups, rather than in bars and restaurants – he says, the beverage maker was able to adjust sales and marketing strategies quickly.
"We brought in a whole host of new consumers that may not have been consuming our brands previously," when they were drinking a broader range of beverages at restaurants and bars, he says.
Molson Coors also is working with on-premise retailers to better understand what the new landscape might look like, where restaurants and bars are trying to balance the health and safety of their staff and guests, a new operational model with reduced capacity and a positive guest experience, Tordoff says.
Inching toward reopening
Those conversations have helped Molson Coors map out solutions for on-premise partners that have questions about how to approach their product mix once they reopen, says Schmid, the Colorado-based general manager. That includes working with them to design the right mix of draft and packaged beer, putting more emphasis on popular brands, like core light lagers, and creating opportunities to engage customers in new ways, like offering interactive table toppers that have QR codes to access a bar's menu online.
Discussions with on-premise accounts have revealed some surprises, says Corinne Christian, Molson Coors' general manager for sales and marketing in Georgia, Alabama and Tennessee. Restaurants in Georgia, where businesses began reopening in May, don't want half barrels, and are asking for quarter barrels instead, for instance.
"That is not something we have historically had a need for in Atlanta," she says.
The question of how to approach keg sales has been touchy for retailers, distributors and brewers. When the pandemic virtually shut down on-premise sales, restaurants and bars were left with untapped inventory. Molson Coors was the first major brewer to offer to buy back kegs at a discounted rate, providing some relief for retailers and distributors. But the supply chain has to consider the specter of another shutdown if coronavirus cases spike again, Schuhmacher says.
"The days of the half barrel are limited, except for the very largest of brands," he says. The situation is even more precarious for smaller craft brewers. "If I were a craft brewer, unless I'm in the top three or four, I'm not sure why I would even make half barrels."
Focusing on limited on-premise offerings will be an important sales strategy moving forward, says Schuhmacher. That likely translates to fewer draft lines and more packaged options of top sellers, reducing the chance of kegged beer going past its prime.
Thirsty consumers
Fueled by mandates reducing bar capacity and consumer fears about whether it's safe to return to their favorite bar or restaurant, it's clear on-premise sales will continue to struggle because of the pandemic – a potential $8 billion hit to the industry, according to an estimate from the National Beer Wholesalers Association. But it's also clear that Americans, once they're given the all clear, are thirsty to return.
Schuhmacher's Business Beer Daily newsletter reported that some Memorial Day weekend on-premise sales in beach towns exceeded 2019 sales. But on-premise sales will continue to be undeniably throttled by continued shutdowns and an almost-certain reduction in capacity to keep customers safe.
"There are going to be ebbs and flows across the nation," says Schuhmacher, who's seen bars in his native Texas turn customers away. "It's going to be very difficult. I think people are eager to go out and drink; I just can't see it as a boon."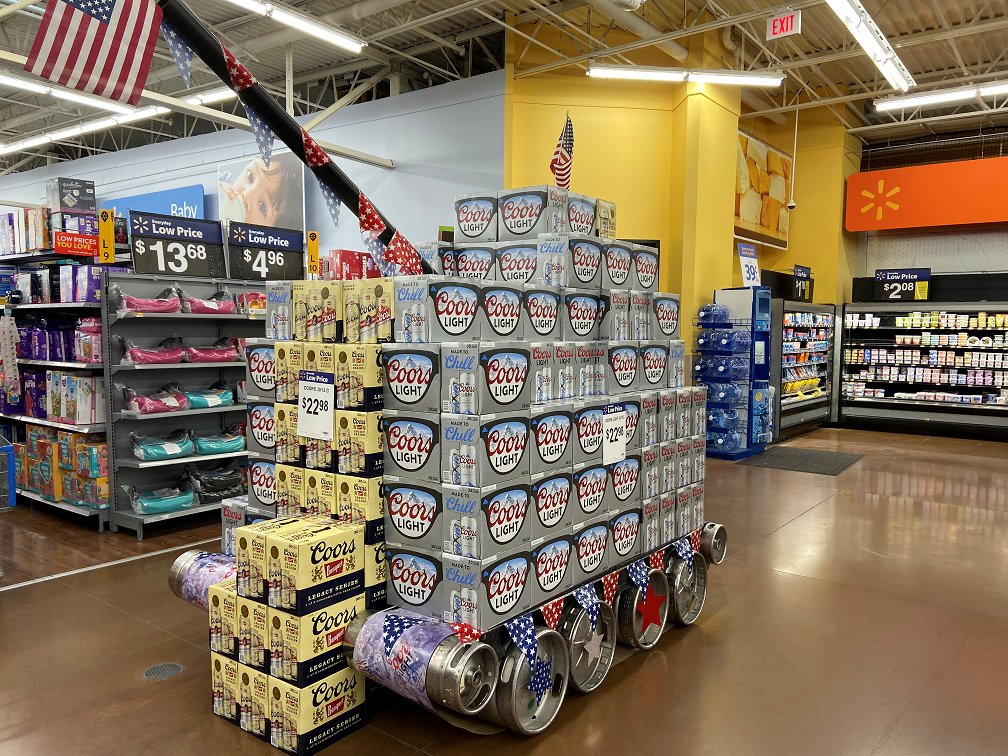 With little consistency among reopenings across the country, beer sellers are forced to take a wait-and-see approach.
"The one luxury we have, being one of the states that's longer out before on-premise opens, we do get the benefit of watching what happens in other markets," says Ryan Tohill, Molson Coors' general manager for sales and marketing in Illinois and Iowa.
And with no promise of an immediate on-premise recovery, no sports, no festivals and no in-person sampling, brewers are shifting more of their focus to digital marketing campaigns and attention-grabbing off-premise displays for summer. To complement those, Tordoff says, Molson Coors is banking on something it thinks it does better than any other company in the industry: relationships with wholesalers and retailers.
"I think one of our distinct strengths is our relationships and, at a time like this, relationships are one of the things that makes a difference," Tordoff says. "Being easy to do business with is a critical part of this."
The key for sales managers like Christian, in the southeast, is to listen closely to the distributors closest to consumers.
"The biggest thing for us at this point is to support our distributors, and our distributors are the ones who have been putting themselves at risk and getting the beer out there and doing everything that has kept our business healthy over the last two months," she says. "Every distributor has a different ask of us, and we need to spend time understanding their asks and supporting them to the best of our ability."
And after that, the beer will flow.