You know that one friend who knows a lot about beer.
Not the annoying one, the friend who really understands beer and loves teaching people about it.
The one who gives the best advice on what beer to pair with sushi or bring to a barbecue. The friend who points out Miller High Life's "bit of hay-like grassiness" is another reason it tastes so good after mowing the lawn.
Hat-tip to MillerCoors trade brewer Daniel Imdieke for that bit of wisdom.
Around here, that's what we call those smart beer friends — trade brewers.
They have a deep understanding of brewing, cider-making, pairing and beer culture. They've also got serious sales and marketing know-how — all of which they use to teach people about beer.
It's a pretty impressive skillset. So what kind of background do we look for when we're hiring a trade brewer? Let's ask the boss … who's pretty impressive himself.
[caption id="attachment_3960" align="alignnone" width="4288"]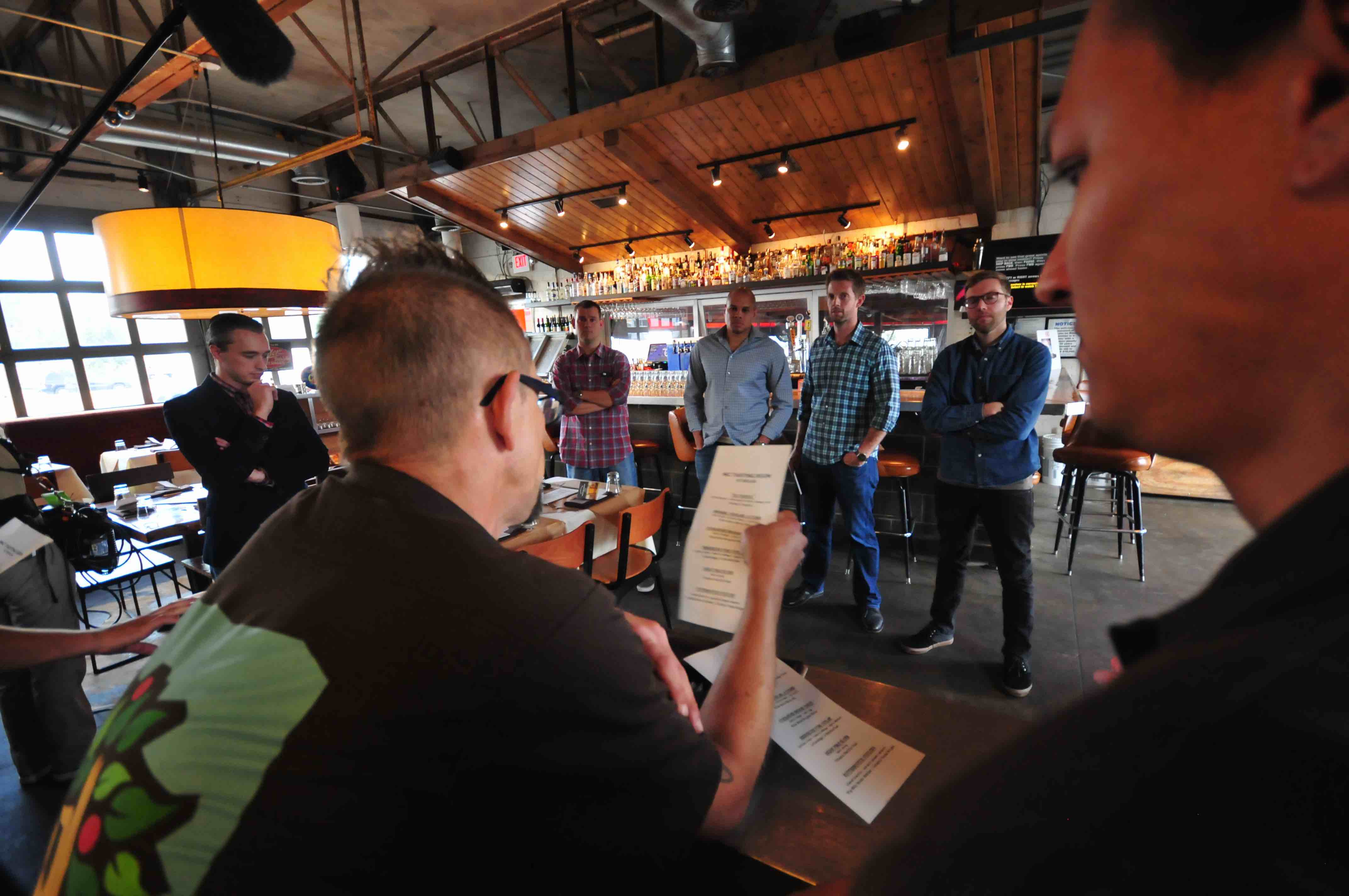 Trade brewers Jason Pratt and Daniel Imdieke (center) before a MillerCoors Tasting Room beer dinner in Dallas. | Photo courtesy of Elliott Muñoz[/caption]
Boss experience
Jason Pratt runs beer education at MillerCoors and is the world's 11th Master Cicerone (there are only 13). He leads a team of five regional trade brewers plus one who works with our national accounts (a new position — hey, Brian Reed!)
Our trade brewers came to us with a range of experience. Some were pro brewers; some were homebrewers, chefs, sommeliers and beer buyers. Jason was a yeast and fermentation scientist.
"It's a unique position to hire for," Jason says. "We look for passionate beer experts with a commercial mindset — people who can use their knowledge of all things beer in a way that helps market and sell it."
If that sounds like a dream job you didn't know existed, read on. Jason's got more info.  
And then head to our careers page to create a job alert for "trade brewer." (You've gotta be 21, btw.) Good luck!
Deep beer knowledge is a given for a trade brewer. Where do they get it?
Some have extensive brewing backgrounds and accreditations from brewing programs like the Siebel Institute of Technology or the Institute of Brewing & Distilling. Some are self-taught — really knowledgeable beer people who've learned through homebrewing or studying for programs like the Cicerone.
How do you use that expertise in everyday work life?
We spend a lot of time in front of different audiences — employees, distributors, retailers and beer fans. So you've got to be engaging and a good communicator. You might have an in-depth conversation with a group of brewers and then turn around and make that conversation digestible for beginners at a beer dinner.
Break down those audiences a little. How would a trade brewer go about teaching their co-workers, for instance?
A big portion of the job is focused on employees. The company offers a ton of beer education and training through MillerCoors University. The trade brewers teach a variety of courses there, and we've opened them up to some distributors and retailers.
We're continually updating those educational materials and looking for new opportunities to encourage people to live and breathe beer. That's how we came to run a "Beer Culture Week" for employees — a total immersion trip, where we'll go to the Pacific Northwest, visit hop growers and apple orchards, and spend time in the local beer scene.
We also help distributors educate their sales forces, and we work with retail teams too — bartenders, waitstaff, beer stewards, beer buyers.
How do trade brewers reach beer drinkers?
So many ways! We run events like MillerCoors Tasting Room, a series of beer pairing dinners held throughout the country and led by trade brewers. We were recently in Boston, Dallas and San Francisco, and we're working on more cities now.
Victoria Tonini, our Pacific region trade brewer, is the signature cider creator for Crispin. She also writes all of the recipes, makes the dishes and takes the pictures for Pints and Plates, our online beer pairing and recipe guide. And Brian's been able to support innovation at Leinenkugel's. Our first trade brewer, Ryan Johnson, helped establish the company's Beer Merchant education program 10 years ago. 
How do you see the role of the trade brewer growing in the next few years?  
I truly believe there will be more beer education in the future. Passion for beer is contagious, and having that passion helps everyone who works in beer be so much more effective at what they do — whether it's sales, marketing, finance, communications. And we'll continue to find ways to bring that knowledge to beer fans too.