When Tenth and Blake was just getting started, Jeff White (now Tenth and Blake's Senior Director of Strategy and Operations), sent me what I still refer to as his "manifesto." In it, he talked about how one day in Milwaukee, on a trip to Fred's, he saw a generic tap handle with a little sign posted next to it that read "Wild Ting." When he asked the bartender what it was, he found out MVB (our pilot brewery in Milwaukee) had created the beer in honor of Pat Ting, one of our employees at the time who had help developed the Citra hop, which was released in 2008. Jeff drank the beer and was blown away. Having come from Boston Beer and the "craft" world, he knew sharing a beer like this could really show off our brewing skills to our employees, our friends and the beer community.
And so the idea for Brewers Unleashed was born. The program has been running once a month for just over two years in Chicago. I connect with our Tenth and Blake brewers and pull in specialty beer from The Sandlot, AC Golden, Tenth Street and MVB. We try to feature three to four beers each month, often with the intent that they are beers you've "never had before and can experience nowhere else." Sometimes the beers and ciders simply aren't available in Chicago, and sometimes they are special festival releases or barrel-aged side projects. We've also brought in guest brewers from the local area, including Lakefront from Milwaukee and Paw Paw Brewing out of Paw Paw, Michigan. The monthly event draws a few hundred outside guests as well, including local distributors, retailer and beer bloggers, who in turn bring along more of the beer community. We always feature the brewers and they get a few minutes to talk to the crowd about the beer and what inspired them to create it.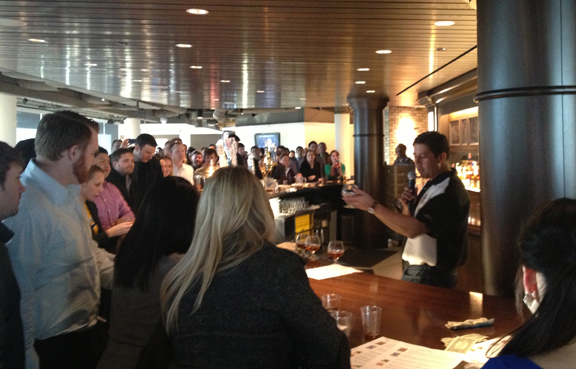 When possible (i.e., when there is enough beer!) we also try to participate in a few festivals each year as "Brewers Unleashed." I'm usually hoarse by the end of the events explaining to people how we fit into MillerCoors, but they are always blown away by the beer. In many cases, their opinions about who we are as MillerCoors and Tenth and Blake and what we can do as brewers are forever altered. We have some amazing and creative people making beer for us and giving them the spotlight is what makes Brewers Unleashed so special.