Coming off a year in which the hard cider brand returned to growth, Crispin aims to maintain momentum with the release of a variety 12-pack of slim cans next month that includes a new flavor: Crispin Pearsecco.
The new pack and flavor are slated to hit retail in early February, signaling a continuation of the brand's approach of bringing to market wine-inspired ciders, "a white space that Crispin has the ability to grow within," says Stephanie Zipp, an associate marketing manager who leads the Crispin brand. "We believe we can bring a whole new generation of wine drinkers into a category they may not know about yet, and that's exciting."
The variety packs will contain six cans of Crispin Rosé; three cans of a Champagne-like Crispin Brut; and three cans of Pearsecco, a pear-based cider that profiles like prosecco, the Italian sparkling wine.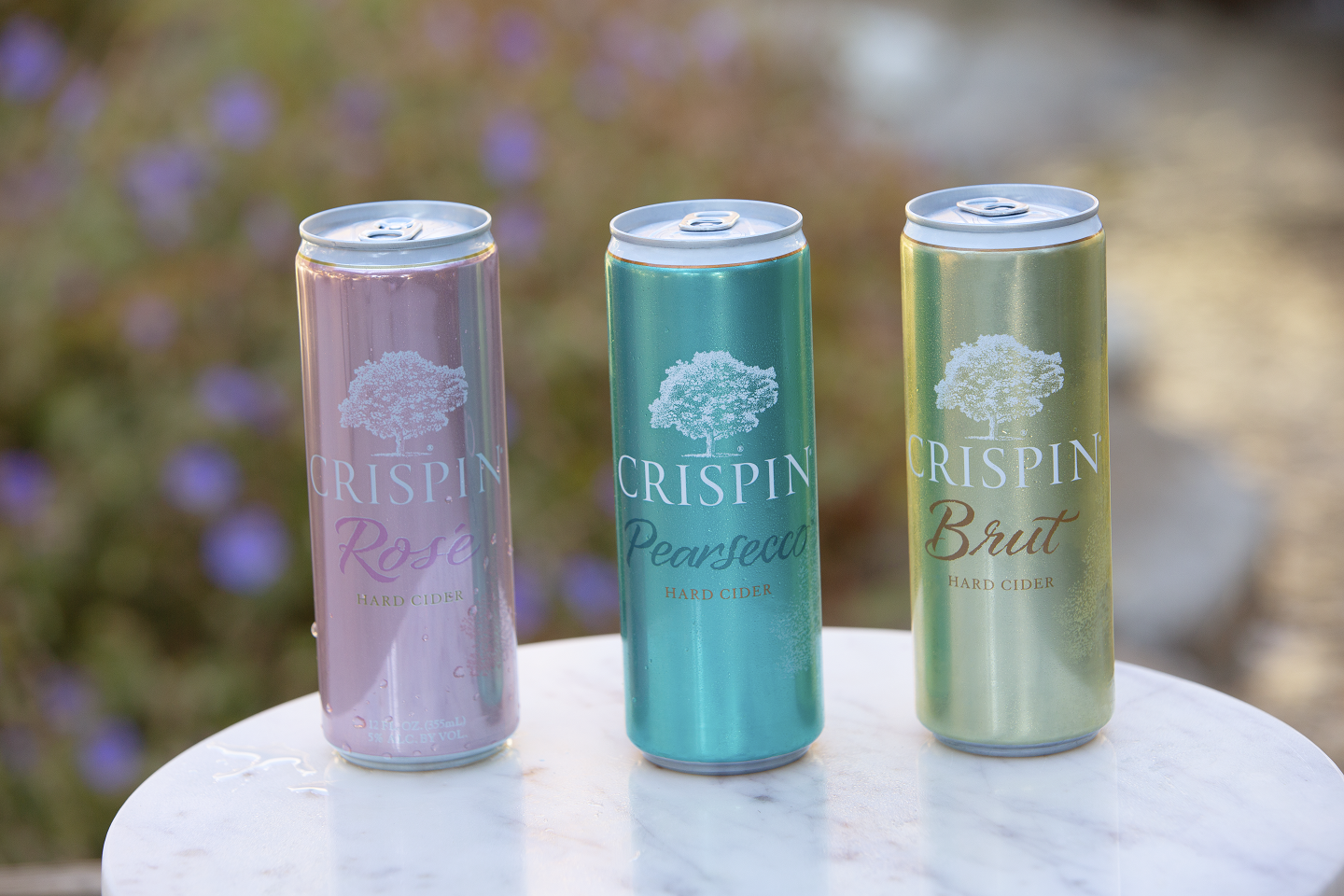 "As we look to go after more wine drinkers, we're leading with this trio of wine-like hard ciders that are balanced, effervescent and finish dry," Zipp says. "Our new variety pack aims to capitalize on the growth of flavored cider as well as the appeal of slim cans, which brings hard cider into new drinking occasions where portability and convenience are essential."
Crispin is coming off of a big year, thanks in large part to the success of Crispin Rosé and a move into slim cans. The brand picked up 0.4 points of market share in 2018, with sales volume up more than 40 percent, according to year-to-date Nielsen all-outlet and convenience data through Dec. 29.
Crispin hopes to replicate that success with Crispin Pearsecco. Pear-flavored ciders were up 120 percent over the 52-week period ending Dec. 22, per Nielsen, and prosecco wine, its wine-industry analogue, was up 10.2 percent in the year ended Dec. 29, per Nielsen all-outlet and liquor store data.
"With Pearsecco, it's an immediate get for consumers. It's an easy and appealing combo that people understand," Zipp says. "To roll this out on the heels of Crispin Rosé puts us in a very strong position competitively."
Light and effervescent with a wisp of sweetness, Crispin Pearsecco is light golden in color, contains 4.5 percent alcohol by volume and finishes dry, similar to prosecco.
The third flavor in the variety pack, Crispin Brut, was redesigned and put into gold slim cans for the relaunch. The 5.5-percent ABV cider resembles the flavors and mouthfeel of Champagne, but with less alcohol.
The decision to move into variety packs is anchored in the success of variety packs throughout beverage alcohol, including among hard ciders. Variety packs are among the best-selling SKUs for top cider competitors and comprise about 9 percent of volume for industry sales leader Angry Orchard, per Nielsen all-outlet data for the 13-week period ending Dec. 29.
Like with last year's Crispin Rosé launch, the variety pack targets wine drinkers. Its slim cans carry a "modern, sleek aesthetic that exude sophistication and are designed for portability," Zipp says. Plus, "their eye-catching look is made for Instagram."