There's a bit of a chill in the air, a slight cool breeze matched by the late summer sun, and it can only mean one thing. It's football season! For fans in Wisconsin (as well as across the nation), that means it's time to make a pilgrimage once again to one of the true "temples" of football, Lambeau Field in Green Bay, Wisconsin, home of the Packers.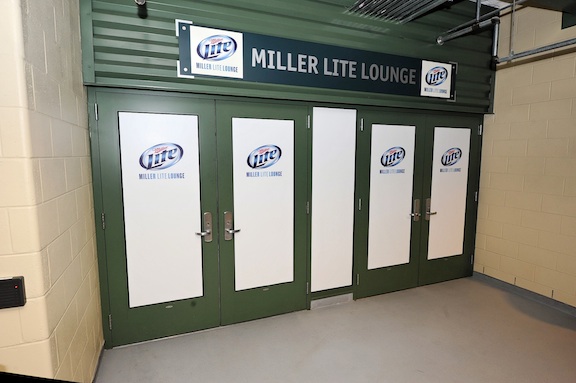 Miller Lite's long-standing partnership with the Green Bay Packers and Lambeau Field not only connects our brand's fans to the team they root for every Sunday, but also gives them the opportunity to see and experience the game in a unique way.
Opened this season, the new Miller Lite Party Deck and Miller Lite Lounge at Lambeau Field in the north end of the stadium provide a truly impressive spot to watch the game. Fans are treated to a first-class experience with multiple concession options for food and beverages along with both indoor and outdoor seating areas.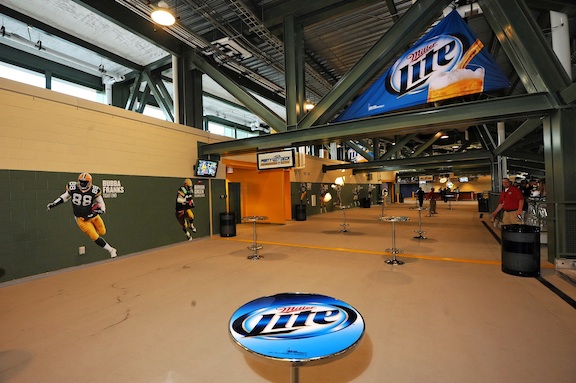 Miller Lite-branded elements are incorporated throughout the space in unique ways, from the brushed steel logos on the blonde wood walls to the etched glass bar canopies and tables. Guests are even treated to a special appearance from "The Frozen Tundra" (the Packers drum line team) each game.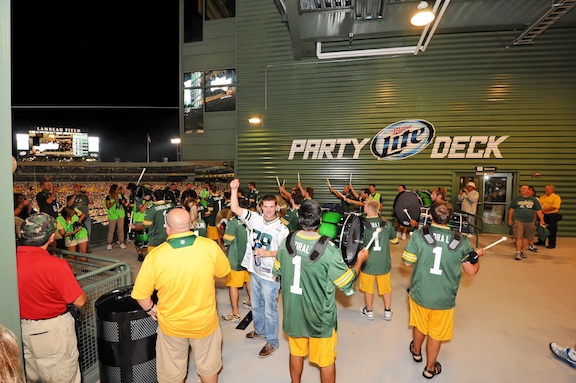 And what's the price of this ticket? It's gotta be high, right? Wrong. Fans have the opportunity to win these tickets for free through local appearances, in-store ballot boxes, and radio station promotions. And even if you've already got your Packers tickets, you're still eligible to be upgraded to the Miller Lite Lounge—a roving, in-game reporter finds the most dedicated fan each game for a "Miller Time Upgrade," bringing them into the action.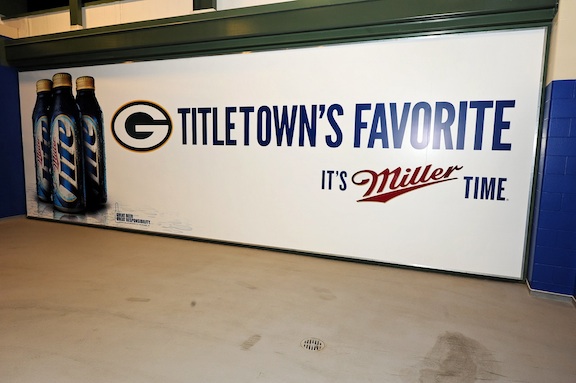 All of these elements are just another way that we're connecting our brands to the sports, events, and activities that our consumers are passionate about. While the Packers might not bring another championship home this year (although I'll be rooting for it), our new activation areas at Lambeau Field are certainly "worthy of a leap."