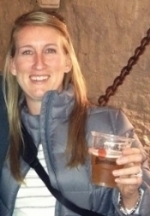 Hard cider just had the best year ever. Not even craft beer grew faster.
But cider remains a bit mysterious. So we went to one of our top insiders — Victoria Tonini, signature cider-maker at Crispin — for some enlightenment. Victoria is also a professional chef, a sommelier, a graduate of America's oldest brewing school, and she's studying for her master cicerone exam.
Here's some of her cider wisdom, all of which we plan to recycle at the bar:
1. Cider is wine
It may look like beer — with its 12-ounce bottles, bombers, cans and pint glasses — but it's apple wine. Pear cider, aka "perry," is pear wine. There's no brewing, just fermenting.
2. It's naturally gluten-free
Cider is made from fruit, not grains.
3. Cider has a lot of style
Sometimes it's extra dry and champagne-like. Sometimes it's unfiltered and cloudy. And barrel-aging can give it rich notes of vanilla, whiskey, spice, dried cherries, plums and more.
4. Men drink cider too
Word is out that it's not just for ladies who don't drink beer. In fact, about 45 percent of cider buyers are men, according to Nielsen Spectra data.
5. A snakebite is just the start
"Cider is made for mixology," Victoria says. She swaps spirits for cider to get a cocktail that's more sessionable without diluting the flavor. Her favorite: a cucumber cooler with perry instead of gin.
6. Cider is an excellent cook
Use it like wine, for poaching and brining. Try it with chicken: "Cider not only helps tenderize because of the acidity from the apple, but it also adds an amazing boost of flavor," Victoria says. Cider's sweeter fruit base means acidity minus the sour, so it's great for sauces, vinaigrettes and syrups.
7. It lives for Sunday Funday
"It's the perfect brunch beverage," Victoria says. "The flavor profile works so well with eggs, meat and French toast." It's also quite nice with orange juice à la mimosa.
8. Cider isn't stuck-up
It can be very chic and appeal to sophisticated palates. (Just peep these tasting terms.) But it's also casual and loves a good cookout. "Cider doesn't have a snobbery attached to it," Victoria says. "And I hope it never does."