For the longest time, if brands wanted to connect with consumers beyond the two-dimensional limitations of traditional advertising, they had to rely on events. Those in-person experiences required two critical components: a place to be and an audience to participate.
The pandemic made experiential marketing opportunities all but irrelevant. Marketers, including those at Molson Coors Beverage Company, had to fill the void where sampling events once stood. There was a challenge and an opportunity, says Adam Dettman, Molson Coors' head of partnerships.
"(The pandemic) forced us all to be more innovative; it made you think differently about our go to market approach," he says.
No longer constrained by time and place, Molson Coors began to explore the outer boundaries of marketing and consumer engagement — augmented reality — where the only limits are creativity and the strength of a user's internet connection.
Augmented reality, a tool by which digital objects are placed in the real world, often through the lens of a mobile device, barreled into the mainstream in 2016 with the launch of Pokémon Go. Users, hunched over their phones, searched for Pokémon characters who appeared – digitally, of course – in city streets, public parks and even office cubicles.
The truth is, A/R is all around us. The digital first-down markers in televised football games, the goofy filters your kid plays with on Snapchat and the superheroes fighting supervillains on your TV screen – they're all examples of augmented, or extended, reality.
Immersive, personal
The sophistication of graphics and technology has only improved since the arrival of Pokémon Go, making A/R more accessible and attractive to marketers – and consumers, especially younger ones, who are immersed in the virtual offerings of social media. And legal-age drinkers in the all-important 21-34 demographic have proven to be ravenous users.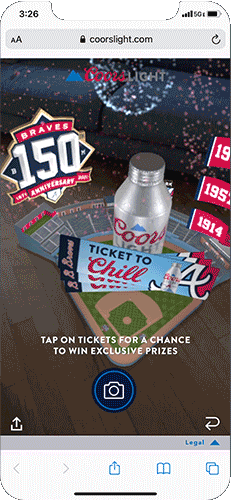 That's made it a valuable frontier for companies like Molson Coors, which have found A/R to be a complementary piece of the marketing mix, an opportunity to immerse consumers in storytelling and connect with them on a more personal level.
"Our large mainstream brands don't have an awareness problem. We need to disrupt, create relevance and drive consumer engagement," Dettman says. "Our brand and field marketing teams are working to break through the clutter."
In other words, how do companies like Molson Coors, and brands such as Coors Light and Miller Lite – two of the three biggest beer brands in America – move from consumer awareness to conversion?
To help solve the puzzle, Molson Coors turned to Trigger, a leading mixed-reality agency that specializes in extended reality marketing. Trigger's work with Molson Coors is led by Alan Simkowski, a marketing veteran who has spent the last decade providing high-tech tools to clients. Sports, he says, was the obvious area of focus, especially in a time when fans couldn't root on their favorite teams in person.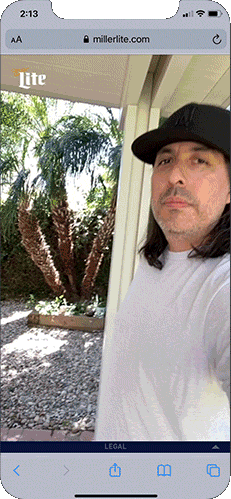 "Whether fans are in the stadium or not, you want to be able to engage with them," he says. "A/R gives the ability to not only extend an activation in stadium, but most importantly, reaching consumers and fans where they are during the week and especially during gamedays."
One of Trigger's first campaigns was helping Coors Light mark the Atlanta Braves' 150th anniversary, allowing fans to scan a commemorative Coors Light Braves pint and Coors Light equity products to launch a virtual celebration of the team's history.
Trigger also worked with Miller Lite and the Cleveland Indians to let fans take a virtual photo with star pitcher Shane Bieber, which they could then download and share.
Coors Light upped the ante as college football season kicked off this year, deploying Trigger to develop a virtual tailgate experience, where fans of the brand's partner schools, such as Ohio State University and the University of Oregon, can not only play a round of A/R cornhole — with an experience customized by school — but also interact with college football analyst, Kirk Herbstreit (virtually, of course.)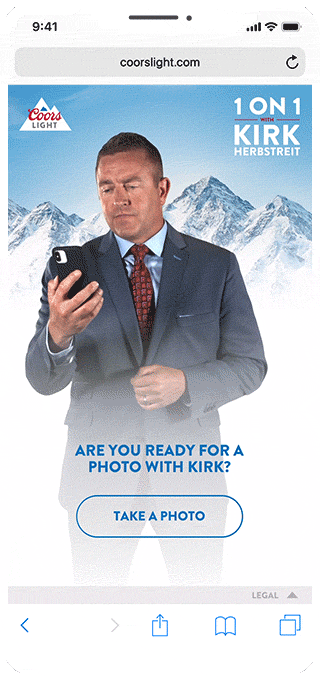 Trigger built another program for Blue Moon and others for Coors Light, as well, such as a virtual locker room experiences for the Las Vegas Raiders and Seattle Kraken. It's also taken Coors Light's local "Made to Chill" campaign and put its own spin on it, allowing drinkers in California to place the "Chill" bear found on packaging and at retail in everyday situations, from grilling to playing basketball.
The A/R activations, according to internal data, have been a hit with consumers, Simkowski says.
"In some of these situations, it can be anywhere from a minute to 3 minutes per engagement, and we think 30 seconds to 1 minute is great engagement," he says.
The campaigns are driving retail activation as well, Dettman says, and retailers have been excited to showcase the programs given consumers are able to scan QR codes on secondary packaging to participate.
"We are using devices like packaging to unlock engagement in a way we haven't done before," Dettman says.
Coming to life everywhere
A/R is still in its infancy but is proving to be an exotic and efficient way to connect with consumers at their convenience, says Dr. Jennifer Barhorst, an assistant professor of marketing at the College of Charleston who studies augmented reality.
"The exciting part about (A/R) is we not only have the capacity to use our brands' voice in a new environment … (we) can personalize the A/R experience," she says. "A/R brand experiences can happen anywhere; we're not stuck to a TV or device."
Barhorst says we're just starting to see the potential of augmented reality to share brands' personalities and stories with consumers.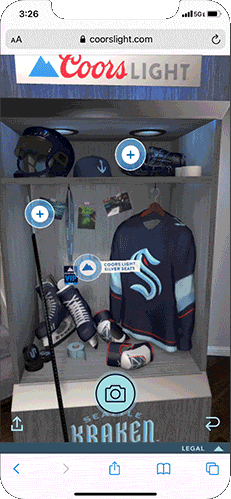 "Very soon we are going to be able to do that with wearable tech. We'll have A/R come to life in more ways," she says, pointing specifically to the advent of glasses created specifically for augmented reality.
Meanwhile, as more people are exposed to A/R, they will soon expect it to be part of advertising campaigns, she says.
"In the future when we go shopping … brands are going to come to life in ways we can't even imagine right now," she says.
For Molson Coors, A/R will continue to play a role in amplifying major marketing initiatives. Beer occasions provide an opportunity to create an experience, to showcase a brand's personality and better connect with willing consumers with customized content, Dettman says. "When we think of our consumers, whether they're in a bar, at home or with friends, we've got to ask, 'How are they consuming our branded content while consuming and enjoying our brands?'"