Baseball is back, and with the return of America's pastime, Blue Moon Brewing Co. is paying tribute to its ballpark roots.
The beer known today as Blue Moon Belgian White Belgian-style Wheat Ale started in a tiny tank in a tiny pilot brewery carved into a corner of Denver's Coors Field, home of the Colorado Rockies.
When the stadium opened in 1995, Bellyslide Wit was among the first beers produced by Sandlot Brewery, Coors Brewing's first craft outpost. And, right from the beginning, it was clear it was a hit. Today, Belgian White is the largest craft beer in the U.S. and it's poured in bars around the world.
With Opening Day upon us, Blue Moon is cracking open its origin story by giving legal-age fans a chance to get their hands on six-packs of Bellyslide Wit for the first time ever.
"Blue Moon was literally born in a ballpark and for Opening Day, we wanted to go back to our roots and tell our origin story," says Lindsey Wesloski, Blue Moon Brewing Co. brand manager.
Starting today, fans can visit www.back2bellyslide.com and enter for a chance to win one of the limited-edition six-packs of Bellyslide Wit.*
Blue Moon has also partnered with throwback sports apparel brand Ebbets Field Flannels to design a lineup of vintage-inspired shirts and hats to celebrate Blue Moon's ballpark heritage. Ebbets Field Flannels also designed Bellyslide Wit's throwback packaging.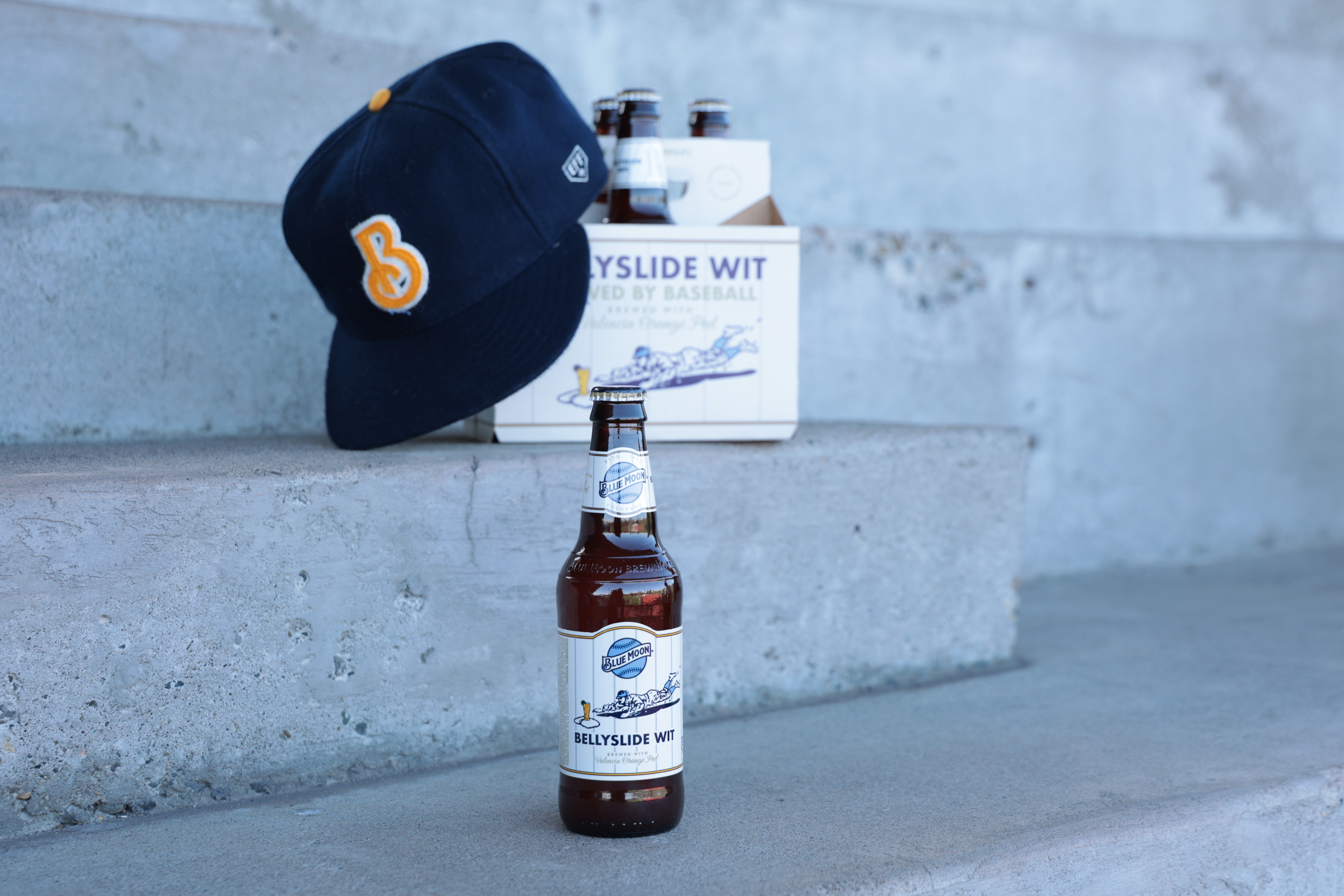 Blue Moon Belgian White was still called Bellyslide Wit when someone brought samples of it to the Coors brewery in Golden, Colo.. As the story goes, one employee was so impressed, they said, "A beer this good only comes around once in a blue moon."
The name stuck. Belgian White took off. And soon Blue Moon moved out of the ballpark.
But the brand's connection to baseball remains. It now has relationships with nine big league teams, including the Rockies, Atlanta Braves, Arizona Diamondbacks, Detroit Tigers, Kansas City Royals, Los Angeles Angels, Oakland Athletics and San Francisco Giants.
And Bellyslide Wit is still served at Sandlot, which took home a bronze medal at the Great American Beer Festival last year for its Wild Pitch German wheat ale.
More broadly, Blue Moon this year is bringing back its seasonal baseball-themed secondary packaging for 12-packs. It's also introducing a baseball-themed 24-ounce can this season.
"Not only was Blue Moon brewed by baseball, our beers are perfect for baseball season," Wesloski says. "We're excited to bring Bellyslide Wit back for Opening Day, but no matter where you're watching, there's nothing better than sipping on a Belgian White, LightSky or Moon Haze during a ballgame."
* *NO PURCHASE NECESSARY. Promotion begins 3/30/23 and ends on 4/14/23 at 11:59 AM CT. Open only to legal residents of CO, DC, FL, ID, LA, MD, MS, NE, NV, NY, NC, SC and SD. See official rules including how to enter, odds, prize details and restrictions at www.back2bellyslide.com .*al drinking age.