The men and women who fight wildfires that plague America's western states are often understaffed, underfunded and overwhelmed, which is why, since 2014, Coors Banquet has backed these brave firefighters.
But with wildfires becoming a more common and destructive force in states across the U.S., the brand this year is expanding its longstanding program to support firefighters nationwide.
Protect Our Protectors, the next iteration of Coors Banquet's Protect Our West program, includes a four-fold increase in the brand's media spend on the campaign over last year and will mark the first time the brand is amplifying its support on its packaging nationwide. It's also unveiling a new merch collection and local events to create more awareness for the work firefighters do. A portion of proceeds from beer and merchandise sales will benefit the Wildland Firefighters Foundation, totaling $250,000.
This year's national program is an extension off the brand's longstanding commitment to the Wildland Firefighters Foundation, which supports the families of firefighters who have died or been injured battling blazes that are becoming even more common. Over the last eight years, Coors Banquet has donated more than $2 million to the charity.
"This is about honoring the men and women who run toward the fire," says Stephanie Clanfield, marketing manager for Coors Banquet. "Increasingly, wildfires are not just a problem in the West. They're a national problem that's getting worse, and we have the opportunity to do even more to support these brave men and women."
The centerpiece of the Protect Our Protectors campaign is a new ad, airing across digital and social channels. The ad, which has 6- 15- and 60-second versions, was produced by creative agency Mischief and follows a crew of "Hotshots" as they trudge through a hazy wooded area, deploying their tools to fight a fire.
"Together we can protect the land, the families – our families," says the crew chief.
So far this year, 39,767 wildfires have destroyed 5.8 million acres, according to the according to the National Interagency Fire Center, making 2022 the most destructive year since 2017. Today, crews are battling 62 active large wildfires, which have burned more than 1.6 million acres of land in 15 states, the agency said. Western states are particularly at risk of wildfires due to their Mediterranean climate, worsening effects of climate change, denser forests and human activity, which is responsible for about half of all wildfires, the New York Times reported.
New this year is limited-edition packaging commemorating the program on packs of Coors Banquet's signature stubby bottles, as well 16-ounce cans. The packaging features the Protect Our Protectors logo, featuring a wildland firefighter venturing into a smoky forest.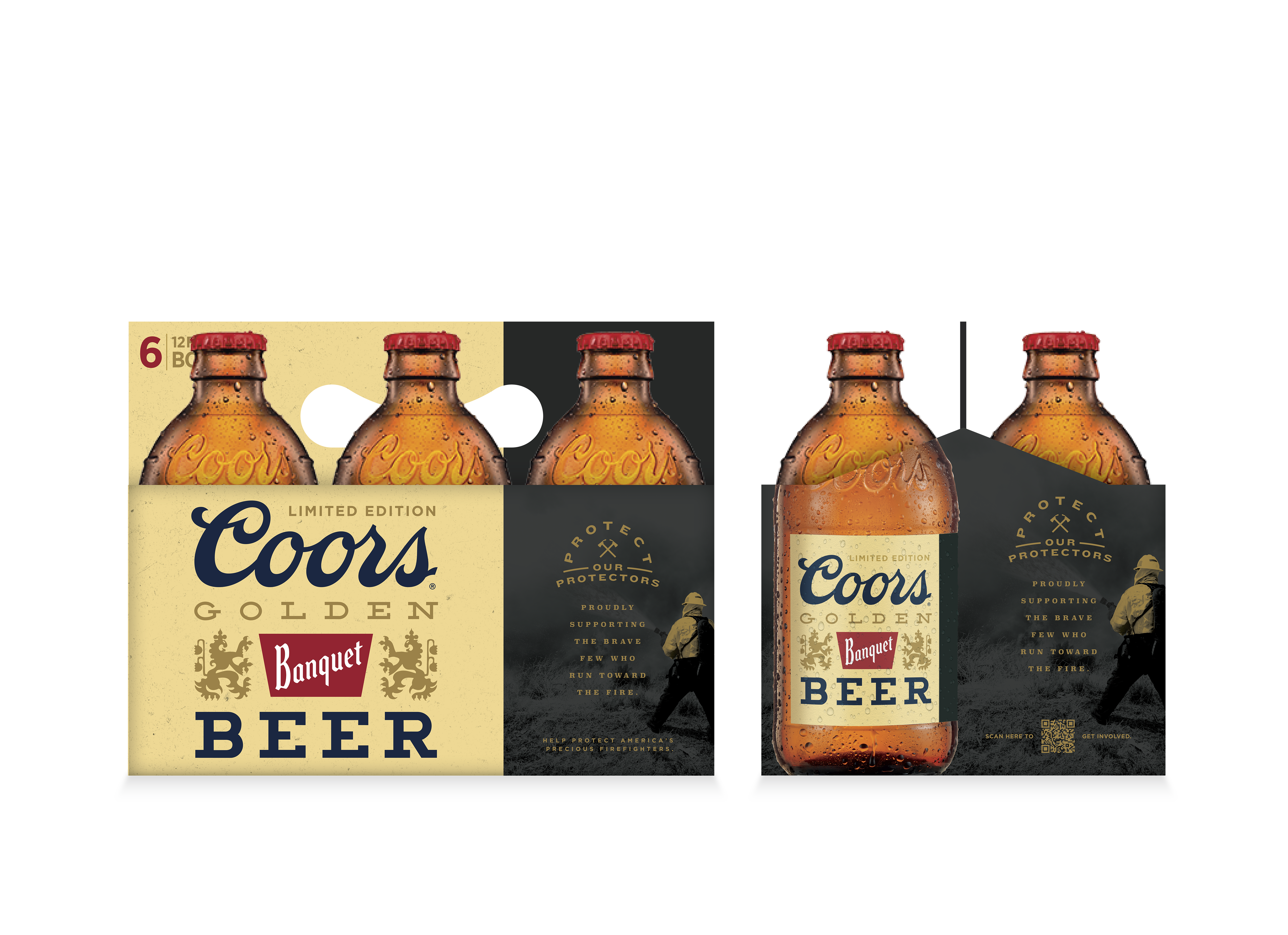 The brand is again working with California-based apparel brand Brixton, which designed a collection for the Protect Our Protectors program. Available later this month on Coors Banquet's e-commerce store, the collection features the logos of Banquet, Brixton and Protect Our Protectors on apparel, including T-shirts, hoodies and hats.
"Brixton is one of our favorite brands to work with, and their designs are always on point for the look and feel of Banquet," Clanfield says.
The program will also show up in local markets, including a series of concerts benefiting firefighter organizations Golden, Colo., Kansas City, Mo., and near Lake Tahoe in Nevada. Consumers can also donate to the Wildland Firefighter Foundation through the Protect Our Protectors website.
Coors Banquet this year also enlisted country singer Chase Rice to promote the program. Rice, a Banquet fan who has more than 3 million followers across major social media platforms, suited up for wildland firefighter bootcamp, where professional hot shots showed him what goes into battling the blazes.
Coors Banquet's new work kicks off as the brand is on a tear in 2022, growing double digits in volume and capturing share of total beer in the second quarter. It's grown dollar sales nearly 10% versus 2021 for the four weeks that ended July 24, and 14% versus 2019, according to IRI multi-outlet and convenience store data. Meanwhile it's taken 0.6 points share of total beer versus last year.
The simple message?
"Don't bet against Banquet," Clanfield says.