If there was a family photo of Coors beers, Coors Edge might be barely visible behind its flashier siblings, Coors Light and Coors Banquet. But Coors Edge has quietly made itself a player in the exploding non-alcoholic beer market since it was introduced in 2019.
The segment has experienced booming growth in the last three years, reaching a new high in 2021 with $236 million in sales, according to IRI multi-outlet and convenience store data. That's up 24% from the year before and nearly 72% since 2019. And Coors Edge has ridden the wave, growing sales 49% to $7.3 million between 2019 and the end of 2021, according to IRI. Its volume grew 38% during the same time period.
The non-alc sector might be a drop in the bucket of the $38 billion total beer category, but as more consumers gravitate toward options with less alcohol, carbs and calories, the opportunity for non-alcohol beers like Coors Edge is endless, says Rose Bleakley, associate marketing manager for Coors Edge.
"This category is booming, and there is a ton of competition. But Coors Edge is holding strong. It's loaded with untapped potential," she says. What's more, she says, the brand has done it without virtually any marketing support.
"Coors Edge isn't a Heineken 0.0 that's pumping a ton of dollars into marketing," she says. "This is a brand that sustains itself. It has a loyal audience that wants a non-alc beer that tastes like a beer."
Coors Edge replaced Coors NA in the brand's portfolio in an effort to reach the growing number of drinkers looking for low- and no-alcohol offerings. At 0.5 percent alcohol by volume, is has the lowest calories and carbohydrates in its class. Coors Edge is double brewed, blending the taste profiles of two beers to produce similar flavors as Coors Banquet.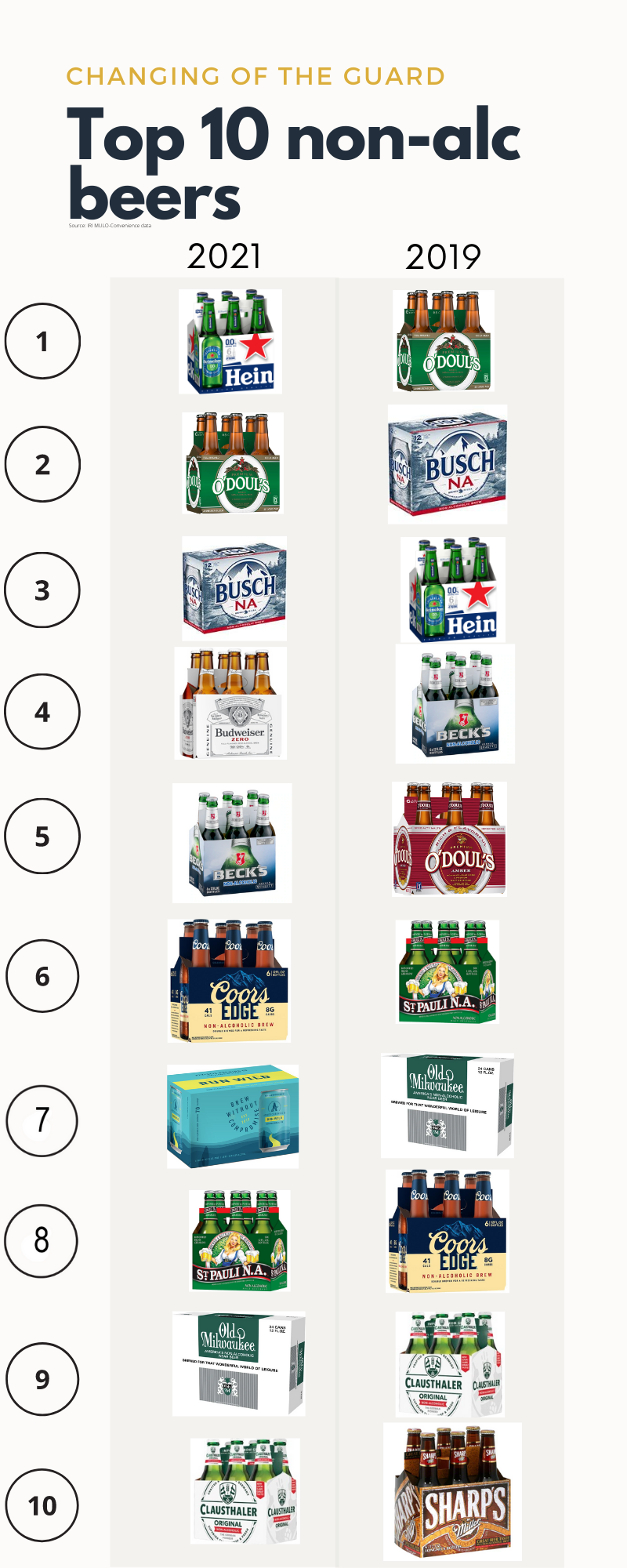 The non-alc beer space has proliferated in recent years, led by high-profile entrants like segment leader Heineken 0.0, Bud Zero and Athletic Brewing Company. And while the leaderboard has shifted, Coors Edge is growing sales and volume.
It's climbed up the ranks to the No. 6 spot despite a wave of insurgents that have launched within the last few years, including Bud Zero, Athletic's Run Wild IPA and Lagunitas' IPNA.
"It's definitely here to stay. I don't think I was a believer two years ago," says Donn Bichsel, president of industry consultancy 3 Tier Beverages, which provides data services for Athletic. "People have moved dramatically in the direction of low- to non-alc products."
Overall, the low-to-no-alc market – including a growing number of spirits and wines – sits at $2.2 billion and is expected to grow by 28% by 2025, according to beverage industry analysis firm IWSR. More than a third of U.S. adults buy low- or no-alc products, with 30% of those drinkers coming on board in the last two years, IWSR reported.
All this comes as studies show more consumers reach for beverages they believe are more healthful, including those with less sugar, carbs and, yes, alcohol.
At 41 calories and 8 grams of carbs, Coors Edge delivers on that ask, Bleakley says: "For consumers out there looking for low-calorie, low-carb beers, Coors Edge is the best option."
But consumers say they also want something that tastes good, a component that was perceived as largely missing in the non-alc beer space.
"Coors Edge has that authentic beer feel," Bleakley says.
And with many consumers reconsidering their drinking habits during January, Coors Edge is clearly resonating, she says, with sales continuing to grow. 
Editor's note: This story has been updated to clarify Coors Edge's growth between 2019 and 2021.