Coors Light's Beerman character is back for another round.
The lumpy snowman sporting a cast-off hat, scarf and crooked smile was introduced last winter as an extension of Coors Light's efforts to connect with legal-age drinkers during the holiday season for adults, a time filled with key beer-drinking occasions shared among family and friends.
Beerman inspired scores of social media posts where people made their own Beerman – or "Beermen" – leading the brand to bring him back for a second year.
"We introduced Beerman during an unprecedented time, and we found people really connected with his simple message of bringing chill and holiday cheer," says Lindsey Wesloski, associate marketing manager for Coors Light. "Beerman is all about bringing unexpected joy, and we can use that this year, as well."
This holiday season, Coors Light is bringing back the ad that introduced Beerman to the world as a musical, amorphous snowman who jams out to "More Than a Feeling" alongside a guitar-slinging Yeti and a cast of holiday characters. On top of that, Beerman will be featured on Coors Light's limited-edition winter packaging, as well as on the brand's holiday apparel.
"Beerman's simple message of holiday chill really struck a chord. He's all about finding joy where you can, even if it's not perfect," Wesloski says.
Beerman also inspired Coors Light's popular winter onesies, which are available now on the brand's online shop. He's also the featured character on beanies, socks and other winter necessities.
"This is a whole new way to chill with Beerman," Wesloski says of the onesies, which include a number of pouches and pockets to hold Coors Light. Starting Dec. 1, Coors Light will also sell a limited-edition onesie featuring the Yeti rocker from the Beerman ad.
Also, this Friday in Las Vegas, in a promotion with Hungry-Man, the beer brand will be giving away a limited number of microwavable holiday dinners that include a Coors Light -- and Beerman as part of the packaging. Dubbed, the Hungry-Beerman Chill Holiday Feast, the meals include roasted carved white meat turkey, mashed potatoes, gravy, mixed vegetables, stuffing, a cranberry dessert and, of course, a pint of Coors Light.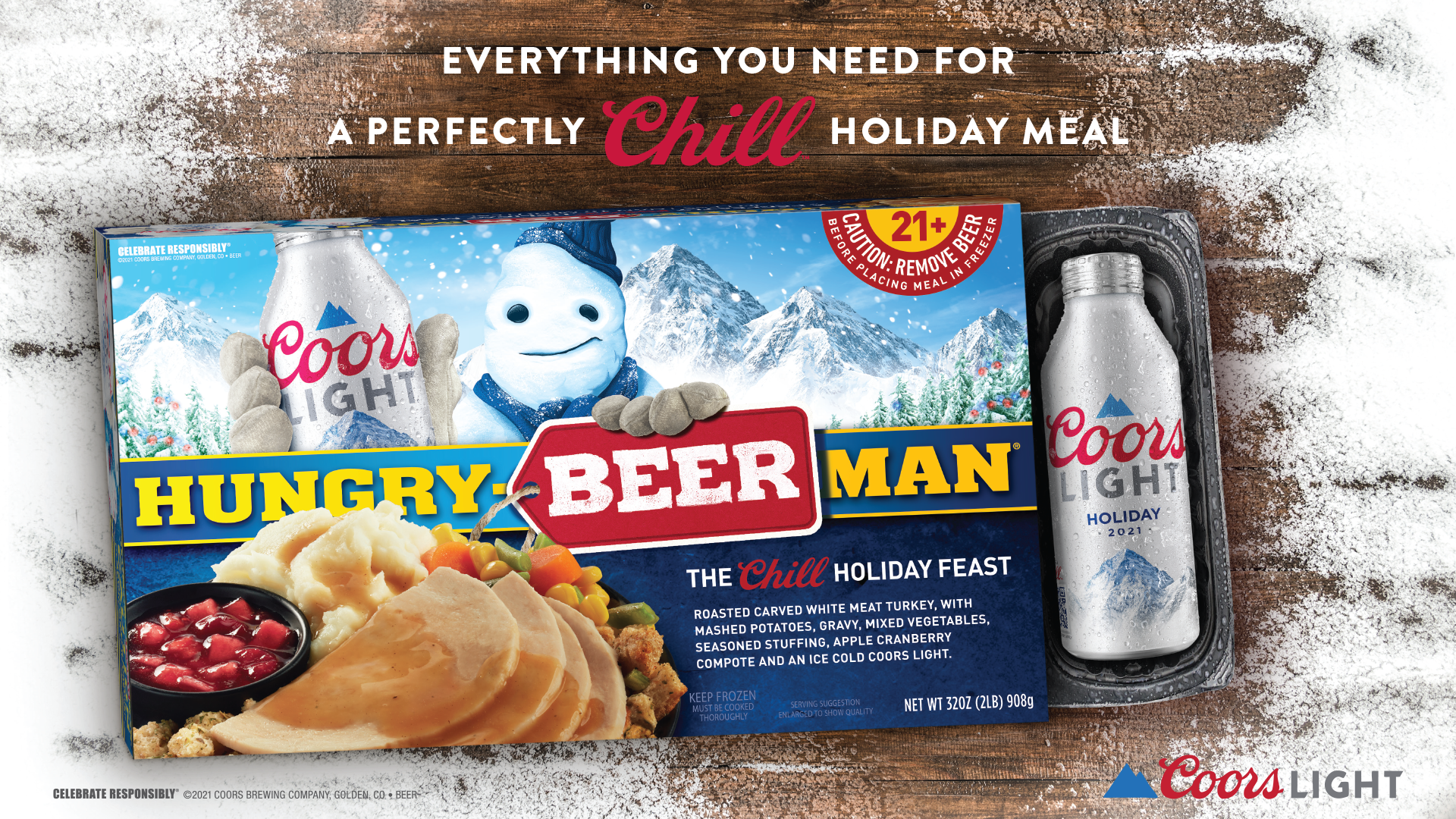 The holiday push comes as Coors Light is on a roll, growing its share of the total beer category in the third quarter for the first time in five years, helped by marketing investments behind its heralded Made to Chill campaign.
"It shows that consumers are resonating with our brand's message , which is that that everyone could use a moment of Chill, and Coors Light's role is to help make those moments happen'," Wesloski says.