As college hoops heats up this month, Coors Light is partnering with legendary announcer Dick Vitale to bring a message to passionate basketball fans: Take a moment to chill.
The energetic basketball icon is the star of Coors Light's newest ad, which begins airing during college basketball's playoff tournament this week. In the spot, Vitale's trademark exuberance is on display – until he's handed a cold Coors Light.
"Yeah, baby," he says, falling into a moment of chill.
Vitale also is helping to introduce the "Coors-icle," a non-alcoholic, beer-flavored popsicle that Coors Light designed to help fans in the U.S. stay chill.
"Tourney time is an emotional rollercoaster, and it's hard to keep your chill when your bracket goes up in flames," says Kyle Piazza, associate marketing manager for Coors Light. "Since cold is in Coors Light's DNA, we knew we had to find a way to help fans rooting hard for their teams this month."
The "Coors-icles," intended for consumers age 21+, will be available for a limited time at more than 800 participating bars nationwide starting March 16. They'll also be sold online for $20.23 per six-pack, starting today. Additional "Coors-icles" will be made available every day at 12 p.m. EST through March 24, while supplies last.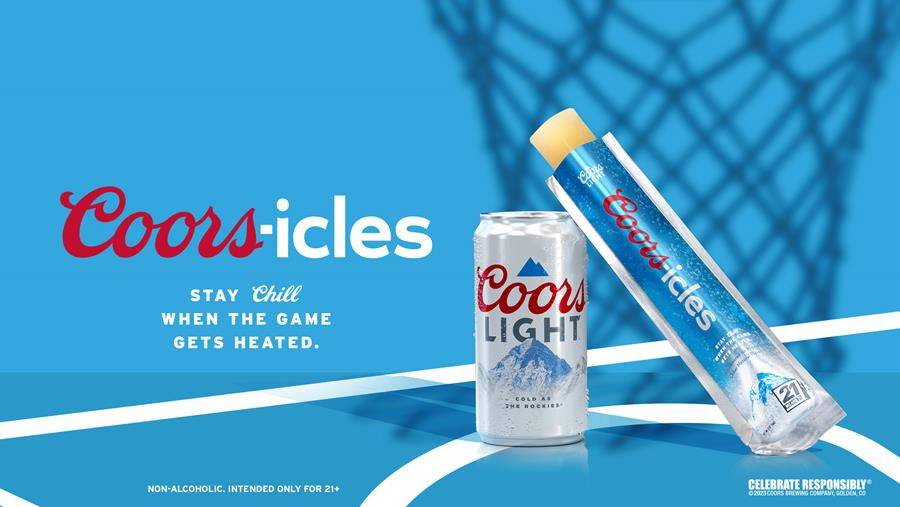 The "Coors-icles" come after the brand last year introduced "Chillollipops," beer-flavored lollipops that helped fans chill. (And, internal data show, they helped drive beer sales during the tournament at participating bars.) Piazza says this year's campaign, which adds a dose of star power with Vitale, is designed to resonate even more than in 2022.
Coors Light is augmenting the campaign with a suite of tools and resources for bars and restaurants, the social gathering hubs for tournament watchers that get a boost during the annual celebration.
The brand is using its 30-plus college basketball alliances to provide co-branded assets, such as posters, coasters and branded aluminum cups in those markets. And it's provided a game plan to accounts with set plays to boost sales and customer engagement, including sampling programs, merch giveaways and more.
"There are a lot of ways we can add value to accounts," says Sam Werner, regional on-premise manager for Molson Coors. "It's the experience. It's the energy. It's the wait staff. People are coming to bars to watch the games. How can we get them to stay and drink Coors Light with us?"
Among the Coors Light's tactics are branded coasters that include a QR code that enables fans to participate in a bracket challenge for a chance to win $4,000 or receive $5 to place a bet (where legal).
"About 45 million people bet on the tournament, and 18 million bet online. If we can get those fans to also drink a Coors Light, that's a huge win," Werner says, citing data from the American Gaming Association.
 And with St. Patrick's Day in play as well, Coors Light is ready to support bars during some of the busiest times of the year, Werner says. 
"This is our go-time. This is our biggest opportunity to really show up for these accounts — not only for consumers but for the operators — to show what our brands can offer," she says. "It sets the tone for the whole year."