Coors Light is gearing up for one of the most anticipated events in soccer, as the top professional soccer teams in North America and Mexico prepare to compete in Leagues Cup.
As the official beer of Leagues Cup, Coors Light is set to play end to end during the month-long tournament, which features every team from Major League Soccer and Liga MX, the top professional league in Mexico. The beer brand is looking to tap into soccer's growing popularity in North America with a new online ad, thematic packaging and something to help soccer fans chill when games get heated.
It all kicks off during a whirlwind week for the sport, as both Leagues Cup and the international women's tournament in Australia and New Zealand get underway. And Leagues Cup is set to benefit from the star power of one of the world's biggest soccer stars who now plays for Miami's MLS team.
"Soccer is on fire right now. The fanbase is growing faster than other sports' and there's tons of excitement around Leagues Cup and the women's tournament," says Maria Shipp, associate marketing manager for Coors Light. "With Leagues Cup, fans will see Coors Light throughout the stadium, on the field and on TV. We will have a highly visible presence for the entire tournament."

That includes thematic packaging, retail display tools and a new ad in English and Spanish.
The new ad is an extension of its successful "Made to Chill" campaign. Called "The Official Beer of Keeping Fanxiety Chill," the 30-second spot will air twice each game, and 15- and 6-second versions will also broadcast on digital channels. The ad shows a soccer fan experiencing a roller coaster of emotions as he roots for his favorite team. It's not until a friend gives him a Coors Light that he's able to relax.
To that end, Coors Light is looking to help soccer fans with a scarf that can help cure their fanxiety, the unique kind of stress fans feel while rooting on their favorite teams. Made to accommodate chilled gel packs and massage balls, the Fanxiety scarf also holds two beers and is available for sale on Coors Light's shop site for $30. New batches of the limited-edition scarves will drop every day through Aug. 2.
"Soccer fans are unique. They're standing, chanting and cheering the entire match," Shipp says. "Our goal is to help fans refresh and reenergize so they can give it their all for the whole game."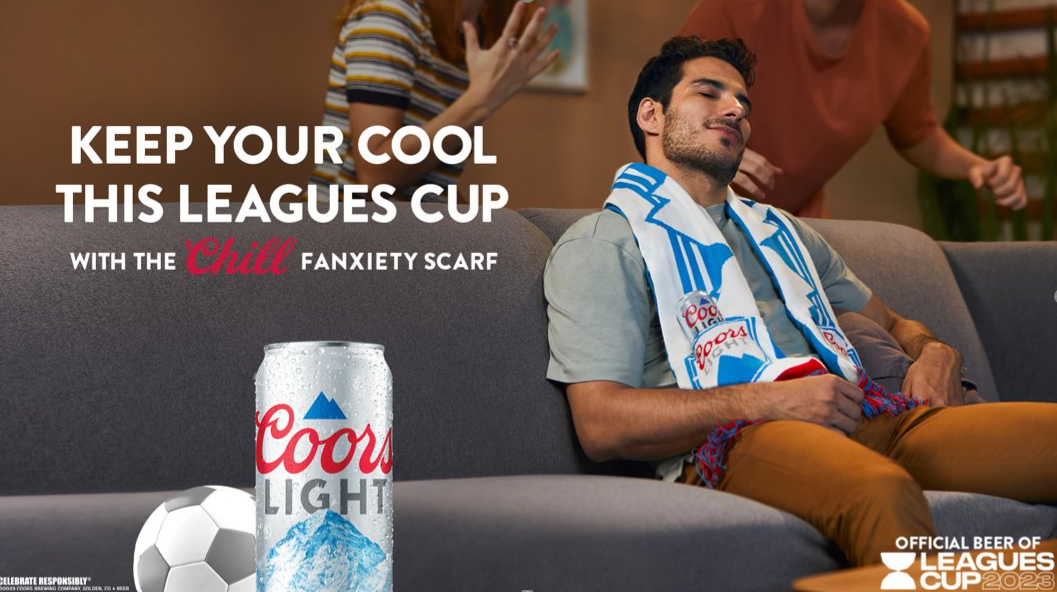 Coors Light's visibility extends to the host stadiums, where it will be prominently featured on on-field advertisements. It will be sold or promoted at each of the 26 stadiums hosting games, including in the six markets where the brand has a team partnership: Charlotte, Chicago, Cincinnati, Minneapolis, Philadelphia and San Jose.
Additionally, Coors Light is hosting watch parties in local markets and is bringing the Leagues Cup trophy to select bars in 10 cities. And it's hosting on-site tailgate events at 15 stadiums that will include soccer-related activities, including a Coors Light-branded foosball table.
It's also working with a trio of MLS players to promote Coors Light's efforts around Leagues Cup: Carlos Vela (Los Angeles), Josef Martinez (Miami) and Cristian Roldan (Seattle). Lastly, Coors Light is giving fans a chance to win tickets to the Leagues Cup final on Aug. 19.
Coors Light isn't the only Molson Coors brand suiting up for the tournament. Topo Chico Hard Seltzer is Leagues Cup's official hard seltzer, and has retail and display tools to match.
Not only does Leagues Cup kick off at an exciting time for soccer, its fans fit a key target demographic for Coors Light: they're younger legal-age drinkers, they're hip and they're diverse.
"The opportunity for Coors Light and soccer is huge, whether we're in the stadium, on TV or at home or in the bar," Shipp says. "With Leagues Cup, fans will see Coors Light every time some of the best players in the world compete."