With the on-premise recovery well underway, Coors Light is looking to get drinkers back to bars with its most expansive refresh since before the pandemic.
With a new set of tools, including a versatile new tap handle and timely marketing programs, Coors Light is bringing the next wave of its "Made to Chill" platform to bars and restaurants across the U.S.
"Consumers are looking for choices, so we've got to make sure we're relevant and catching their eye at that moment that matters," says Hilary Jamieson, Molson Coors' director of on-premise shopper marketing. "And we're finding ways to bring the 'Chill' experience to life at bars."
Coors Light is doing just that with a new program designed to get more people chilling in bars this football season – instead of doing unchill things like laundry. Dubbed "Chores Light," the beer brand is teaming up with Tide Cleaners to give football fans across the U.S. a chance to win free laundry services from Tide Cleaners, Coors Light merchandise and Tide product bundles during college football season through Nov. 4.
"Saturdays should be spent at the bar, cheering on your favorite college football team, but unfortunately Saturdays are also the most popular day of the week for chores and laundry," says April Roberts, associate marketing manager for Coors Light. "We want to make sure football fans can spend more time chilling with an ice-cold Coors Light and less time folding shirts."
Coors Light and Tide will kick off the program this weekend at bars in Chicago, Cincinnati and Denver, where the first 75 fans can bring their dirty clothes to be washed, folded and delivered back to their homes, courtesy of Tide Cleaners. More details on participating locations and restrictions are online.
"More chill, fewer chores," Roberts says. "That's how fans really want to spend their weekends. Coors Light is going to make that happen."
Programs like "Chores Light" are designed to get people into bars, much like the limited release of Coors Light's Champions Ice beer last spring. Brewed with melted ice from the Colorado Avalanche's rink, Coors Light Champions Ice celebrated the Avs' hockey championship with a beer made specifically for Denver-area bars.
"The on-premise is more of an experiential channel," says Brittany Lanier, senior marketing manager for Coors Light. "We have to make sure we're top of mind, getting consumers to choose us when they order their first beer, and then keep choosing Coors Light throughout the night."
That's why Coors Light is looking to amplify the success of its "Made to Chill" campaign in bars and restaurants by unveiling a new suite of tools aimed at catching drinkers' eyes and ensuring the mountains are blue throughout the bar.
The new on-premise push includes a versatile new tap handle and new stackable standard pint glasses that are designed to work in tandem with an array of assets — from coasters to neon signs — that all serve to strengthen Coors Light's credentials at a local level.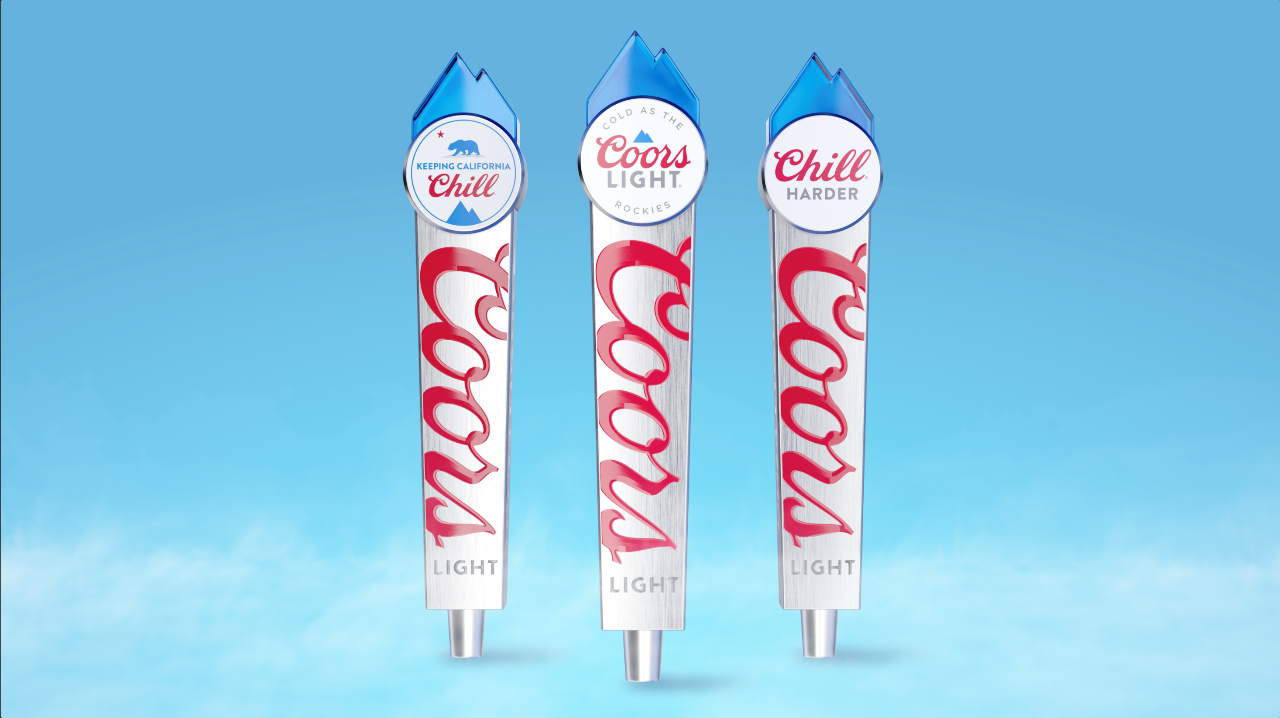 The new tap handle, debuting in 2023, allows bartenders to easily customize it using a magnetic finial. The finials, which feature the famous "Coors" script on a silver lever, can be customized by market or program and swapped out for imagery featuring the brand's sports alliance partners, special events and other activations.
"Our new tap handle helps make sure Coors Light has the right ways to stand out in the on-premise," Lanier says. "The cool thing about it is it allows all of our local sales teams to create their own finial. Whether it's for local markets, local alliances or complements to our key programs for the year, it's easy to customize."
Coors Light has worked to give its successful "Made to Chill" campaign a local flavor, allowing area sales teams to keep Coors Light relevant with consumers in their markets with a full suite of tools, from social and digital assets to in-store retail assets reflecting local landmarks and lore. The new tap handles will help bring the campaign to life while Coors Light is being poured.
"The more we show up on a local level, whether it's with their favorite sports team or with customized tap handles in their favorite bars, the more we can grow a relationship with consumers," Lanier says. "We're taking our local presence to a new level."