You couldn't have kept your hands off the first Coors football bottle.
Which was part of the reason we didn't roll it out.
The 18-ounce bottle really looked like a football — it was shaped like one, with pebbly texture and stitching stamped into the amber glass. It even had white laces thanks to top-of-the-line ceramic screenprinting.
But it was too tempting to toss it around at the bar. It was also expensive to make and easy to break.
No sweat, though — Coors was just getting warmed up.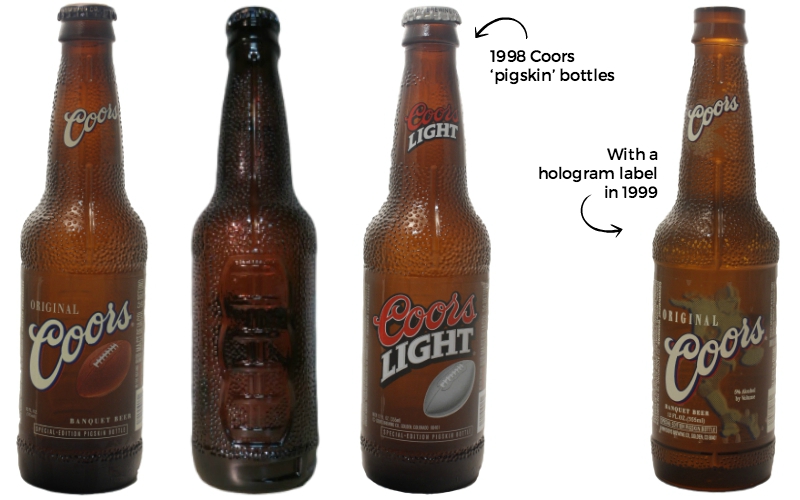 This was the '90s, and the company was heavy into packaging innovation (and had just had a hit with the baseball bat bottle). In 1998, Coors introduced a special-edition "pigskin" football bottle — a 12-ounce longneck with leather-like grain and laces molded into the glass.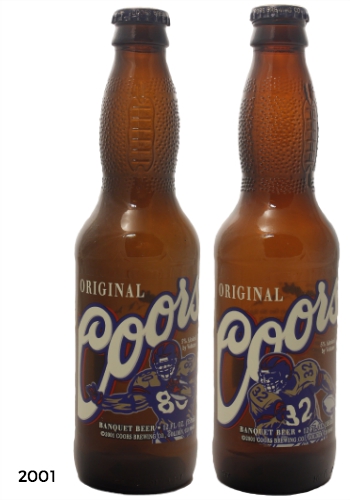 "The new Coors football bottles ... are going to amaze consumers," a marketing director said in a news release announcing the launch. "You've got to see and feel these packages to believe them."
Customers loved the pigskin bottles, and Coors brought them back for several seasons — filled with Coors Light or Coors Banquet. Over the years, the pigskin bottles featured a variety of graphics on premium pressure-sensitive labels, including a hologram of a football player.
The company also experimented with a bottle that had just a textured football-shaped neck. It was less expensive to make but proved not as popular with fans.
Today Coors isn't focused on making extreme football bottles — it's all about these cool Coors Light team cans. Besides, it'd be tough to top those first-generation football-shaped bottles that never made it to market … which we hear wound up in the (careful) hands of a few lucky employees.