Blue Moon Brewing Company opened The Sandlot taproom at Coors Field full time on May 2. Originally open on only game days to ticket holders, guests 21+ can now stop by for beer every Tuesday through Saturday from 11 a.m. to 6 p.m.
I love finding any reason to visit the brewers at The Sandlot. They are creative, funny and just a blast to be around. Every time I visit, we eat the deep-fried tacos down the street at Mexico City Restaurant and try the fun, new beers straight from the taproom tanks. With the grand opening on May 1, I had the perfect excuse to pop in, so I headed to Denver for the opening night party. I got there in time to help head brewer John Legnard wash the windows before the guests arrived, and to make sure all the beer tasted OK, of course.
The day of the party, Denver was blanketed in 6 inches of snow, but the local press, neighboring brewers and beer bloggers still came out in droves to check out the newly renovated space. Free beer is an excellent motivator! While occupying the same footprint as the previous space, the bar has been aesthetically transformed to match Blue Moon's brand identity. Beautiful wooden planks now make up the front of the bar and the support pillars. It's a little like hanging out in a giant orange crate. The smell of the new wood mingling with the brewery scent is something I'd like to bottle and sell at a premium on eBay (with legal approval, of course). Blue Moon's signature artwork and other assorted paraphernalia are displayed all around the bar, and fun bits of history await anyone with a sharp eye. I particularly enjoyed the photo of the original Blue Moon collection from 1995.
There to lend to the party atmosphere was the band South of France, a local Denver indie pop band whose music will be featured in an upcoming Blue Moon ad spot. I really enjoyed their set and will be keeping an eye out for them if they ever make their way to Chicago. You can check out some of their jams on YouTube.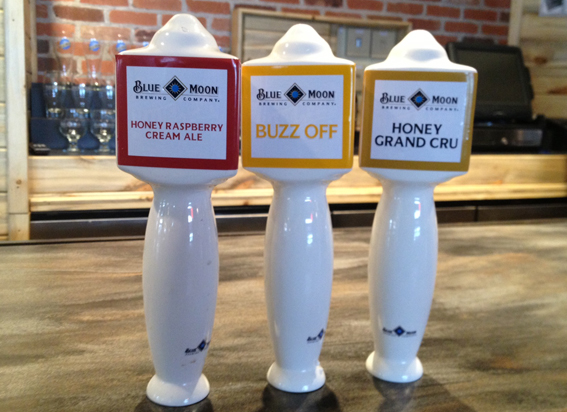 Tasty food pairings were available for all the beers being poured. Agave Nectar Ale and coconut shrimp? Raspberry Cream Ale with raspberry brie in phyllo dough purses? Rounder Pale Ale with sliders? The only answer? Yes, please!
And of course, there's the beer. In addition to the in-season standards and plenty of Blue Moon Belgian White, visitors will be able to order up some of the experimental "things to come" from the brewery. During my visit, Honey Raspberry Cream Ale, Buzz Off and Honey Moon Grand Cru Ginger were being poured, none of which are currently in market. Beers can be purchased in sample-size pours or full pour, so you can build your own flight. A beer flight is the No. 2 best kind of flight, after a first-class flight.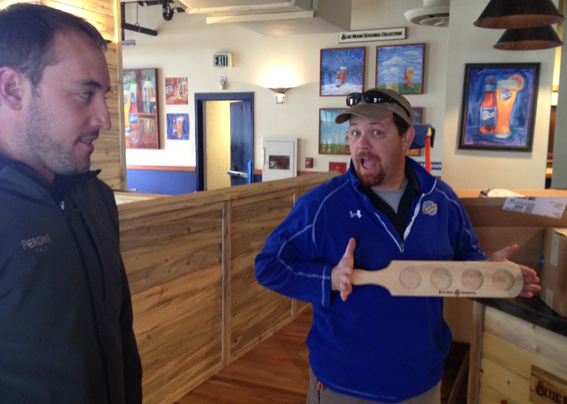 The location in downtown Denver is perfect for capturing area visitors who love Blue Moon, and surprising locals with some beers they might not expect from a MillerCoors entity. In the past, if it wasn't a game day at Coors Field, people would come to the door in excitement, only to find it locked. Now it's open and nestled in a part of the country that ranks No. 4 in breweries per capita. Denver is an exemplary beer destination in our country, and now Blue Moon Brewing Company and the skilled brewing team at The Sandlot have a space to showcase their awesome brews. So pick up some deep-fried tacos at Mexico City (I recommend the steak with avocado) and head over to The Sandlot for some Blue Moon brews next time you're in Denver.