Blue Moon is gearing up to commemorate and celebrate the 50th anniversary of the Apollo 11 moon landing, the 'giant leap for mankind' that captivated hundreds of millions around the world.
The brand's celebration, which spans TV, digital, social and out-of-home and features events across the country, kicked off late last week and continues through July 20, the date in 1969 that U.S. astronauts landed the lunar module Apollo 11 on the surface of the moon.
The moon landing celebrations mark the next phase of the brand's 2019 campaign, which launched in spring with the unveiling of its new tagline and mantra, "Reach for the Moon." The tagline "ties directly to Blue Moon and inspires drinkers to reach for the taste that shines brighter," says Bryan Ferschinger, vice president of the above premium portfolio at MillerCoors.
The brand's new spot "is our way of honoring those who got us to the moon 50 years ago and those who will get us to the moon again," says Elizabeth Hitch, senior marketing manager on Blue Moon.
It is airing on platforms including FOX, Telemundo, USA, YouTube and ESPN.com. It also will be integrated in high-profile programs like History Network's "Moon Landing: The Lost Tapes" and Hulu's "Science Fiction."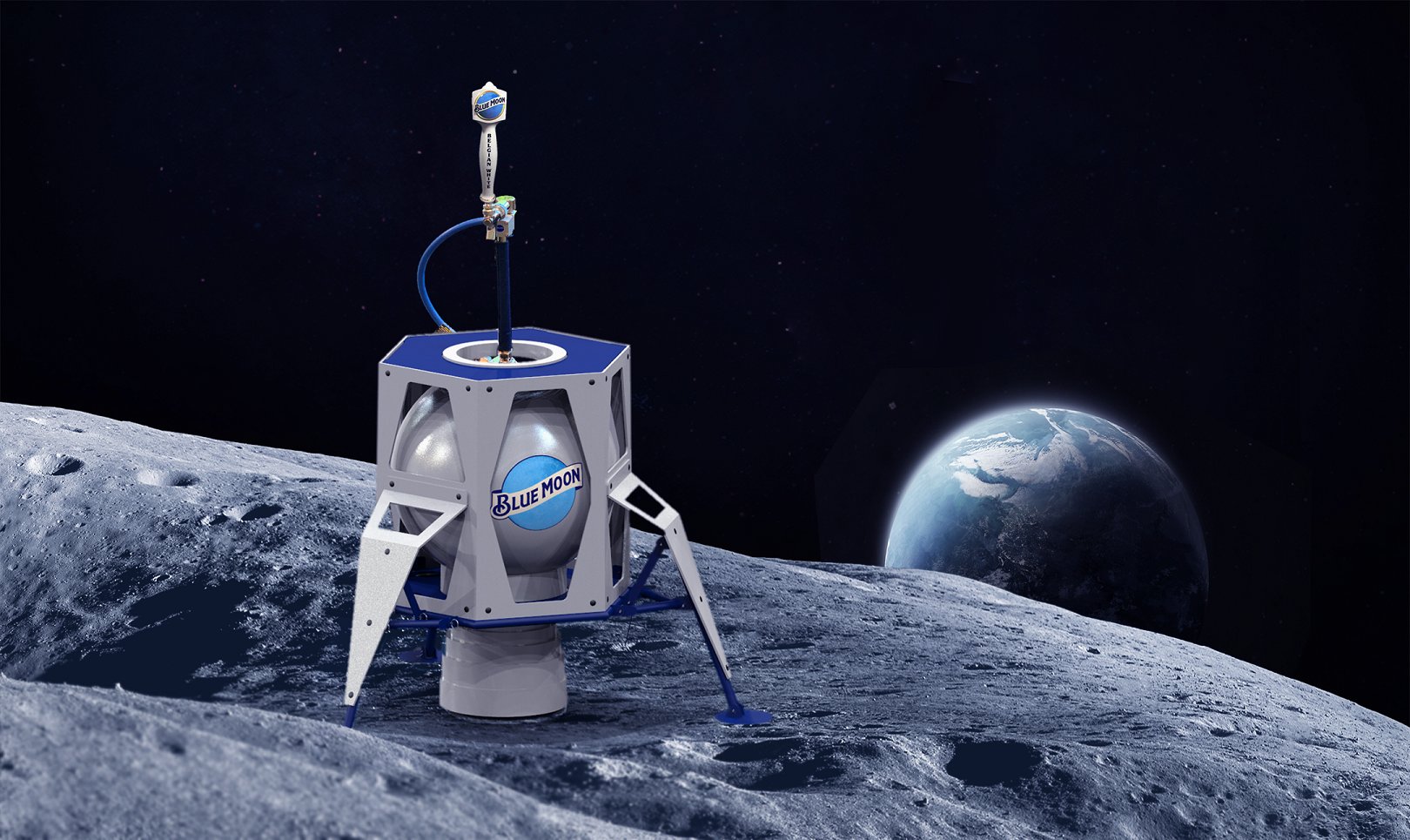 Blue Moon also plans to host events around the country in July, including a handful that feature its Lunar Lander keg, a limited-edition keg inspired by aerospace manufacturer Blue Origin's proposed lunar lander, which also carries the name Blue Moon.
And, on July 20, the brand is launching an augmented reality Snapchat portal that transports the social media channel's legal-drinking-age users to the surface of a blue moon, where they can virtually walk on the moon and explore a Blue Moon-branded moon rover.
The Snapchat portal "brings the moon walk experience to the next generation of drinkers in a medium that makes sense and that they frequently interact with," Hitch says.
The lunar-centric campaign comes amid renewed public interest in space exploration and the moon landing, due in part to the recent announcement of plans to send astronauts back to the moon by 2024 and to Mars a decade or so later.
It also represents the next phase of Blue Moon's 2019 marketing campaign, following its sponsorship of the Kentucky Derby, where it was the official craft beer of the horserace as well as the first-ever craft beer sponsor of Churchill Downs, the Louisville, Ky., track where the race is held.
Blue Moon is coming into the campaign with some momentum: Flagship Blue Moon Belgian White Belgian Wheat-Style Ale is gaining share in craft and holding share in the overall beer category over the most-recent four-week period measured by Nielsen.
"Blue Moon is set to own this major cultural milestone with a robust mix of support that encourages drinkers to toast the momentous anniversary with us," Hitch says. "The brand has a right to own the conversation around this event with drinkers, and we're doing so with a very natural tie-in."