For 21 years, Blue Moon has been synonymous with the brewery's best-selling beer, Belgian White. You've heard the story. Bellyside Belgian Wheat, the top beer produced at the tiny Sandlot Brewery tucked inside Coors Field in Denver, found an audience outside its taproom. The rest is history.
Over the past two decades, other beers from Blue Moon Brewing Company have found an audience of their own. Harvest Pumpkin Wheat was the first nationally distributed pumpkin beer.  Sales of Summer Honey Wheat took off.  Combined with Cinnamon Horchata and other seasonal and year-round beers, Blue Moon varietals now account for roughly 10 percent of sales under the Blue Moon Brewing Company umbrella.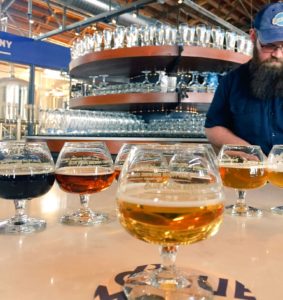 ​
Just over a year ago, Blue Moon opened its new home in Denver's hip River North (RiNo) neighborhood. In addition to its 20-barrel brewhouse, a 2-barrel pilot system allows for unencumbered possibilities to fill the beer menu.  The 400-seat bar and restaurant has 22 revolving taps. The best-selling beer at RiNo is Belgian White, of course, but the tap list is full of cool surprises, like Lemon Drop Pilsner, Blood Orange Pale Ale and Iced Coffee Blonde.  In addition to being a great sensory experience for guests of the brewery, the RiNo facility also serves as the unofficial research hub for Blue Moon beers that may someday make their way onto retailers' shelves.
Cue Mango Wheat. The No. 2 best seller at RiNo is brewed with mango puree and a hint of honey, which lends a mild sweetness and tropical notes. Bright and sunny with a cloudy wheat haze, the thirst-quencher earned a Great American Beer Festival medal in 2016, confirming what strong sales already indicated: Mango Wheat is a winner.
Riding the coattails of its success in Denver,  Mango Wheat nudged its way into distribution this summer as part of the Brewmaster Sampler pack.  Now it will hit retail in standalone six-packs starting in September.  When you pick some up, try it with chicken tacos topped with mango salsa. And next time you're in Denver, visit Blue Moon's RiNo location and help us find our next new beer!