Great beer with great friends—that's what Miller Lite is all about. Let me take you to the beginning where it all started.
In 1972 Miller Brewing Company's new president, John Murphy, orchestrated the purchase of three brands from a bankrupt Chicago brewer, Meister Brau. Those brands included a newer Meister Brau product, Meister Brau Lite. It was Meister Brau's recent entry into the low-calorie beer field, one in which the previous entrant had failed miserably, despite heavy advertising support. (The Coors Brewing Company also had a low-calorie beer—as early as 1941—but had to discontinue it during World War II grain shortages.)
By this time, Miller Brewing had a New York ad agency, McCann Erickson, working on growing its High Life brand. According to sportswriter Frank Deford, who wrote the authoritative history of the Lite Beer commercials, Lite Reading, sales figures showed that the city of Anderson, Ind. was crazy about Meister Brau Lite. McCann Erickson staff toured the bars in Anderson and observed that its popularity was greatest among blue-collar male consumers—not the expected market for a "diet beer."
Miller was inspired by the sales in Anderson, and saw that there could be potential in the product. The team spent a year reformulating it, and finally produced a low-calorie brew that tasted like beer.
Back in New York, Bob Lenz of McCann Erickson had an inspiration; use a retired athlete to endorse the product (laws forbade using active athletes). He chose Matt Snell, a former New York Jets running back and star of the 1969 Super Bowl. In July 1973, McCann Erickson rented a bar in Manhattan for three days of shooting. The script was made up as they went along; it wasn't until late in the third day that Matt Snell uttered the memorable words on camera, "You know, new Lite Beer from Miller is all you ever wanted in a beer … and less." Snell then went on to explain that Lite had a third fewer calories and fewer carbohydrates. Later, the wording about carbs was changed to simply say, "Less filling."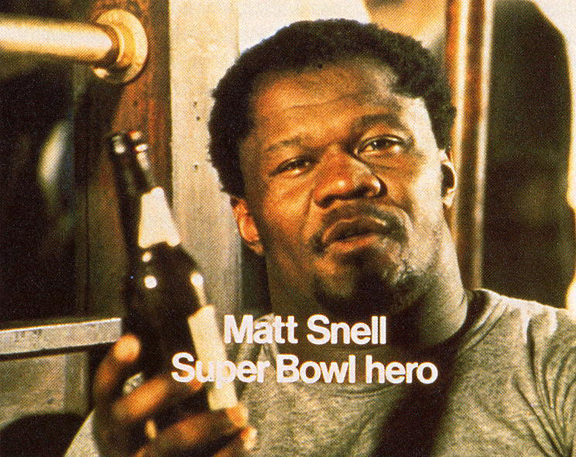 ​
The next month Miller Lite began tests in Providence, R.I., Knoxville, Tenn., San Diego, and Decatur, Ill. It would be nice to say that the ad campaign immediately followed Matt Snell by using more retired athletes; but, in fact, the agency then engaged mystery writer Mickey Spillane and got actress Lee Meredith to appear with him. Another athlete, Ernie Stautner, appeared, followed by drummer Buddy Rich. Matt Snell returned, followed by a movie actor. Finally, with the 14th Lite commercial, the brand began to cast almost entirely athletes, and the campaign exploded. The Lite field tests were expanded again, and the brand was introduced nationally in January 1975. Today the light beer category claims half of the market, and it is still Miller Time.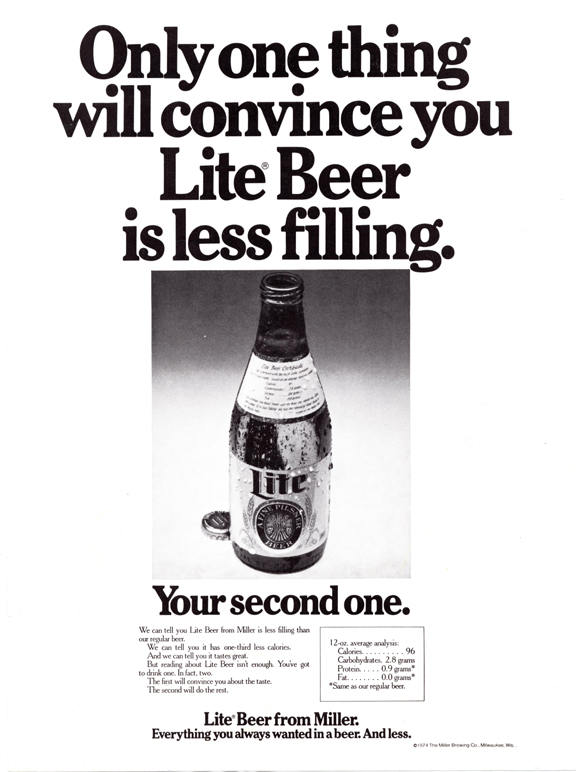 ​