In place of a typical nameplate on his desk in Chicago, Gavin Hattersley has a sign that reads "Ne Stupefaciamus." 
The Latin phrase loosely translates to "let us not be stupefied." Or, as Hattersley says, "I don't want any unpleasant surprises. Don't have a problem and not come tell me about it. Problems generally tend to get bigger, and what I'm looking for is a good, open, honest dialogue among all of us."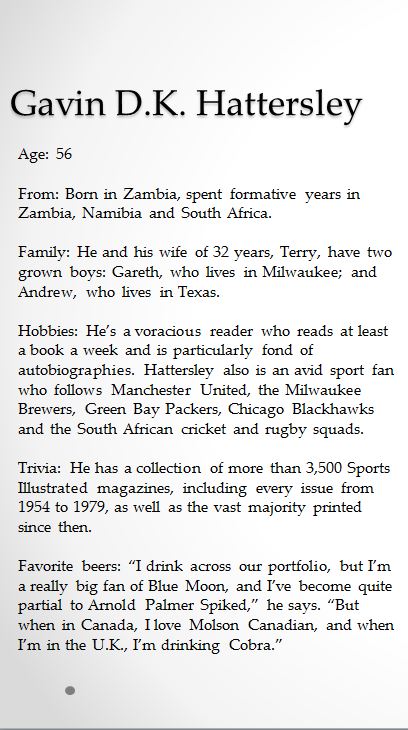 As Hattersley, 56, ascends to chief executive officer of Molson Coors, he intends to bring that same type of hands-on leadership approach – one grounded in honesty, transparency and collaboration – that he employed at the company's largest business unit, MillerCoors.
With a background in finance and accounting, the 23-year beer industry veteran worked his way from SAB Limited in South Africa to Miller Brewing Company before becoming chief financial officer at MillerCoors in 2008. In 2012, he took over as global CFO at Molson Coors and three years later was named CEO of MillerCoors, where he presided over a U.S. business amid a transformation.
Under Hattersley's watch, MillerCoors shifted its investments behind more higher-priced, above-premium products to meet changing consumer demands. The company ramped up its investments in Blue Moon, helping the brand to post its best quarter since 2017. It put more money behind Peroni, catapulting the Italian import to the fastest-growing, top-30 import. And Cape Line, the company's biggest innovation bet of the year, is the top new flavored malt beverage in the industry, and it spent 14 straight weeks on Nielsen's Top 10 Growth Brands list.
And, of course, he's maintained the company's focus on its top-selling brands, Miller Lite and Coors Light, each of which is gaining share in their segment in 2019.
Hattersley thinks MillerCoors will continue to build momentum in 2020, when it rolls out nationally a line of wine spritzers called Movo, an above-premium light lager called Saint Archer Gold and a spate of additional new products, including Blue Moon Light Sky, Coors Peak, Leinenkugel's Spritzen and Keylightful.
Over the weekend, he transitioned from CEO of MillerCoors to CEO Of Molson Coors, replacing Mark Hunter, who retired.
The day before he officially took the reins of the global brewer, Hattersley sat with Behind the Beer and discussed his plans.
Q: Hey Gavin! How are you feeling heading into the transition?
A: I'm really excited to be taking on this new role. I think there's a lot of opportunity for us. I think we can make a real difference and we can get this company to growth, and I'm excited for the challenge.
Q: What are your top goals for Molson Coors?
A: We have to do three things: We have to stabilize our iconic brands and restore them to the glory days of the past. We have to drive our above-premium portfolio through innovation significantly quicker than we have before. And we need to put more firepower behind our brands and build out capabilities across the enterprise.
Q: What's your plan to get there?  
A: I can't yet get into the details of that. I'm working with our board and leadership team to finalize my plans, and I won't be in a position to talk about it until October 30, when I roll out my full plan. But I can tell you this: Part of my objective is that we need to move quickly. We need to move with pace. And I have a very clear vision of where we need to take the company, what needs to be done, and I need to get moving on it as soon as possible.
Q: You implemented a fair amount of change at MillerCoors, and a lot of what you've done is just starting to roll out. What can we expect to see from MillerCoors in the year or two ahead?
A: You can expect us to move even quicker than we have before. You will see us take even more calculated risks. You will see us reach into spaces we haven't necessarily played in before; Movo and La Colombe are fine examples of that.
You will see us become more decisive than we have before. If something's not working, we'll kill it. If something is working, we'll put more funds behind it.
We're also going to be very deliberate about how we spend, and our choices will be obvious. We will put extra money behind brands like Saint Archer Gold to take on Mich Ultra, and like Peroni, building on its second year after a very successful first. And we'll be putting money behind places that you would not expect from us.
Q: When you look at MillerCoors at this snapshot in time, what do you see?
A: I feel excitement, I feel a rejuvenated energy. I see lots of opportunity for us. I feel momentum of positive sentiment coming out of distributor network. They like what they're seeing, the pace we're moving, the risks we're taking and the innovations and ideas we're bringing. 
Q: How would you characterize the state of the U.S. beer industry, and who succeeds in this market?
A: Who will succeed? Those that move quickly and are innovative and are able to test the limits beyond the norm. Those that come up with ideas that actually break through. And we've talked a lot about that with Coors Light, which in a sea of sameness has actually broken through with work that's not just another beer commercial. 
When I talk about being innovative, I'm not just talking about products, I'm talking about across all of your capabilities. How do you do precision marketing? How do you read and manage data? How to bring ideas to life?
Q: What from your MillerCoors experience informs how you'll run the global operations of Molson Coors?
A: First and foremost, I want to create an environment where the work we're doing is fun. And over the last few years, it has been quite tough for us because performance hasn't necessarily followed all the effort. When I joined the beer industry 23 years ago, I joined because it was a fun place to be. And that's what I'd like Molson Coors to be: a fun place to be where we're celebrating our successes and making strong progress against our goals. 
I also think we can be more collaborative as a company. I think we can wonderfully share ideas between our business units, and we're already starting to see that. Canada already has picked up the Coors Chill campaign, and some countries in South and Central America are going to pick it up as well. Innovations our team are developing here are going to lift and shift (to other countries), and I'd like to see a lot more of that across the enterprise.
Q: When you look back at your tenure leading MillerCoors, what did you leave undone?
A: I set out to try and be more decisive, and I think I could have been even more decisive in some decision-making processes. You'll see me take that with me into my new role. I've learned over the last year or so what moving fast truly means, and you'll see us moving fast going forward. 
Q: What do you expect will be your biggest challenge in your new job?
A: The challenge that Molson Coors has faced and we need to deal with head-on is getting our business into top-line growth. That's my biggest challenge, and it's my expectation and desire that we'll achieve that in the years ahead.