[dropcap size=small]A[/dropcap]Athens, Georgia, lies just 72 miles east of Atlanta. This charming college town is anchored by the University of Georgia and a storied music scene; both R.E.M. and the B-52s hail from Athens. There is also a growing beer culture, thanks in large part to Terrapin Beer Company.
Founded in 2002, Terrapin moved into its current location in Athens in 2008. Spike Buckowski, one of the founders and brewmaster at Terrapin says that Athens was his first and only choice for the brewery.
"Terrapin is very outdoorsy and music-driven. It fits right into the city's feel," says Spike.
Athens is an eclectic city with a long history. Officially a town since 1806, the streets are dotted with vintage buildings occupied by modern boutiques and eateries. The University of Georgia brings 36,000 students a year in from all over the world, including over 8,000 graduate students drawn to UGA's highly ranked research institutions.  Historic neighborhoods ooze Southern charm, and Athens has 15 such neighborhoods on the National Register. A plethora of parks, the North Oconee River and nearby hiking keeps nature top of mind for the city's residents.
Location, Location, Location
Just 2 miles from downtown, the 45,000-square-foot Terrapin Beer Company brewery houses not only beautiful rows of stainless tanks and packaging lines, but a sizeable tasting room and store.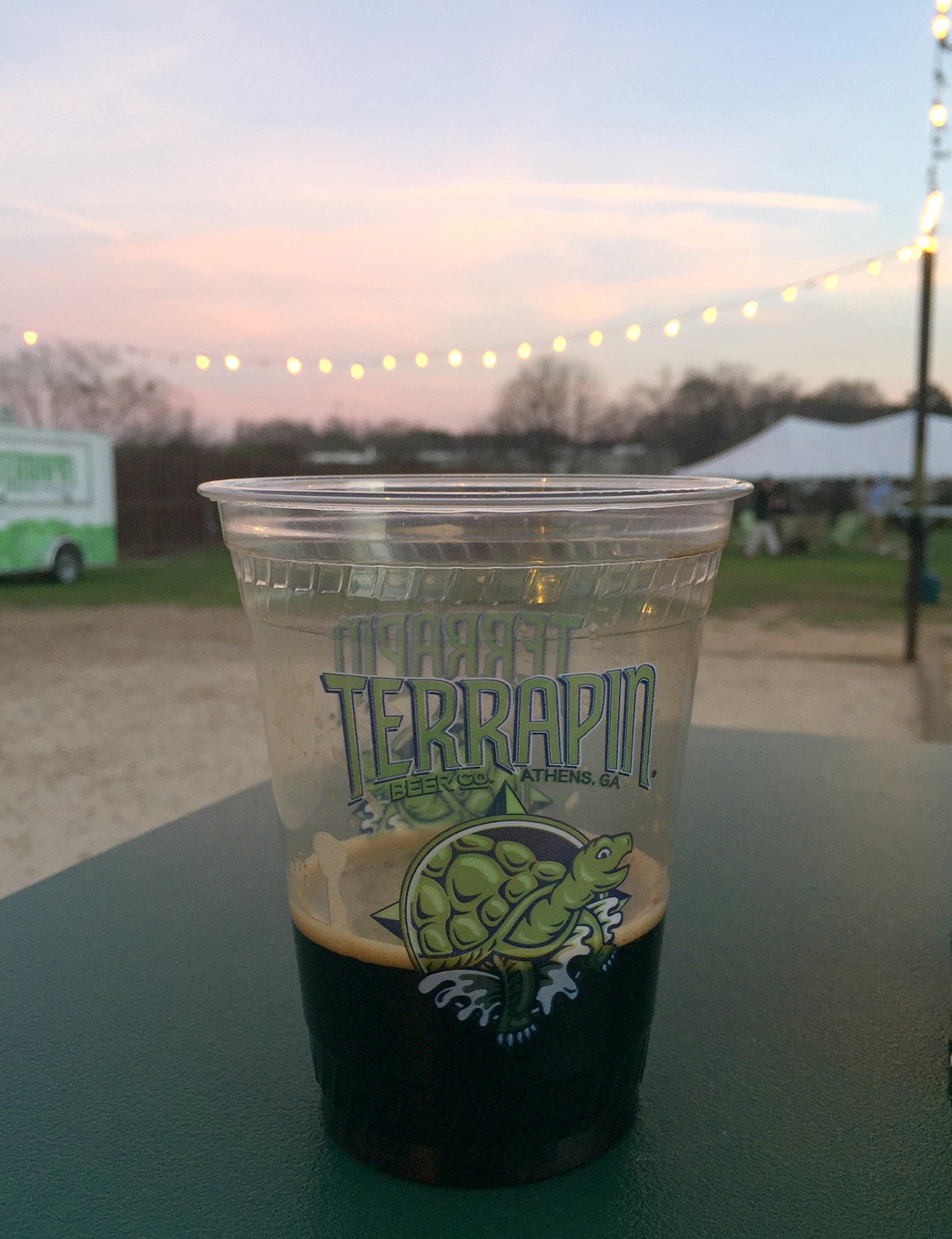 Terrapin is a destination in the area, both for their tours and the "backyard," a
fenced-in area off the tasting room dotted with picnic tables, an outdoor bar and twinkle lights. Dogs are welcome in the yard, and a stage is ready to host live music every Thursday through Sunday. After your brewery tour you can catch a gorgeous sunset on a breezy Athens evening set to an acoustic guitar, all while sipping a fresh Terrapin sample. Idyllic doesn't do it justice.
Leah Kuck, a marketing and communications lead at Terrapin, finds inspiration in Athens comes easily.
"The culture in Athens is by far one of the best things about the city," Leah says. "There are so many good places to eat, drink and listen to local music. It's a very creative town, not just because of the music scene. Athens is home to so many visual artists."
And Athens is certainly reflected in the beer Terrapin makes. Recreation Ale is a sessionable IPA made to be enjoyed at the end of a long hike. Sound Czech is a crisp Pilsner "concert of flavor" that pairs perfectly with a low country boil. Wake and Bake Coffee Stout partners with local Athens coffee roaster Jittery Joe's to create perfect coffee notes.  You can get a great taste of Athens life just by sampling the Terrapin portfolio. But we're guessing you'll be inspired to go enjoy it all in person after a few sips.