Hard seltzer's slumping summer sales have sent waves of concern – and quite a few 'told-ya'-so's – across the beverage industry.
The slowdown, driven by the largest players in the space, started with consumers' return to the on-premise and has only gotten worse as the summer has worn on, data show.
And while the industry's stalwarts — White Claw and Truly — have made headlines leading the decline, Molson Coors Beverage Company's lineup, led by Vizzy Hard Seltzer and Topo Chico Hard Seltzer, are riding a wave of growth.
"Two years ago, all you had to do was come into the seltzer space, and you knew you were going to grow," says Matt Escalante, senior director for above-premium for Molson Coors Beverage Company. "Now, if you don't have a strong reason for being and a differentiated brand, you're not going to survive."
That's where brands like Vizzy, newly minted as the nation's No. 4 hard seltzer, with its antioxidant vitamin C, and an extension of a beloved brand with built-in bona fides like Topo Chico Hard Seltzer see plenty more room for growth, Escalante says.
"Fortunately for us, our brands are in a really good position and continue to gain share. People are choosing them because they're unique and aren't just another 'me too'," he says. "Each of our brands brings something unique and distinctive. These things have really sparked with consumers."
The numbers bear that out. Molson Coors' hard seltzer portfolio is up a whopping 240.4% in volume sales at retail year-to-date in 2021, according to IRI multi-outlet and convenience data through Sept 5. The segment overall, by comparison, is up 18.5%. Over that period, the company has more than doubled its share of the segment.
And over the last 13 weeks ended Sept. 5, as the seltzer segment slogged to just 4.4% volume growth, Molson Coors' hard seltzer portfolio skyrocketed 158.4%. Over that time, Vizzy's volume sales grew 51.5%, while Topo Chico, available in just 16 markets, has climbed the ranks to become the No. 6 hard seltzer since its March launch.
Big brands suffer late-summer fizzle
For other sizable hard seltzer players, the summer hasn't been so kind.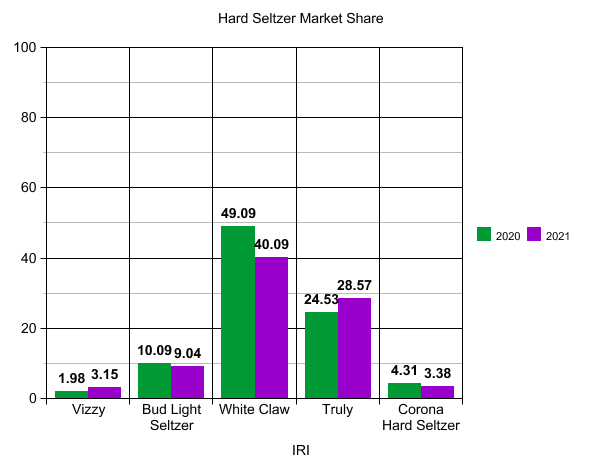 The segment's slowdown has affected players across the board, with Corona Hard Seltzer down more than 36%, Bud Light Seltzer down 13.6%, and industry leader White Claw down more than 11%, per IRI data for the 13 weeks ended Sept. 5. Boston Beer Co.'s portfolio, led by the segment's No. 2 brand, Truly, remained up about 18%. But that's half its year-to-date growth rate and a far cry from the 141% it posted for 2020.
These slowdowns — and outright declines — have prompted pundits to wonder again if consumers' love affair with hard seltzer is actually just a fling.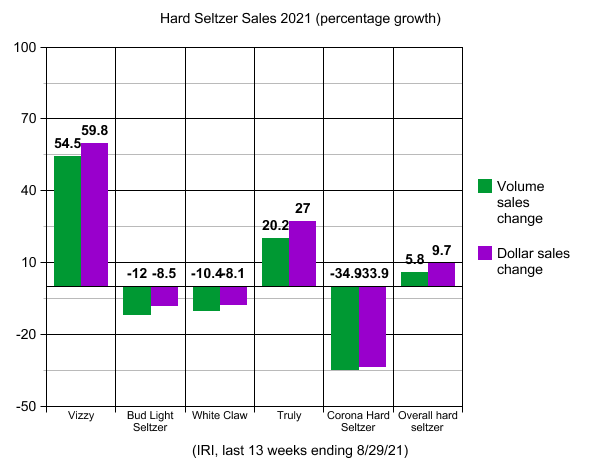 "The hard seltzer craze has come to an end," cried CNN. And on Friday, Beer Business Daily led with the headline: "Hot Seltzer Summer is Truly Over," declaring that "the fall of hard seltzers has been swifter and steeper than many could've imagined."
That came as two industry leaders, Boston Beer Company and Corona Hard Seltzer's U.S. parent Constellation Brands, both said they'd overestimated consumer demand for hard seltzers and would be forced to take write-downs for excess inventory in 2021.
But behind the depressing headlines for the old standbys, the segment remains fertile ground for upstarts and brands with a clear point of differentiation.
That's what's driving the growth of Vizzy and Topo Chico, Escalante says, positioning them well as the category scuffles.
With Molson Coors' stated goal of grabbing a 10 share of the hard seltzer market by the end of 2021 in sight – it owned an 8 share in the week ending Aug. 29, according to IRI – its strategy of investing in differentiated hard seltzers appears to be paying off.  
Seltzers exit orbit
Nonetheless, the swift rate of decline captured in scanned channels has been jarring.
"I think we might be cycling through the worst of the (comparisons) right now," says Jim Watson, research analyst for Rabobank. "If we're going on the last month or two of year-over-year comparisons, that's probably as tough a comparison as we're going to have."
In short, the seltzer bubble isn't about to burst, but the triple-digit growth that propelled it through 2019 and 2020 was never sustainable.
Hard seltzer finished 2020 having grown 159%, according to IRI data. But year-to-date in 2021, that growth has slowed considerably, IRI data show.
Over the most-recent four weeks, for instance, the segment has dipped into the red, down 2.2%, largely because of the performance of a few key brands: White Claw sales fell 17.9%, Bud Light Seltzer dropped 26.5% and Corona Hard Seltzer plummeted 40.4% in that timeframe, per IRI.
The National Beer Wholesalers Association Beer Index, which measures beer purchasing activity across the U.S., pegged hard seltzer at a 58 in August – down from a 92 a year earlier (still making it the third best-selling segment behind import and craft).
The segment's late summer slide is part of a natural maturation process with any emerging segment, says Brian Laird, senior manager of strategic initiatives at Molson Coors, who studies the industry.
"While hard seltzer didn't double this year, it's still huge. It's such an important part of the total beer category," he says.
Any future declines, he says, most likely will be led by brands that fail to stand out amid a sea of choices.
"There are a ton of brands at retail now, and it gets hard (for consumers) when there are too many choices," he says.
Choices abound for consumers. With about 220 hard seltzers on shelves, the numbers alone show the outsize role seltzer plays in consumer choice. But, industry watchers say, winners of the seltzer wars need more than just a name brand.
Innovation drives growth
That's where innovation comes into play, says Watson, who predicts a "pullback on SKUs" amid a flood of hard seltzer brands into the market from suppliers large and small.
"You need something to set you apart. Something like a Bud Light Seltzer, just attached to a brand, doesn't supply that," he says.
That's a mantra Escalante says Molson Coors is living by. And, he says, both of Molson Coors' top bets in the U.S. – Vizzy and Topo Chico Hard Seltzer – have each carved out unique positionings in the market. And both plenty of runway to grow.
While Vizzy is among the top brands sold in the off-premise, it has only 27% brand awareness among 21- to 34-year-olds. Topo Chico Hard Seltzer, meanwhile, is only available in 16 markets – or about a third of the U.S.
"How do you drive the category forward by building brands with a strong point of view and bringing new innovation that moves the category forward?" Escalante says. "Grow your base and then expand your brand with new to the world innovation."