As a single mom making her way through brewing school, Anita Riley didn't learn about scholarships provided by the Pink Boots Society until it was too late.
"I was kind of mad," she says. "Here we are, women pursuing education in the beer industry and no one told us there was a nonprofit organization specifically for that."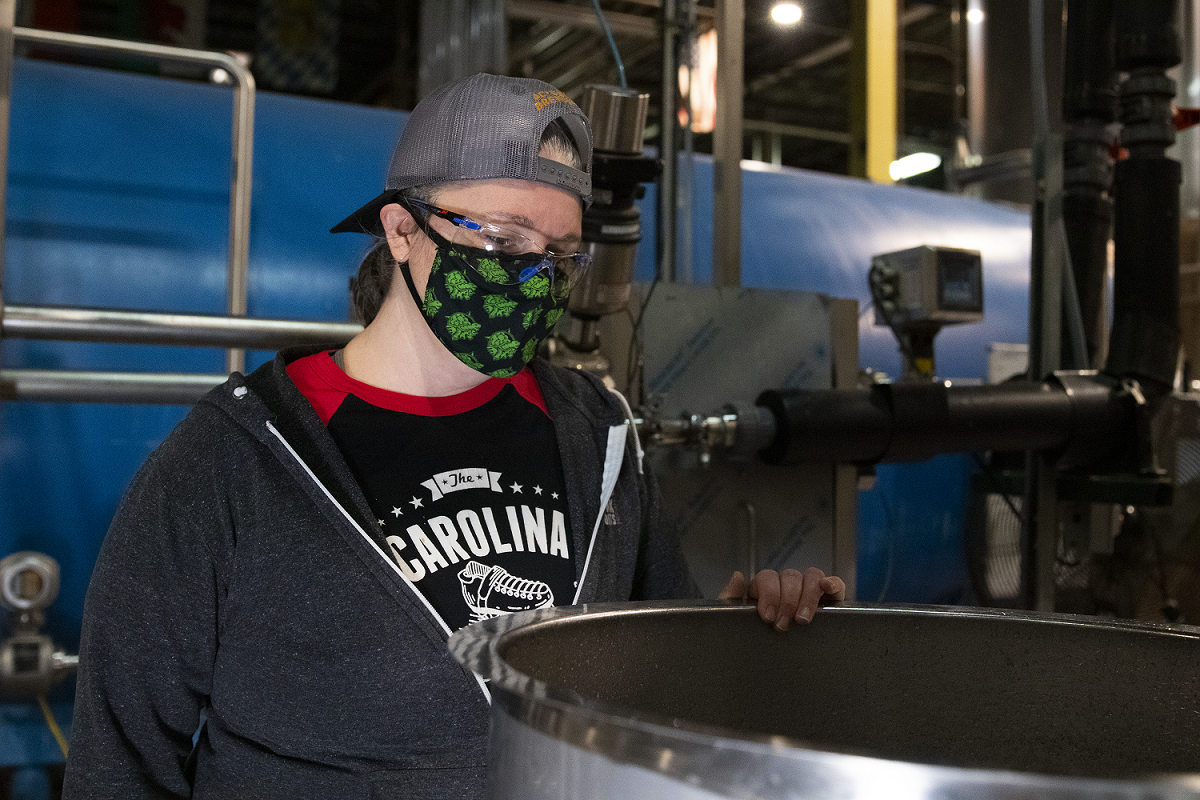 Now as a professional brewer with Terrapin Beer Co. in Athens, Ga., Riley has worked to ensure other women don't miss out on opportunities afforded by Pink Boots, the nonprofit organization that supports women in brewing. She has served on the national board, planned a beer festival and even wrote a book about women in brewing. And this week, like many women across the industry, she's teaming up with fellow female brewery workers to make a beer benefiting Pink Boots on International Women's Day.
"Pink Boots has been my way of giving back to continue furthering other people's education," she says. "Particularly before I got to Terrapin, it was the only time I saw women from my industry. Having that community for women to interact with their peers is really important."
Women play prominent roles in Terrapin's brewing operations: half the brew staff is composed of women, a rarity in an industry traditionally dominated by men. Just 7.5% of craft brewers are women, according to the Brewers' Association.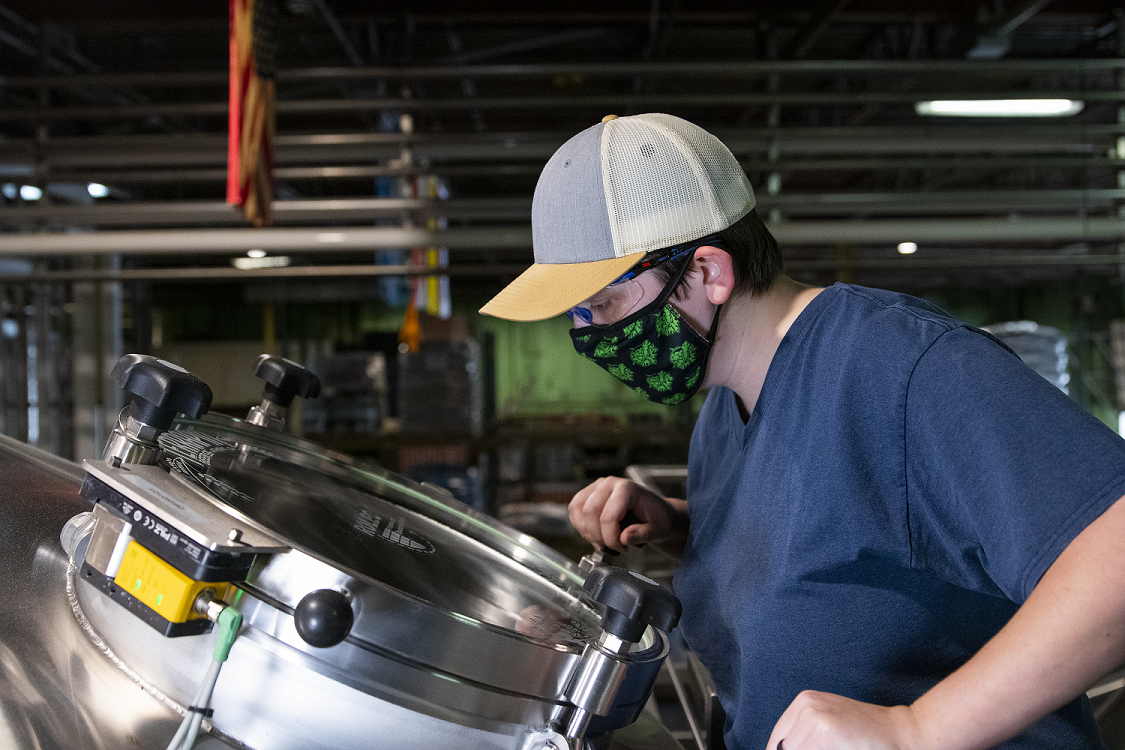 Brewing supervisor Jess Hurd, who started at Terrapin in 2016, says at that time, "there were maybe one or two women brewers in the state of Georgia. Now we've got five women on our team alone, and seeing there are women in the field doing great things encourages women to think, 'If they can do it, I can do it.'"
Special hops for a 'special process'
Terrapin is one of three Molson Coors Beverage Company craft breweries supporting the Pink Boots Society during Women's History Month in March by brewing beers with a special hops blend from Yakima Chief Hops. The Pink Boots Blend is made of Cashmere, Ahtanum®, Citra®, Loral® and Sabro® that together give off tropical, herbal, citrus and woody aromas.
This is the fourth year Yakima Chief has created a blend benefiting Pink Boots, and more than 300 breweries have purchased more than 35,000 pounds of hops, the company reports. Since 2018, it's donated more than $257,000 to Pink Boots' scholarship fund.
It's not just brewers that are picking up the mast paddle. Women at Revolver Brewing in Granbury, Texas, and Saint Archer Brewing Company in San Diego, as well Molson Coors' Fort Worth brewery, also are gathering to brew a special beer with the Pink Boots Blend in celebration of International Women's Day.
"We make beer here, but not everyone is directly in the process from the very beginning -- making the beer, brewing the beer," says Michele Reed, assistant quality specialist at Saint Archer. "It's a great opportunity for those who are not on the brewhouse to participate in making beer from the beginning.
 "There's something really special about that process."
Women at Revolver, which has tripled its female staff in the last year, are teaming up with women from Molson Coors' Fort Worth brewery to brew a hop-forward tropical pale ale called Yee-Hop.
The collaboration provides a valuable networking opportunity for teams that don't have many opportunities to mingle, while also showcasing women leaders at both breweries, says Megan Mares, Revolver's innovation manager.
"I think it's so badass that there are new women in the industry taking jobs like brewmaster, quality control, anything that wasn't there 10 years ago," Mares says.
Revolver Brewing Yee-Hop Pale Ale
The Revolver and Molson Coors Fort Worth crews are giving the Pink Boots Blend center stage in their pale ale appropriately dubbed Yee-Hop. The dry-hopped 5.5% ABV beer features a tropical fruit bouquet and a late addition of pineapple, mango and passionfruit.
"It's a pale ale with great tropical fruit notes that will be amazing as it starts to get warmer here," Mares says.
Revolver plans to hold a Yee-Hop release party April 10 at its Texas Live location in Arlington, where it will be available on draft and in crowlers.
Saint Archer Brewing Hazy/Tart IPA
The Pink Boots Blend's tropical aroma inspired San Diego's Saint Archer to create a one-of-a-kind beer that mirrors the flavors of a rum cocktail.
The 7% ABV beer, which has aromas of creamy coconut backed by orange and pineapple flavors, is the result of blending a hazy IPA and a kettle sour.
"It does very much taste like a cocktail, but it has that beer finish," Reed says. "I'm really proud of it."
The brewery is releasing the beer today at its Miramar and Leucadia locations, where it will be available in four-packs.
Terrapin Brewing (name TBD)
Terrapin's yet-to-be named beer, a classic American pale ale featuring the Pink Boots Blend, was brewed at its ATL Brew Lab in Atlanta and will be sold at select bars and restaurants in the Atlanta area as well as in crowlers for curbside sales at its taproom in Athens.
"It's going to be fairly sessionable, showcasing those hops and little bit of biscuity malt character to back it up," Hurd says. "It's got a tropical citrus and woody aroma, while still having some nice, clean bitterness."