Tony Bugher has been busy this year.
The new president of Jacob Leinenkugel Brewing Co. is racking up the airline miles, visiting distributors and customers in support of a slew of new initiatives that are driving momentum for the brewery in 2023.
The decision to make its top seller, Summer Shandy, available at the beginning of the year has paid off for Leinenkugel's, which grew revenue in the high single digits in the fourth quarter of 2022, Bugher says.
"For years, we've tried to balance this anticipation for Summer Shandy coming out in the spring versus our customers wanting it earlier," he says. "Summer Shandy got off to a quick start in January, and it's continued to perform."
Summer Shandy's performance in 2023 has been lifted by its 12-pack cans, which are up nearly 9% year to date versus 2022, according to Circana (formerly IRI) data.
It's a bit of a curiosity to see a beer so closely linked with warm-weather drinking occasions sold when much of the country is bundled up, but when Leinenkugel's has previously sold Summer Shandy during the winter months in test markets, Bugher says it consistently outsold the brewery's winter seasonals.
"The feedback we're getting is, it doesn't matter that it's winter. People like to drink Summer Shandy. Maybe it gives those drinkers a break from the weather and puts them in a summer state of mind," he says. "The results we're seeing show why it's been a good decision" to put it on shelves in January.
Juicy Peach's national launch
Leinie's knew it had a winner with its sweet and tart session sour Juicy Peach, which was the Great Lakes region's top-selling new craft item of 2022. The beer went national at the beginning of this year and has outperformed expectations, Bugher says.
"There's been a lot of excitement from distributors about Juicy Peach," he says. "And drinkers are drawn to it, too. It's a true Leinenkuguel's beer: it's refreshing, it's unique, it's not overly sour or overwhelming."
Plus, it's peach and peach is in. It is the most popular beverage flavor on a leading social media platform. And Circana (formerly IRI) wrote that peach flavor is expected to outperform 90% of all other food and beverage ingredients over the next four years, resulting in a 137% boost in peach-flavored total alcohol and beer dollar sales over four years.
And Juicy Peach is moving, up 122% year-to-date, according to Circana.
To celebrate Juicy Peach's national launch, the brand is giving legal-age consumers a chance to grab the latest in lake leisure performance gear. The Leinenkugel's Juicy Seat Performance Pants, water-resistance pants that feature a seat cushion to protect your backside while fishing, canoeing, kayaking or soaking in summer. They also include a built-in beer holster  and go on sale Friday – National Beer Day – for $75, while supplies last.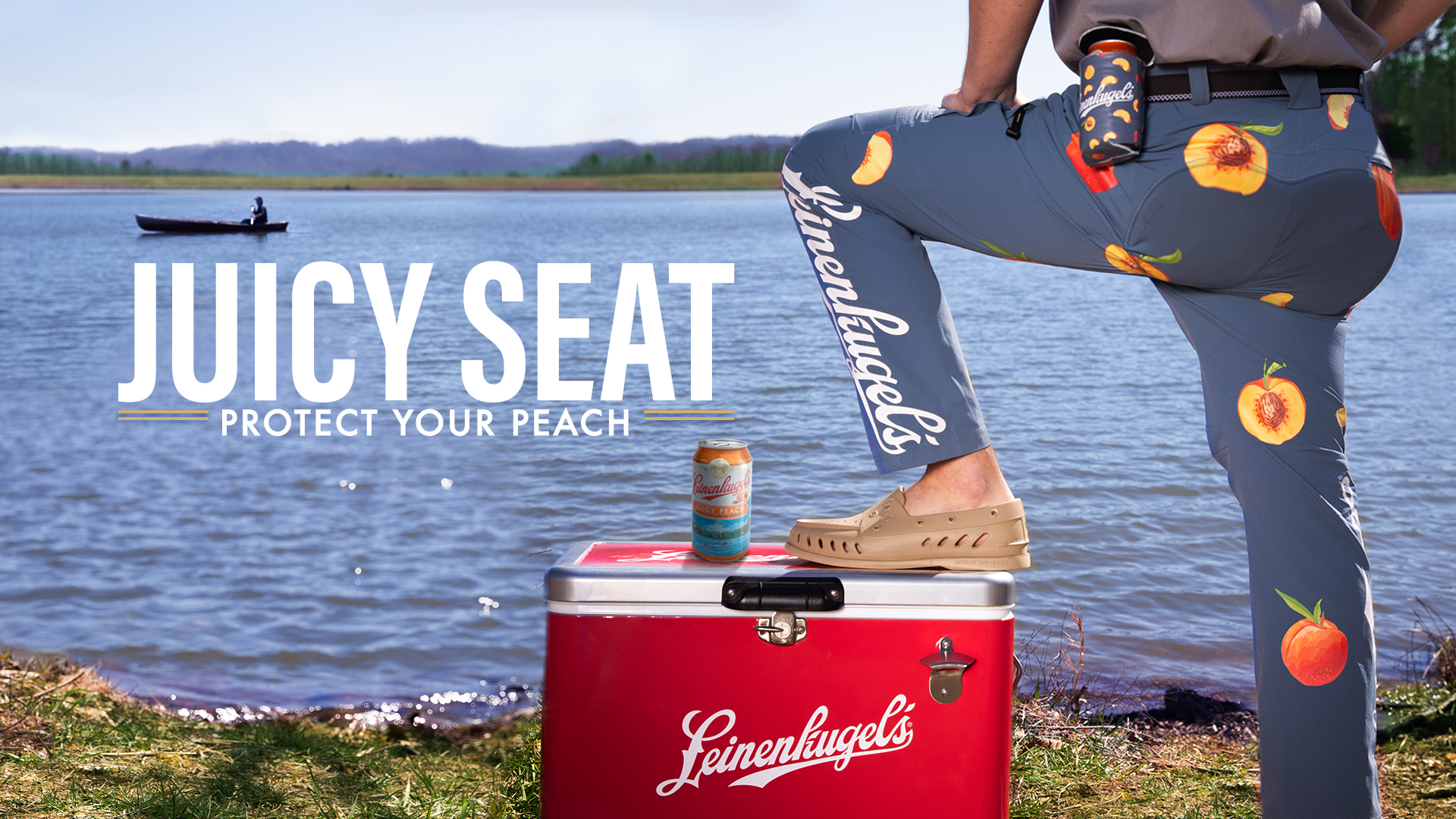 Leinenkugel's also introduced its new Honey Lemon Light, a 4% ABV, 99-calorie lager made with locally sourced honey and real lemon juice, this year. Available nationwide for three quarters of the year, it replaces Sunshine Light Lager in the Leinie lineup.
"Consumers like the idea of a low-calorie beer offering. They want a light and refreshing beer," he says. "Honey Lemon Light doesn't compromise on refreshment or calories."
With spring upon us, the brewery will look for more ways to get Juicy Peach and Honey Lemon Light in front of consumers.
"The more sampling we can do at those spring and summer events and occasions, like baseball and festivals, the more we'll help fuel the brands," Bugher says.
Barrel Yard's ballpark brewery
Speaking of baseball, Leinenkugel's new outpost at the Milwaukee Brewers' ballpark opened this week. The J. Leinenkugel Barrel Yard is a taproom and pilot brewery situated beyond left field.
"It's a massive opportunity for us and the Brewers," Bugher says. "Most importantly, the fans are going to have a world-class destination in a great stadium to sample home-grown Wisconsin beers they can only get right there."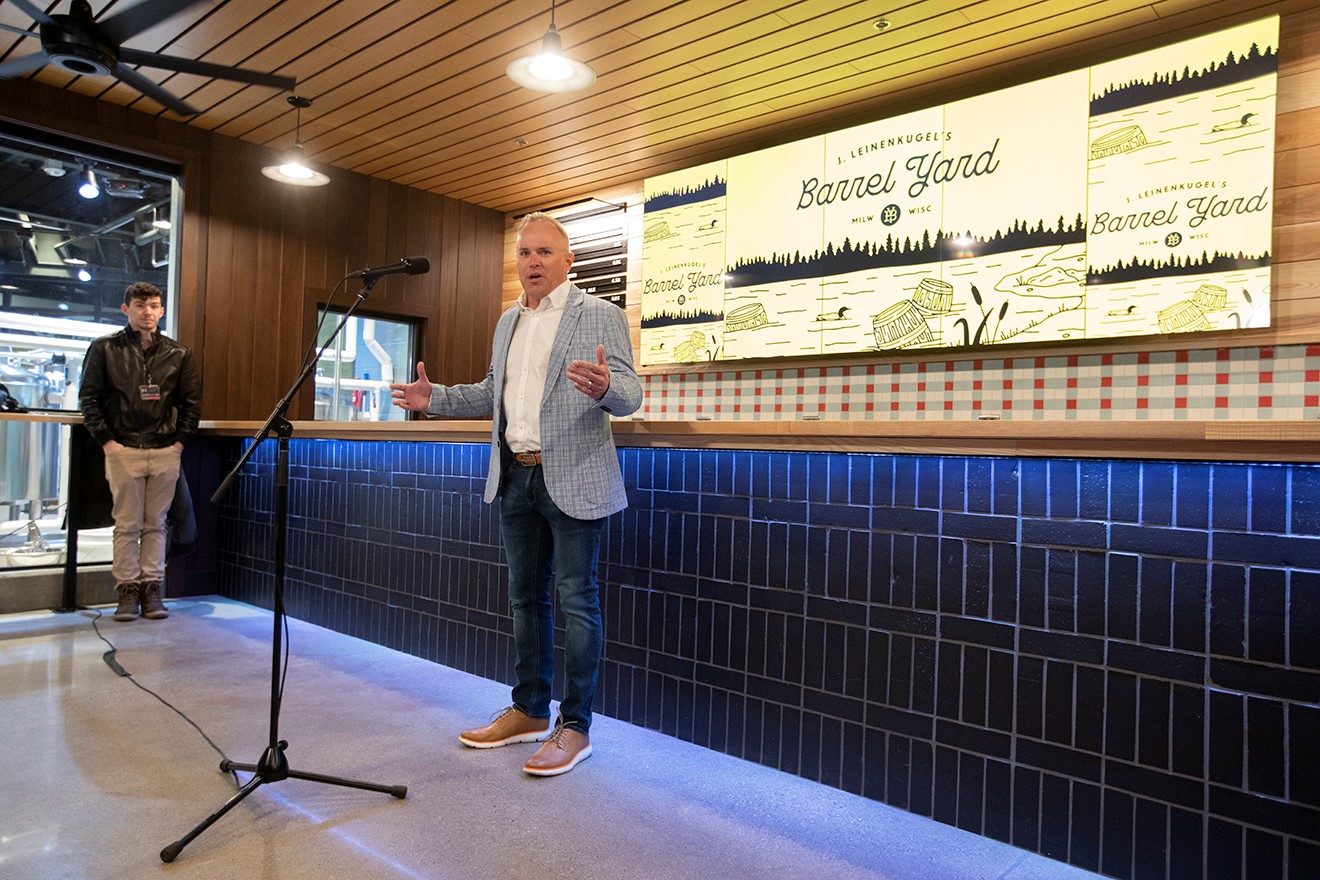 The three-barrel system will produce beers made exclusively for baseball fans, including Remastered Red Lager, a new IPA and Cherry Gose, brewed with local cherries from Door County, Wis., and Himalayan salt. It also will sell Grapefruit Shandy, as well as Leinenkugel's entire draft lineup.
"The majority of our products will be what you expect from Leinenkugel's: sessionable, drinkable, outdoorsy beers. We'll throw in about 30% that are experimental," says Corrine Georges, the Barrel Yard's pilot brewer. With a deep background in craft that includes stints at top breweries in Denver and Kansas City, Georges says she's excited about the opportunity at the Barrel Yard, where she's looking forward to bringing some unique beers and new IPAs.
"How can you not be? It's going to be fun," she says. "The freedom of being able to make a bunch of different types of recipes is really exciting."
Bugher says the brewery is looking forward to getting valuable feedback from Brewers fans.
"Feedback is a gift. It will allow us to get more data and more reasons to continue making a beer or to switch it up," he says. "The fans are going to help us create the next big thing and the next big thing after that."