The Champagne of Beers is back in Champagne bottles.
For the fifth year, Miller High Life has rolled out the holiday red carpet for its Champagne-sized, 750-milliliter bottles.
Redesigned for 2020, the collectible bottles feature necks wrapped in red foil with broad shoulders embossed with "The Champagne of Beers" in raised glass letters.
"Each year, we want to ensure we make the design unique and special, and this year's red foil design will help us stand out at retail and give our biggest brand fans another collectible for their shelves," says Lucy Bloxam, associate marketing manager for Miller High Life. "The attention these bottles get at retail are a great marking tool for us and helps The Champagne of Beers become part of more holiday moments."
The bottles, which are available now and are slated to stick around for the holiday season, or until supplies last. The holiday favorites have helped the brand elbow its way into more retail floor displays, with the 25.4-ounce bottles flanking displays of 12-packs of 12-ounce bottles.
The Champagne-sized bottles will be available this year in key markets throughout the U.S. and are expected to retail for $3.49 in the off-premise. The brand also has set up a product locator to give drinkers an easy way to track down the coveted bottles.
The overarching goal is to help get High Life in front of more consumers at a time when wine and spirits command a larger-than-normal share of drinkers' attention.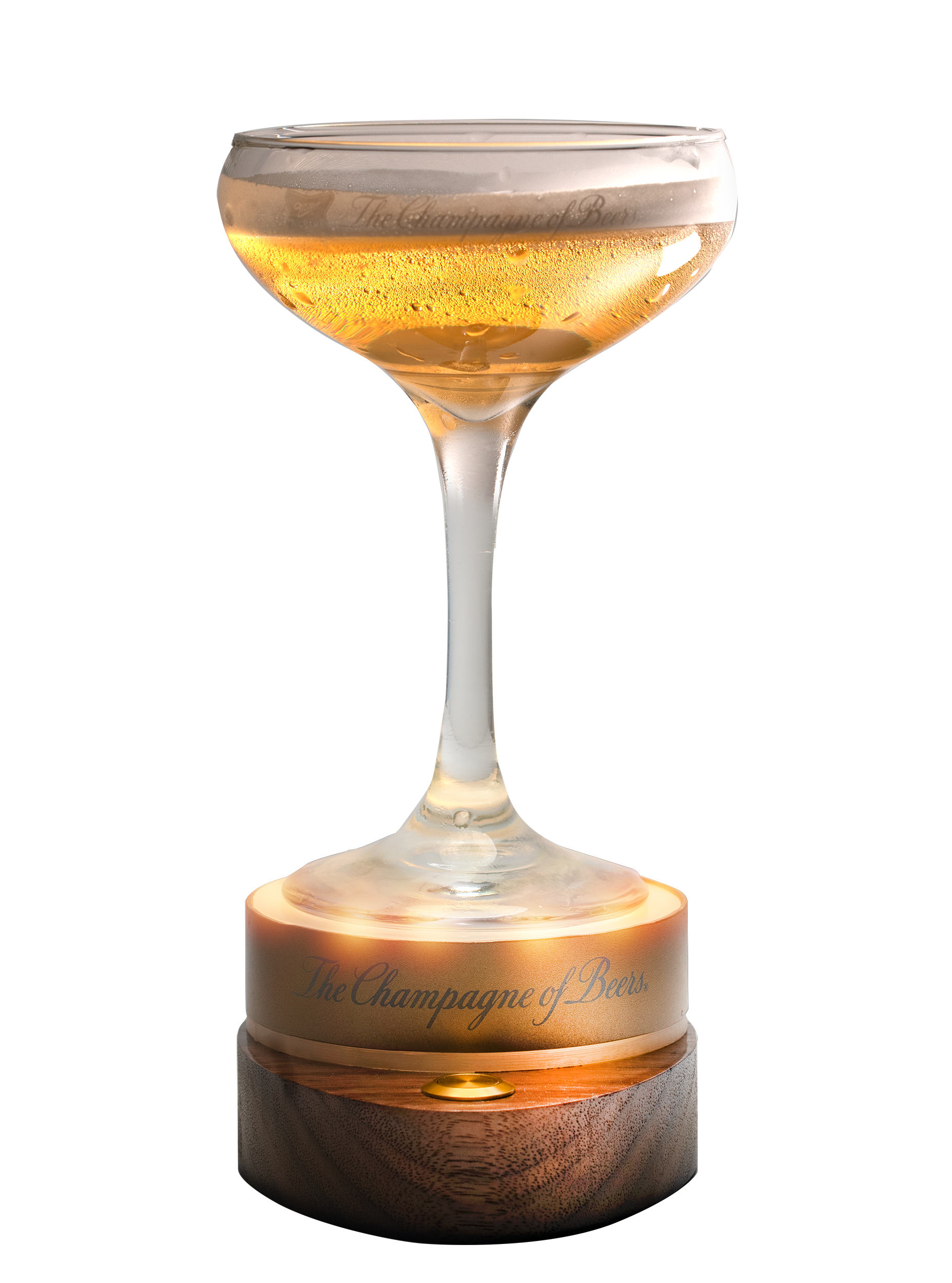 To support the launch, Miller High Life created limited-edition, WiFi-enabled custom holiday coupe glasses that light up when in use together to give friends, family and loved ones an opportunity to toast the holidays from afar.
Available in limited quantities at www.MHLToastsfromAfar.com beginning at 12 p.m. CT on Dec. 7, the glass coupes – the same used in the brand's advertising and on its 2020 summer cans – come in pairs shipped to the purchaser's address along with a separate box ready to ship the other to a family member or friend.
After each party connects a custom-designed base to their WiFi network and presses a cheers button, each of the pre-paired glasses light up together in a red, gold, white and navy blue celebratory pattern.
"High Life is all about celebrating the simple moments that make life special, like sharing a beer with family, friends and loved ones," Bloxam says. "We know the holidays this year will keep some family and friends apart, so Miller High Life's goal is to give them the ability to toast from afar."
Miller High Life, which turns 117 years old on Dec. 30, will support the campaign with public relations outreach, a social media influencer campaign and digital advertising.
"In the very complicated environment that is 2020, High Life has been able to resonate with consumers in a meaningful way," Bloxam says.