Don't forget about taste.
That's the key message underpinning Miller Lite's new marketing campaign, which kicks off today.
"Miller Lite is the only light beer for people who love the taste of beer. When you think about the history of Miller Lite, it's always stood for taste," says Sofia Colucci, vice president of marketing for the Miller family of brands.
Colucci says the new campaign establishes Miller Lite as the light beer for beer drinkers, firmly focused on taste and not distracted by things like hard seltzer and brand extensions.
The campaign, aimed at existing beer drinkers in the important 25-45 age group, includes TV and digital ads, as well as retail and out-of-home components. It also coincides with Miller Lite's largest media investment in two years, Colucci says, with a refreshed focus on local markets.
"We're freshening up our local look in 25 key markets," she says. "This is a big push that combines Miller Lite's iconic white can with local icons; we think it'll really resonate with consumers by really making Miller Time feel local."
Consumers will get their first peek at the new campaign during the championship game of this week's NCAA men's basketball tournament.
Taste is "a feeling"
"With this new campaign, we are championing beer. Taste isn't just a function, it's a feeling. That first sip of beer can transport you to Miller Time, where you want to kick back and be with friends," Colucci says. "As other brands go into places that dilute beer or introduce off-the-wall flavors, we stand for beer. Miller Lite is going to own what we stand for."
To that end, its new ads take surreptitious aim at beers so light they could be water, a continuation of the jabs Miller Lite has been throwing at Michelob Ultra. In the new spots, athletes – a cyclist and a hard-core gym rat – work up a sweat and douse themselves with "Extremely Light Beer." Then it cuts to a cold Miller Lite slammed down a bar while a narrator declares, "It should taste like beer."
The ads end with Miller Lite reminding legal-age drinkers it's got more taste, with just 96 calories – a mere one calorie more than Michelob Ultra.
To mark National Beer Day, Miller Lite is promoting its flavor bona fides by releasing its new Beer Drops, beer-flavored concentrated flavor enhancers that drinkers can add to their beer for added taste.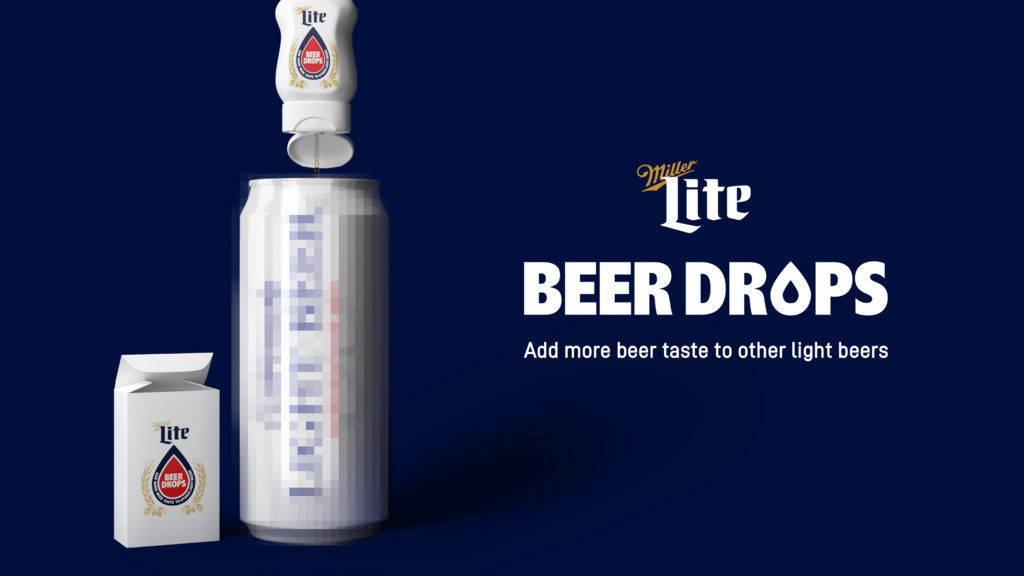 "If, by any chance, you made the unfortunate choice of picking up one of those watery beers or you don't have a Miller Lite nearby, you can add in these flavor-enhancing liquid Beer Drops," says Colucci. The Beer Drops, which the brand says are "expert tested and formulated," are available online for $4.07 – a nod to National Beer Day on April 7.
With the new campaign, Miller Lite seeks to continue the momentum from 2021, where it grew its net sales revenue by more than 7.5%. Now, with warmer weather fast approaching, the brand is poised to stand out during key summer drinking occasions, including Father's Day and National Grilling Day, Colucci says.
"We'll be wherever light beer that should taste like beer plays a role," she says. "We've got strong momentum this year, a cohesive campaign and some of the biggest plans we've had in a while. It's going to be a good summer for Miller Lite."