Molson Coors Beverage Company said today it has signed an exclusive distribution deal with a team including Dwayne Johnson, Dany Garcia, Dave Rienzi and John Shulman, to launch ZOA, a non-alcohol energy drink made with better-for-you, natural ingredients.
Molson Coors will be the exclusive distributor of the brand in the U.S., and it will take on a small stake in the brand, which is slated to launch in March and roll out across the country this spring.
ZOA will be available in five flavors and sold in single-serve 16-ounce cans.
It is positioned as an above-premium, better-for-you energy drink that contains natural ingredients such as turmeric, camu camu and acerola cherry. It contains vitamins C, D and B, added electrolytes and amino acids, and it is made with caffeine derived from green tea and unroasted coffee beans. ZOA is made without preservatives, artificial ingredients or additives.
"We are committed to transforming into a beverage company, and adding ZOA is another indication of the strength of our conviction," says Pete Marino, president of Molson Coors' emerging growth division. 
While the energy drink category is competitive, "we are entering with a product and partner group that offers a tangible point of difference. We couldn't be more excited to enter this category with ZOA," Marino says.
Johnson, Garcia, Rienzi and Shulman combined their expertise in the entrepreneurial, health and wellness and athletic spaces to develop ZOA, which is differentiated from leading products in the space by its use of natural ingredients.
Molson Coors provides the energy drink with a robust distribution system. 
The drink is aimed at so-called "everyday warriors," ranging from world-class athletes to office workers and formulated with ingredients intended to enhance focus, provide pre- and post-workout hydration, supplement amino intake and bolster energy levels.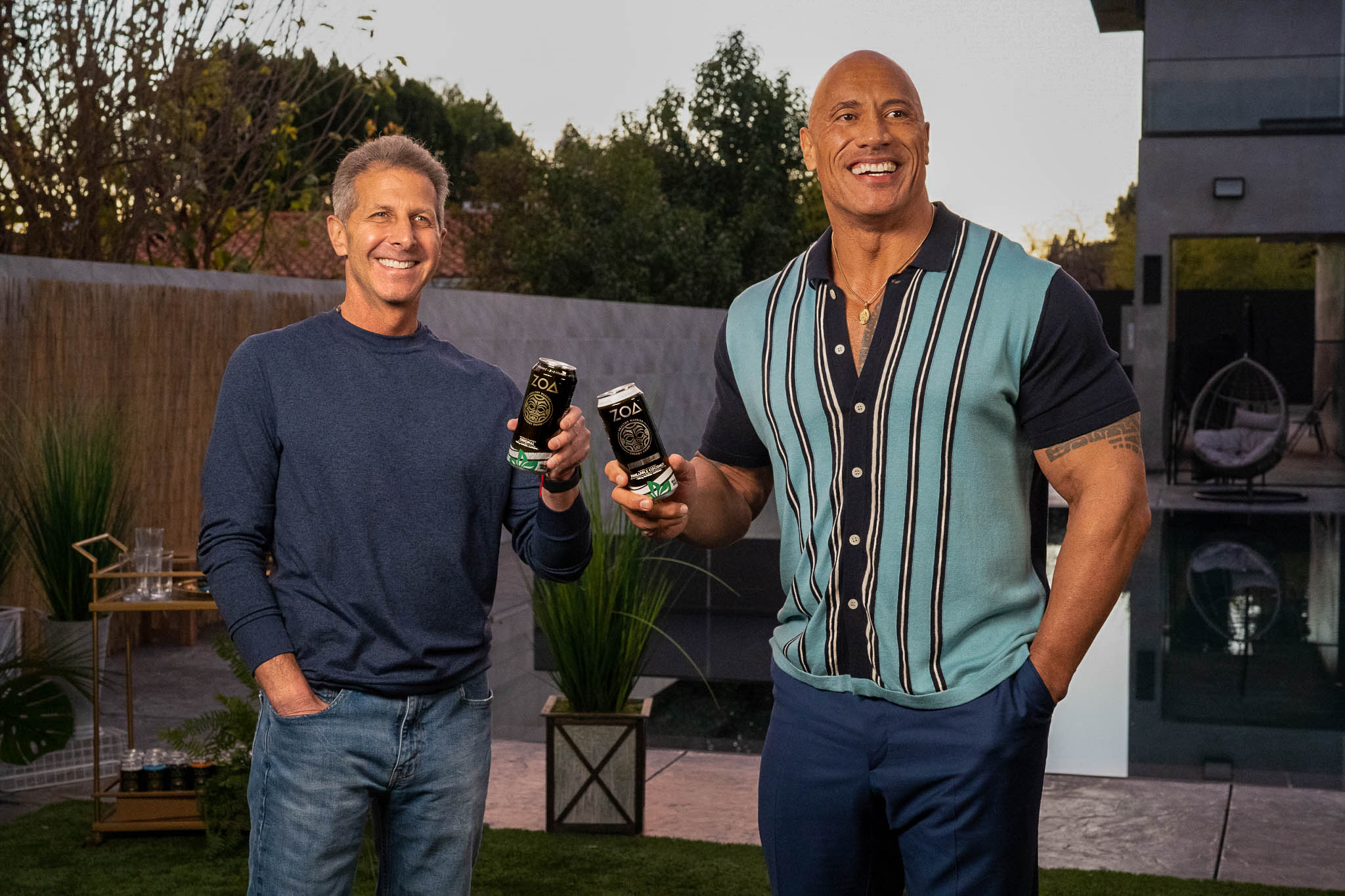 "My co-founders and I spent the last 18 months formulating this healthy and delicious product – and it's one that we could all use now more than ever," Johnson says. "Ensuring we packed it with the critical vitamins we ourselves consume daily, ZOA is the world's first healthy energy drink containing 100% Vitamin C, 100% B-complex vitamins and the essential vitamin D, along with other vital ingredients. It's truly our privilege to bring it to market for consumers to enjoy."
ZOA represents Molson Coors' latest volley in its effort to expand beyond beer, a strategy that includes building a portfolio of non-alcohol beverages, better-for-you offerings and beverages made with CBD.
It's also the company's first pure-play energy drink, entering a category that's expected to grow by 8.6% annually, on average, between 2021 and 2024, per a 2020 report from Mintel.
"The energy drinks category is huge, and it's growing. And it is a key area of focus for our non-alcohol business this year," says Marlon Hernandez, senior director of Molson Coors' non-alc business. "Even a small share of the category is meaningful."
Partnering with Johnson "was the best-case scenario for us" and represents "not so much of a celebrity endorsement but a celebrity partnership," in which Johnson is the chairman of ZOA and committed to its success, Hernandez says.
On top of that, he says, ZOA fits squarely into Molson Coors' ambition for its non-alc business, which is to bring better-for-you beverages to the masses.
"ZOA is another step for us in building a sustainable non-alc business at Molson Coors, not just for today or tomorrow, but for the long-term," Hernandez says.