Kansas City may have won the Super Bowl, but when it came to the commercials, it was Molson Coors' ad that emerged a winner.
The company's first Super Bowl ad in more than 30 years delivered an unexpected ending that lit up social media. And the conclusion from fans and experts alike was that Molson Coors scored big.
The ad emerged as one of the top-ranked of the game by outlets ranging from the Washington Post and CBS to top advertising trades:
 
Ranked as the top beer commercial by Ad Age and Adweek (the only beer brand in Adweek's top 10)

Earned near-perfect 4.5/5 by Ad Age, highest among beer ads

The top ad overall, according to Axios

A top 5 ad, according to Adweek, CBS, the Washington Post and VinePair

A top ad, according to NPR's "Pop Culture Happy Hour" podcast
Here's what the pundits had to say: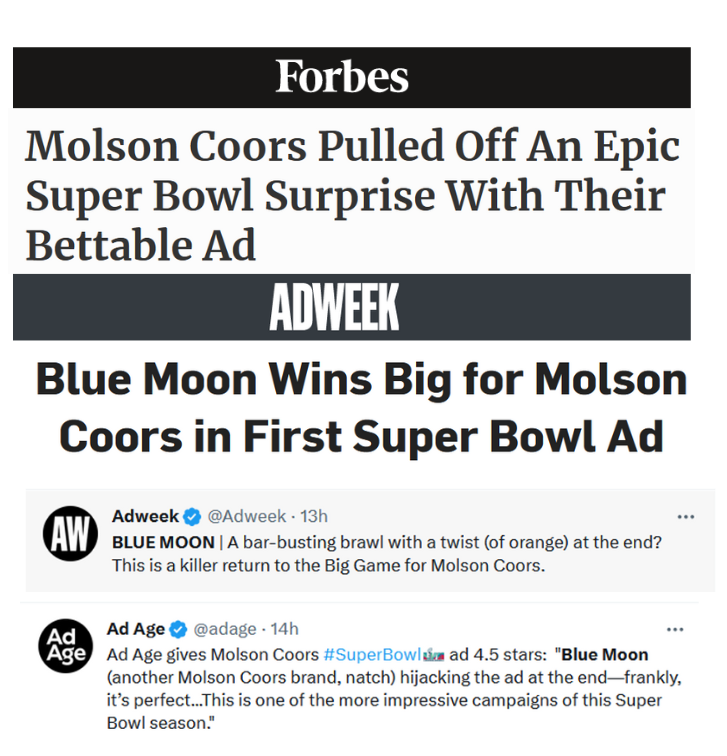 CBS: "This is one of the few commercials that teased something fun weeks before the game and actually delivered."
Chicago Tribune: "

A high-stakes beer ad triumphs…somehow the big reveal got the laugh it needed, and the commercial served as a micro-action-comedy unto itself."
Forbes: An "epic Super Bowl surprise."
Beer Business Daily: "

arguably nobody got more bang for the buck than Molson Coors"
Adweek: "A killer return to the Big Game for Molson Coors" and "

A high-octane spot (with) a winning twist…one of the most effective ads of the night."
Ad Age: "Blue Moon hijacking the ad at the end – frankly it's perfect. This is one of the more impressive campaigns of this Super Bowl season."
The ad got people talking online, as well: Blue Moon immediately became a top-15 trending topic on Twitter, with consumers cheering the return of Molson Coors and three of its top brands to the Super Bowl.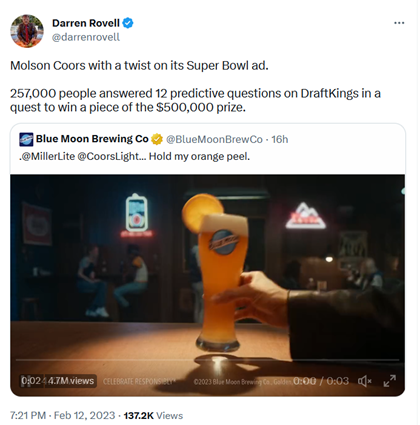 While Coors Light and Miller Lite starred for the majority of the ad, the decision to bring in Blue Moon at the last moment settled what would have been an impossible decision between Molson Coors' top two light beer brands, says Michelle St. Jacques, Molson Coors' chief marketing officer.
"It was going to be tough to choose between our two biggest brands, Miller Lite and Coors Light – so we brought in an unexpected powerhouse with Blue Moon," she says. "Blue Moon is truly one of a kind. When drinkers see an image of a beautiful Blue Moon, they want one. Simple as that."