Anheuser-Busch's plan to halt Bud Light's prolonged sales swoon isn't all "Dilly Dilly."
The beer company appears to be preparing to launch another bolt-on to its top-selling Bud Light brand this year, a line-extension called "Bud Light Blends."
Described on labels submitted to federal regulators as a "light lager" with natural fruit flavors, Bud Light Blends will come in at least two flavors, Grapefruit and Lemonade, and check in at 3.5 percent alcohol-by-volume. That's below the ABV of Bud Light, which is 4.2 percent.
Per the labels that cleared the federal Alcohol and Tobacco Tax and Trade Bureau late last week, Bud Light Blends' lemonade flavor will be sold in 25-ounce cans and pack 135 calories per 12-ounce serving. The grapefruit version will be packaged in 12-ounce cans that clock in at 180 calories per 12-ounce serving.
The Blends are the latest line extension for Bud Light, the nation's largest beer brand, which suffered its biggest annual volume decline ever in 2017, dropping 5.7 percent, according to Beer Marketer's Insights (subscription required). It lost 0.8 percentage points of market share, settling at 15.4 percent.
This year hasn't started much better. Sales dollars are down 6.3 percent and case volume is off 5.6 percent for the first three weeks of January, according to Nielsen all-outlet and convenience store data through Jan. 20. It has lost 0.9 percentage points of share in the total malt-based and cider category.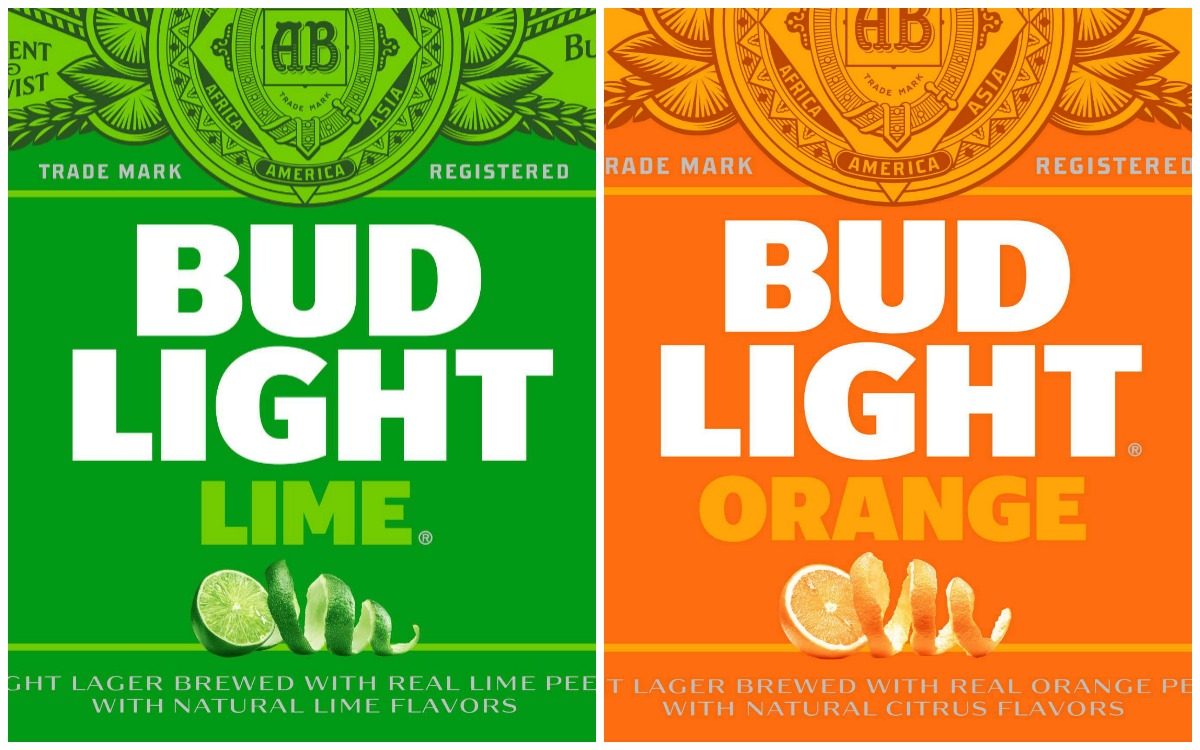 Bud Light also has re-designed the labels for its Bud Light Lime beer and plans to introduce Bud Light Orange, according to new label applications approved in late November. The new Bud Light Lime label features a photo of a lime and the description: "Light lager brewed with real lime peels and natural lime flavors." The Bud Light Orange label similarly features a photo of an orange and says it is brewed with "real orange peels" and "natural citrus flavors."
Bud Light also sells an apple version in Canada and the U.S. state of Georgia, though it's unclear if the brand plans to expand distribution.
An Anheuser-Busch spokesman declined to comment.
Anheuser-Busch previously branched off Bud Light with Bud Light Golden Wheat (discontinued in 2012) and a line of "Ritas," margarita-inspired malt beverages that will introduce three new flavors in 25-ounce cans and no longer carry the Bud Light logo starting later this year, according to Beer Marketer's Insights.
The company also gave Budweiser a limited-time boost last year with Budweiser 1933 Repeal Reserve and plans another limited-time offering this year called Budweiser Freedom Reserve Red Lager. Its red-hot Michelob Ultra Light is also getting a line extension, an organic beer called Michelob Ultra Pure Gold.