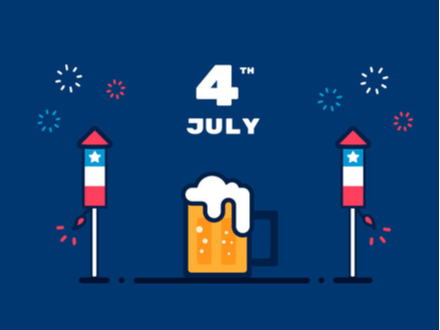 The beer industry saw some improvement during the Independence Day holiday period, according to Nielsen cross-channel data.
Beer category volume was up 0.8 percent during the two weeks ending July 8, outperforming the 13-week trend of -1.0 percent, according to Nielsen.
Imports, Super Premium, Craft and Flavored Malt Beverages gained share, Economy was flat and Premium Lights and Premium Regular each lost share, according to Nielsen. MillerCoors outperformed ABI in each measured class of trade, outperformed ABI in total share performance and beat ABI in Premium Light share.
Here's an overview of segment performance, according to Nielsen.
Imports gained 1.0 share, driven by Modelo (+0.6 points), Corona Extra (+0.2 points), Stella Artois and Pacifico Clara (+0.1 points each). Other imports were flat.
Super Premium gained 0.6 share, driven by Michelob Ultra gaining 0.9 share supported by a heavy increase in promotional activity.
Craft gained 0.3 share, led by Blue Moon Belgian White Ale (+0.1). All other Craft brands/franchises were flat.
FMBs gained 0.2 share, led by White Claw Hard Seltzer and Zima, each up 0.2 points. Mike's and Mike's Harder, Truly, Spike Seltzer, Smirnoff Ice and Twisted Tea all gained 0.1 share. Redd's Wicked was flat. Redd's base, Henry's Hard Orange, Not Your Father's and Best Damn all lost 0.1 share and Bud Light Ritas lost 0.2.
Economy was flat. Keystone Light (+0.2), Bud Ice, Rolling Rock, Busch Light and Hamm's (each +0.1) all gained share. Miller High Life was flat. Natural Ice,  Milwaukee's Best, Busch and Icehouse all lost share.
Premium Regular lost 0.4 share, according to Nielsen. Budweiser lost 0.5 share. Coors Banquet was up 0.1 and Miller Genuine Draft was flat.
Premium Lights lost 1.8 share, driven by a 1.4 decline by Bud Light (-1.8 share in grocery). Coors Light lost 0.3 share and Miller Lite lost 0.1.
MillerCoors lost 0.2 share over the holiday, compared to -1.5 decline by ABI. MillerCoors gained 1.2 share in Premium Lights while ABI lost 1.2.