Hop Valley Brewing Co.'s "Hop Mixer" IPA variety pack was the No. 1 new item in the West in 2017. In all of beer.
The Eugene, Ore.-based brewery's new 12-packs edged out releases from Deschutes Brewing (Pacific Wonderland) and Modelo (Chelada Tamarindo) in case growth for the year, despite not having a presence in the eight-state region's largest market, Southern California, according to Nielsen all-outlet and convenience store data.
Hop Mixer variety packs, which include three of the brewery's flagship IPAs as well as a "wild card" IPA, also ranked as the No. 1 craft beer variety pack in the United States last year in terms of case velocity, per Nielsen data. (Includes all variety packs with more than 1,500 barrels of sales.)
"Our Hop Mixer IPA variety packs are crushing it across the West," says Walter Macbeth, a Hop Valley partner and the brewery's vice president of sales and marketing. They give "the craft beer consumer exactly what they want, four unique IPA styles: Northwest (Alphadelic IPA), West Coast (Citrus Mistress IPA), the smoothest Imperial IPA on the planet, (Alpha Centauri), and one more limited release imperial IPA selection that you can only find in this 12-pack."
The variety pack helped boost 2017 sales for the brewery, which celebrates its ninth birthday today. Hop Valley grew sales dollars by 40.8 percent and volume by 41.5 percent in 2017 according to Nielsen. That growth comes as overall craft volume in its home region of the Pacific Northwest region declined.
Hop Valley, which sold a majority stake to MillerCoors in Sept. 2016, grew sales in Washington and Oregon by 27.4 percent in dollars on a 26.6 percent jump in volume in 2017, according to Nielsen grocery data.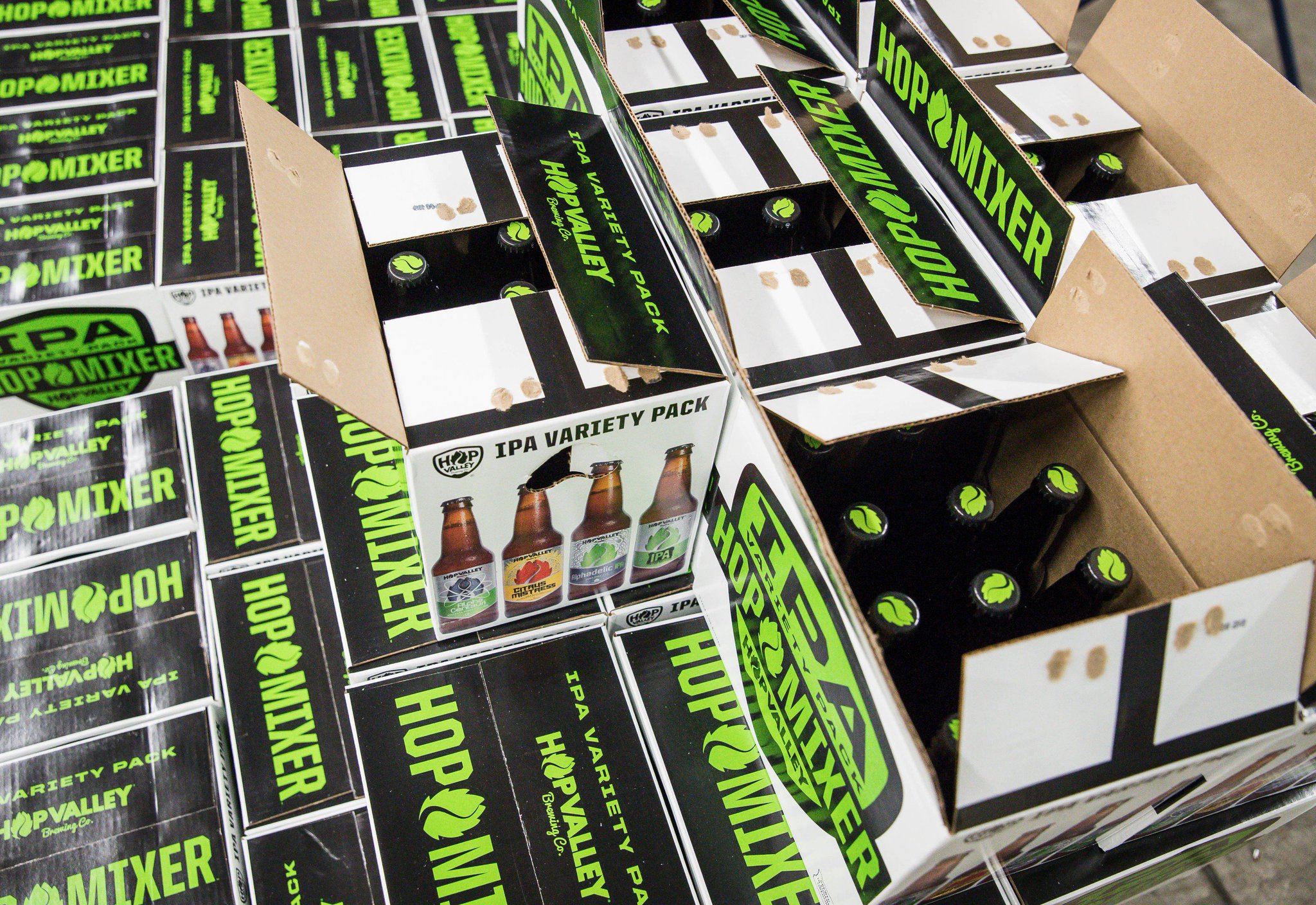 That's compared with a 0.2 percent decline in dollars on a 3.9 percent drop in volume in the overall craft market in the two states, some o
f the most competitive for craft beer in the country, according to Nielsen. Much of the decline is the result of weak sales of the state's established craft brewers, including its largest, Deschutes, which fell 14.5 percent in dollars and 18 percent in volume.
The brewery has outperformed the market virtually every year since it was founded in 2009 as a small brewpub in Springfield, Ore. Hop Valley brewed around 3,000 barrels in 2012; 10,000 in 2013 and 20,000 in 2014. Since then, volume has more than tripled. It's poised to continue that growth in 2018 as it adds distribution in Southern California and fills out distribution in the six new markets it entered in 2017: Northern California, Nevada, Arizona, Alaska, Hawaii and the front range of Colorado.
Based on its success with the Hop Mixer IPA variety 12-packs, the brewery also developed a 24-pack for club retailers such as Costco, which are selling quickly in early reads.
Hop Valley in 2018 also is adding two new year-round beers to its core can offerings: a hazy, sessionable hybrid ale called Divine Shine and a juicy IPA called Bubble Stash.
On top of that, it's expanding its innovative "hop boxes," concessions stands carved out of bright green shipping containers that pour Hop Valley beers. The program started at AT&T Park in San Francisco and Safeco Field in Seattle and is slated to expand to Angels Stadium of Anaheim in Southern California, Chase Field in Phoenix and Coors Field in Denver.