Memorial Day marks the traditional beginning of the summer selling season for the beer industry. It's also a time when you can expect to see a lot more displays of American light lagers on the floor in retail stores.
And it's no wonder. American light lagers represent more than one out of three beers sold in the United States. And while new flavors of the month get all the hype, these workhorse packs are huge business, they have loyal consumers and they move — fast.
Consider:
Forty-two percent of volume and 37 percent of sales dollars generated by beers on display at grocery stores come from big packs of American light lagers (24 cans or more), according to Nielsen.
These large packs comprised more than 41 percent of American light lager sales in the grocery channel last year, accounting for more than $1 billion.
And when they're on display, 69 percent of sales dollars of premium lights are from these large packs, per Nielsen.
Add in the statistic that nearly half of American light lager buyers who buy large packs in the grocery channel exclusively buy packages with 24 or more beers, per Nielsen, and it's no surprise that retailers want these packs on the floor. And it makes clear why brewers and wholesalers compete to get their brands the most attention.
The stakes are huge, both for retailers and for brewers. Beer is the No. 1 category in grocery during the summer, worth more than $4 billion for large-format grocers in summer months alone, according to Nielsen grocery channel data for 2017. Premium light lagers including Miller Lite, Bud Light and Coors Light lead the way.
"Obviously, they're absolutely critical," says Brad Stevenson, vice president of sales for the grocery channel at MillerCoors. "If you're going to put anything on the floor, you've got to put 24- or 30-packs of beers like Miller Lite, Coors Light and Bud Light. Nearly half of American light lager consumers are loyal to large packs, so that's a pretty darn good reason. You put those packs on the floor and they move."
To ensure Coors Light and Miller Lite earn that coveted floor space, MillerCoors has been working with distributors to create arresting displays and promotions that span the summer.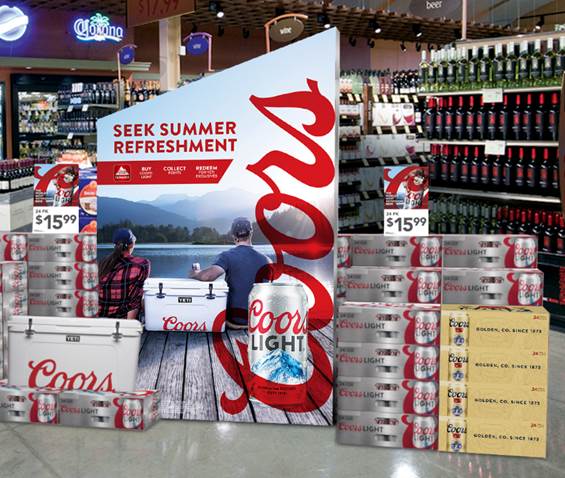 Coors Light has partnered with the luxury cooler brand Yeti to reinforce its position as "the world's most refreshing beer" and to catch shoppers' eyes at retail. Americana-themed Miller Lite packaging that can be built into floor displays that look like the flag and can be arranged to depict "USA" has begun rolling out nationwide in recent weeks.
Miller Lite debuted its summer Americana theme in 2016 with 24-packs and, upon its success, brought it back last year, adding 30-packs. In 2017, the red-, white- and blue-paneled packages brought a 7.6 percent increase in incremental volume, according to Nielsen all-outlet and convenience data from between May 7, 2017, and July 29, 2017.
The festive packs are back this year, just as the brand has swung to growth in the most recent Nielsen scans. Miller Lite was up 0.9 percent in sales dollars on a 0.3 percent rise in volume during the most recent four weeks. It gained 0.6 percentage points of share in the period, which ended May 12, per Nielsen. In the grocery channel, Miller Lite nudged into Nielsen's Top 10 Growth Brands list.
"It's getting better and better; that's why we're so excited to bring it back for a third year," says Erica Morris, brand manager for Miller Lite, of the Americana displays. "As a brand, Miller Lite is really focused on consistency and making big bets we know are going to work. Our Americana packaging is a fantastic example of this."
This year, retailers can build displays that adhere to Miller Lite schematics with as few as 16 cases or as many as 210. "But trust me, the field gets creative and goes even bigger," Morris says. "This is an example of a best-in-class, turnkey solution. Retailers don't need to buy anything else. All they need is the packaging itself to build out these impressive displays, which could be small setups in convenience stores to massive lobby displays" in big-box stores.
Coors Light, meanwhile, is anchoring retail displays with Yeti coolers, drinkware and other Yeti-branded merchandise that will be used throughout the summer. The Coors Light-branded Yeti coolers also will be featured in a national TV spot.
"With the Yeti program, our distributors voted with their wallets," Stevenson says. "If they didn't think this would help get more beer on the floor, by no means would they have ordered nearly 50,000 of them."