As its first year as the official craft beer of the Kentucky Derby, Blue Moon has been busy getting ready for the festivities at Churchill Downs Racetrack on May 4.
It's been even more busy, perhaps, helping grocery stores, liquor stores, bars, restaurants and party hosts prepare for their own Derby Day soirées with a slate of hosting tips and tricks and a pair of new cocktail recipes.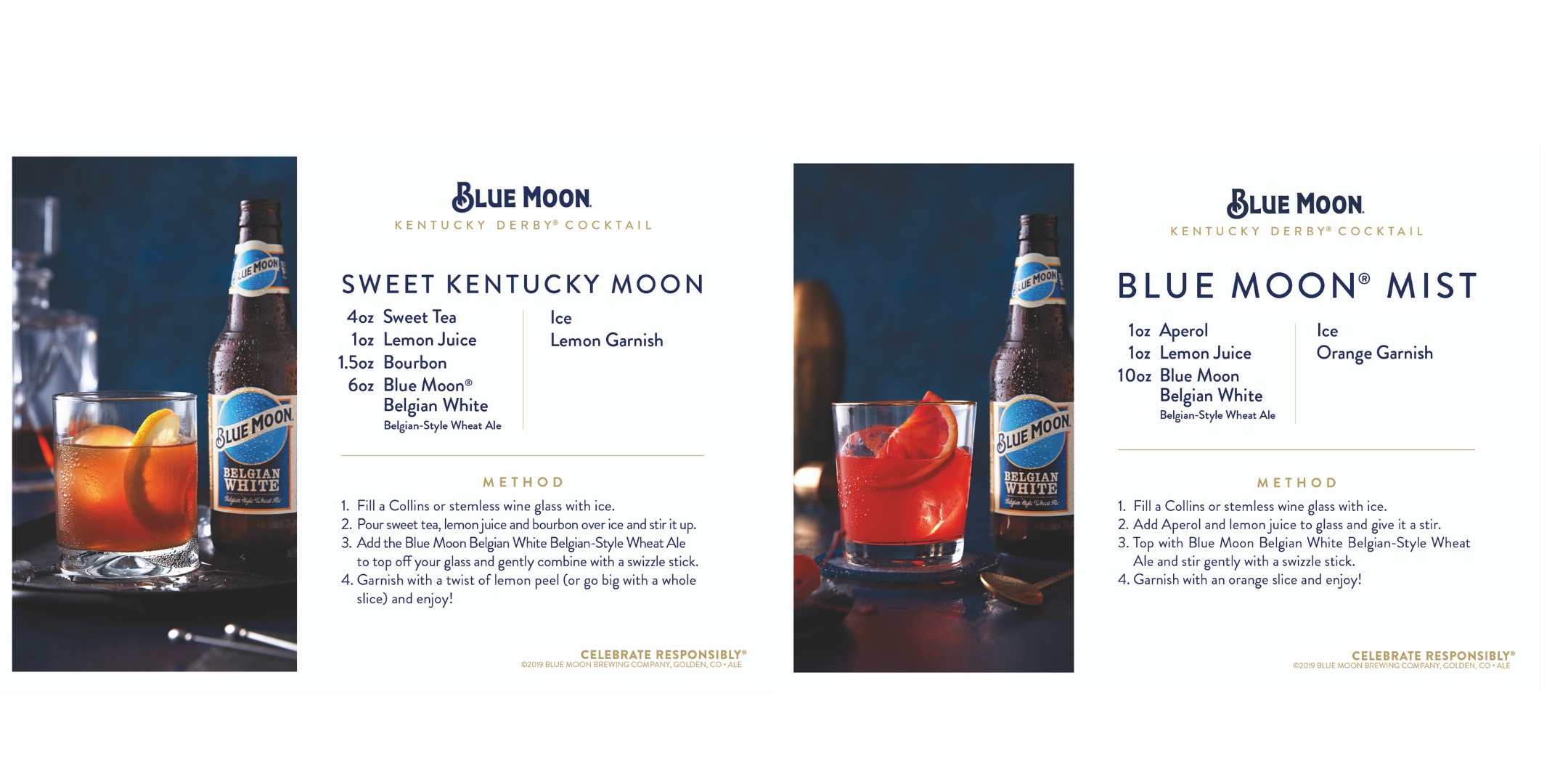 "The Derby is so much more than an event at Churchill Downs. It's become a weekend-long viewing experience that people get excited to celebrate," says Bryan Ferschinger, vice president of above premium brands at MillerCoors. "Our partnership and programming with the Derby ensures that whether you're at a bar, hosting a party at home or have made it to the grounds, Blue Moon is the beer of choice.
Blue Moon earlier this year finalized a deal that made it the first-ever craft beer sponsor of Churchill Downs, the hallowed racetrack in Louisville, Ky. As part of the sponsorship, Churchill Downs developed and opened the Blue Moon Taproom & Balcony, a new bar that overlooks the racetrack's historic paddock and is open during live racing. The branded taproom serves Blue Moon products, including specialty offerings brewed at the brand's Denver brewery.
On Derby Day, the brand also will host fans in an elaborate, branded pop-up venue in Churchill Downs' infield.
In addition to its big presence at the racetrack on Derby Day, which draws more than 160,000 attendees, it's also aiming to reach the event's 16 million-plus television viewers. Its support for the event spans more than 15,000 bars and restaurants and countless retailers, Ferschinger says.
The nation's top-selling craft beer has been sharing party planning tips on Pinterest, which range from what appetizers to serve to how to pull together the perfect Derby Day look.
It's been helping retailers grab attention with large displays that feature stacks of Blue Moon under the Blue Moon Derby logo. And it's helping bars and restaurants plan their own parties, complete with special cross-branded Blue Moon Derby glassware, bartender and server apparel, tabletop games and Blue Moon draft and cocktail specials.
"Through this partnership, Blue Moon is able to be front and center, helping people across the country make the most of the event," Ferschinger says. "It's a great way for us to kick off the summer."
Editor's note: A previous version of this story misstated the location of Churchill Downs Racetrack. The facility is in Louisville, Kentucky. We regret the error.