Four MillerCoors breweries are participating in the largest charitable collaboration ever among the nation's brewers to aid those affected by the Camp Fire in Northern California, the deadliest in the state's history.
Blue Moon, Saint Archer, Terrapin and Hop Valley are among 1,276 brewers as of late Friday to sign on to brew an IPA developed by Sierra Nevada Brewing Co., which is based in Chico, Calif., a city in Butte County, one of the areas hardest hit by the blaze. (MillerCoors craft partner Revolver Brewing does not yet have a taproom but will raise money over the next few weeks to make a donation to the relief efforts.)
Each participating brewery will make Resilience Butte County Proud IPA and donate all proceeds to the Sierra Nevada Camp Fire Relief Fund, a charity seeded by a $100,000 donation from Sierra Nevada. Robin Gregory, a spokeswoman for the company, says Sierra Nevada expects to raise some $10 million for the charity through the effort, about five times the amount it set out to raise.
The beer will be available on draft at each brewery's respective taproom, brewpub or restaurant. Sierra Nevada, which is brewing at least 4,000 barrels on its own, plans to also package and distribute its version in kegs and cans nationwide. It plans to release the beer in California on Dec. 17, then across the country in the following weeks. Most other participating breweries are slated to release Resilience IPA in late December and throughout January.
In all, Gregory said, Sierra Nevada and partnering brewers will make nearly 15,000 barrels of Resilience IPA, per Sierra Nevada's estimates, which would be good enough to make the beer larger than most craft breweries in the United States.
"I have not seen a collaboration in the industry of this size before," Gregory said. "This industry overall is so collaborative and such a tight community, but this is a pretty wonderful expression of that community. It's been really heartwarming for us to see this whole effort come together."
Sierra's malt, yeast and hop suppliers also are donating all of the ingredients for the beer; Ball is donating a portion of the cans to Sierra Nevada and Graphic Packaging International is donating all of the packaging.
Pete Marino, president of Tenth and Blake, the MillerCoors craft beer and prestige imports arm, praised Sierra Nevada for pulling the effort together, and, in effect, galvanizing the industry behind it.
"While there's always tremendous competition between brewers, there is no industry that comes together and supports each other during times like these than beer," he said. "It's what makes the beer business great, and we are happy to support this great cause."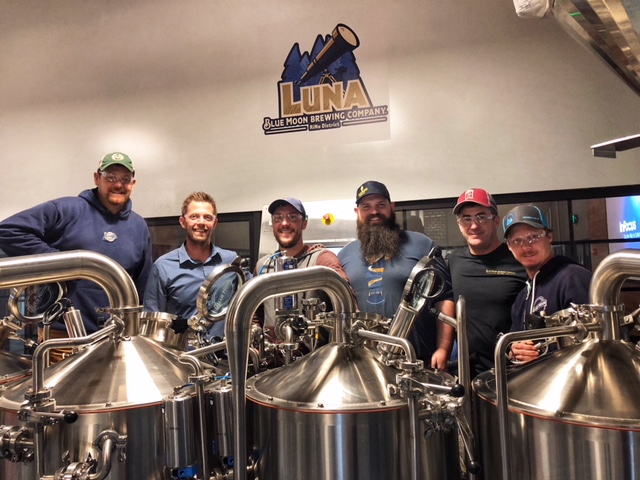 Among the MillerCoors breweries participating:
Hop Valley plans to serve the beer at its restaurant in Eugene, Ore.;
Terrapin will sell the beer at its Atlanta brewpub, ATL Brew Lab, where the brewmaster is a former Sierra Nevada employee;
Blue Moon brewed a batch last week that will be served at its River North (RiNo) brewery in Denver; and
Saint Archer plans to sell the beer in its taprooms. The San Diego-based brewery also is making its own wildfire relief beer, a double IPA that will go into distribution with all proceeds earmarked for victims of the wildfires.
Brewers of all sizes are in on the effort; from a tiny startup brewer making Resilience IPA as its 100th batch, to giants like Anheuser-Busch-owned Goose Island, which is joining the other 10 AB-owned U.S. craft brewers to make the beer. Its cidermaker, Virtue Cider, is making a special dry-hopped cider in homage to the beer, said Megan Lagesse, a spokeswoman.
At least three international breweries also are pitching in: Art Is An Ale Brewing in Amboise, France; Full Moon Brewworks in Phuket, Thailand; and Ambridge Brewing in Inkeberrow, U.K.
As for the name, Schilling Beer of New Hampshire agreed to lend its Resilience name to Sierra Nevada for the one-off beer, Gregory said. "And when we called to ask, they were so gracious and said 'Of course, and, by the way, we'll brew it too.'"
While Sierra Nevada's Chico brewery was narrowly spared in the fire, which is now 100 percent contained, about 15 percent of its 520 employees there lost their homes, Gregory said.
"It's been a difficult time around here, but this has been an incredible display of community and support," Gregory said. "With this whole effort, it's been the whole industry saying some things are more important than business. It really just shows the human spirit shining through, and we're so grateful to have everybody on board."