As the number of local taprooms and brew pubs continues to grow, so does the number of legal-age drinkers bypassing their traditional neighborhood bars.
Total on-premise traffic fell 3.6 percent in 2017, according to data analyzed by MillerCoors. Even more troublesome: In five major U.S. cities (Denver, San Diego, Seattle, Phoenix and Detroit), between 79 percent and 82 percent of consumers did not visit a bar following a trip to a tasting room, the data show.
Taproom and brewpub customers are "shifting the on-premise norms, visiting earlier in the day and then opting out and going home," says Molly Ballash, the MillerCoors category development manager for on-premise. "Our bar partners are missing out on high-volume occasions like dinner and happy hour."
Indeed. The rising amount of consumer traffic flowing into breweries is siphoning volume away from traditional on-premise accounts, such as neighborhood bars, according to the data, which was collected and analyzed on behalf of MillerCoors. An estimated 9 percent of all bar traffic is now moving through brewery taprooms or brewpubs, according to the data. In cities such as Indianapolis, Minneapolis, Seattle and Portland, the percentage is greater than 20. In Denver and San Diego, the figure is as high as 35 percent.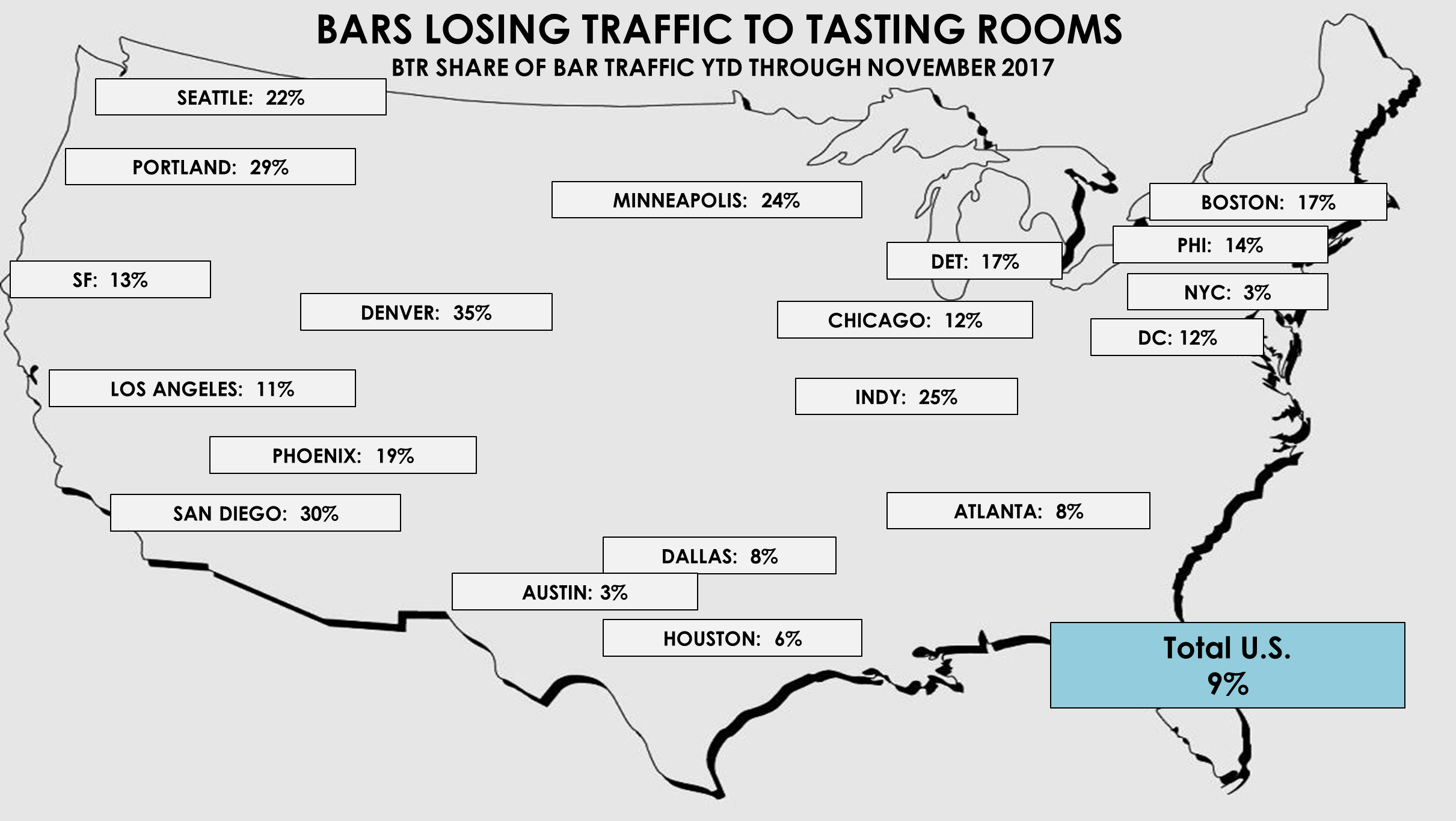 Some 2.8 million barrels of beer were sold directly from the nation's 6,000-plus breweries in 2017, up from about 2.3 million barrels in 2016, according to a preliminary estimate from the Brewers Association's chief economist, Bart Watson. And that trend doesn't look to be slowing down, with roughly 55 percent of craft beer drinkers saying they are purchasing a little or a lot more of a brewery's products after making a visit, according to Brewers Association figures derived from Nielsen data.
(MillerCoors, via its Tenth and Blake division, also operates taprooms in conjunction with its craft partner breweries as well as branded-experience locations that sell through the traditional, three-tier system.)
The ability to sell beer out of their own facilities has been a boon for craft brewers, particularly those "who can't access scale efficiencies," Watson says. "Getting that higher revenue per barrel is essential."
The Brewers Association acknowledges that taprooms are swallowing some of the volume that previously moved through bars and restaurants. But "we're building evidence that suggests some of that taproom volume is new demand and new occasions that wouldn't have gone to a traditional bar," Watson says. He points to data from a Sept. 2017 Nielsen survey that shows 40 percent of taproom visits were incremental, with respondents saying those visits did not replace a planned trip to the bar. An additional 24 percent say their taproom visit was in addition to their typical bar trip.
Corner bar blues
Still, 30 percent of respondents said they swapped a typical stop at their local bar to visit a brewery instead.
All of this has combined to add to the woes of the once-ubiquitous corner bar, some of which face an existential threat. More millennial drinkers are moving off-premise and many of the youngest legal-age drinkers (ages 21-27) are leaving the beer category altogether. And the infrequent bar patron, the person who may have met friends at a bar once or twice a month, is skipping the bar completely.
"Consumers' options are evolving faster and more locally than ever," Ballash says. "There's increased competition, the consumer is shifting and the bar experience is evolving."
That's why companies like MillerCoors are looking for solutions to help their distributors and retail partners better understand their changing customers, and their businesses. The company is investing behind analyzing consumer location data to understand their consumption patterns and habits.
Data for the win
Armed with mobile dashboards with targeted analysis that can show bar owners how they're performing compared with their neighbors, MillerCoors and distributor partners' representatives are going into bars "and helping them understand who their customers are and helping them tailor their portfolios to best capture them and increase sales," Ballash says.
They're counseling bar owners and managers on how to think differently about promotions, consumer targeting, events and how to better understand their competition. Their suggestions range from adding more sessionable lagers at taverns that draw late-night crowds or Pilsner Urquell in bars that overindex in craft. Or it could mean helping boost traffic via events like ugly sweater parties over the holidays or price promotions during off-peak hours.
"If you understand your customer, you're going to make better decisions on your assortment, pricing and how to help build better promotions so they'll do better and we'll do better," Ballash says. Indeed, early signs are the new approach is working.
For instance, MillerCoors sales teams were able to demonstrate to a Denver bar owner the value of putting Coors Light on draft after showing him data that his business outperformed his neighbors' in late-night business, a time when Coors Light performs best.  In a separate tavern, they also suggested an owner formulate a two-for-one promotion on his slowest night to attract legal-age millennial consumers, a segment of the drinking population he was failing to attract.
"For once we have a tool that takes the conversation off price and allows our sales reps to give a professional fact-based presentation that nobody else in the industry can provide," says Chris Haas, president of Denver-based Coors Distributing Company, the largest beer distributor in Colorado. "Our retailers love it and the tool also has provided our sales force a new level of excitement."