Budweiser is dipping into its archives (and borrowing an idea from MillerCoors) in an attempt to boost results this holiday season.
Anheuser-Busch InBev recently released a limited-edition amber lager called Budweiser 1933 Repeal Reserve. Using a recipe inspired by an original the brewer says was developed by founder Adolphus Busch for his pals, Bud is selling this holiday season the 6.1 percent alcohol-by-volume amber lager in a bottle familiar to Coors drinkers: the stubby.
The beer, which Fortune notes is the first addition to the flagship Budweiser brand since Black Crown was released in 2012, is being backed by a national advertising campaign that includes television. Repeal Reserve, first reported here in July, has "a lightly hoppy, roasted malt aroma with a slightly sweet taste and a sharp, crisp finish," the brand says.
While Bud says the choice of the stubby was "inspired by the earlier style of beers," it didn't have to look back in time to find them. Coors Banquet revived its 1936-vintage stubby bottle more than four years ago, in June 2013, and continues to use them to success in the U.S.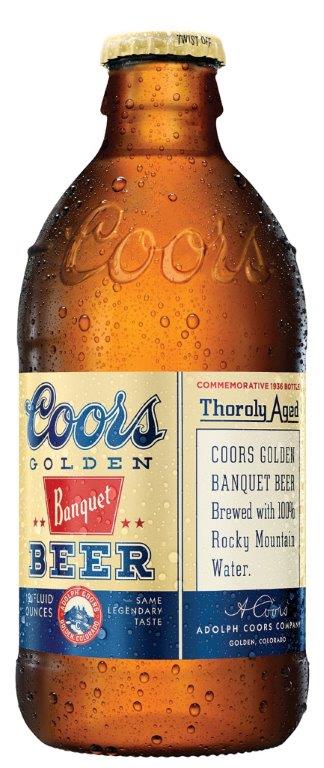 And although Repeal Reserve in a stubby bottle is unlikely to tip the Bud family back into growth alone, it's understandable it would try to capture some of the momentum of Coors. Unlike Budweiser, which has shed volume every year since peaking in 1988, Banquet is on its way to its 11th consecutive year of growth.
While growing internationally, Bud continues to struggle in its home market despite a raft of package innovations, including patriotic labels emblazoned with "America." According to Nielsen, Budweiser sales dollars are down 5.5 percent year-to-date on a 6.6 percent slip in volume and Bud Light is down 4.7 percent in sales dollars on a 5.7 percent decline in volume over the same period.
Coors Banquet, meanwhile, is up 3.9 percent in dollars on a 3.1 percent bump in volume, per Nielsen.
The Belgian-owned beer giant reported yesterday that both Bud and Bud Light lost share in the U.S. as sales dropped 5.6 percent in its most-recent quarter. Executives blamed the decline in part on the hurricanes that hit Florida and Texas.
But RBC analyst James Edward Jones, quoted in a Bloomberg News story headlined "Americans are losing their taste for Budweiser," quipped: "It wasn't just the weather."
In a note to clients, the Bank of America Merrill Lynch analyst Fernando Ferreira said ABI's troubles in the U.S. may not end anytime soon: "We calculate that ABI's market share can continue to decline for 5-10 years."