It's here.
Cape Line, a new line of sparkling cocktails from MillerCoors, began hitting shelves this week.
The 120-calorie cocktails, which aim to appeal to consumers who seek bold flavors with less calories than leading flavored malt beverages, come in three flavors: Blackberry Mojito, Margarita and Hard Strawberry Lemonade.
Made with six ingredients, none of which are artificial, Cape Line "offers people something they really want: all the flavor without the compromise," says Sofia Colucci, vice president of innovations at MillerCoors. Cape Line is slightly sweet and effervescent, and each flavor checks in at 4.5 percent alcohol-by-volume. While the brand appeals to both men and women, it is targeting a group it calls its "tribe" — 25- to 35-year-old women.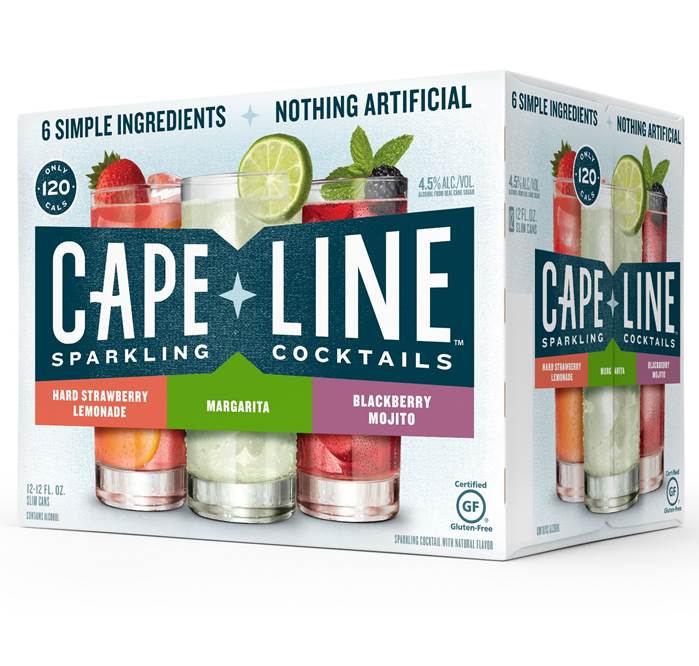 Cape Line is packaged in two variety packs — a traditional 12-pack with six slim cans of Hard Strawberry Lemonade, and three each of Blackberry Mojito and Margarita, as well as a six-pack with two slim cans per flavor. The latter is an effort to encourage consumer trial and land on shelves in smaller outlets such as convenience stores. To start, one flavor, Hard Strawberry Lemonade, also will be available in a stand-alone six-pack.
"We've seen sales of variety packs explode in this category, and people love options," Colucci says. Sales of flavored malt beverage variety packs are on fire. They have grown 97 percent over the last 52 weeks, outpacing the category as a whole, per Nielsen all-outlet data through March 9.
"The six-pack variety pack gives people a chance to try all of the flavors."
The brand is backed by a substantial marketing campaign scheduled to launch April 8. It includes TV, digital, social and out-of-home that introduces the brand and its flavors to consumers and highlights its attributes — high flavor with lower calories.
Cape Line plans to air three 15-second spots over the coming months, each of which feature the song "Juice" by Lizzo. The TV spots will play across 20 networks, spanning 100 programs. The spots also will air on streaming services, such as Hulu and YouTube, and on social media and elsewhere online.
"We think Lizzo's 'Juice' is going to be the song of the summer, and we are making it the Cape Line anthem," Colucci says. "We all love her, and it's so rare to have song lyrics match so closely with a brand. It could not be a better fit."
"By going all-in on media, we're really reinforcing the fact that this is a big launch for us, and we want to make sure we're getting as many eyeballs as we possibly can," Colucci says. "We're going to be all over TV and all over social media. We know it's super important to get mass awareness so we can get Cape Line off to a fast start."