It's that time of year again! The weather cools down, we pull out our boots, and all of our favorite things become even better with a dash of pumpkin spice. In the spirit of my favorite season, I thought I'd share a recipe that uses and pairs perfectly with Blue Moon Harvest Pumpkin Ale, which was the first nationally available pumpkin ale.
The beer is crafted with pumpkin and spices of cinnamon, nutmeg, cloves and allspice for a taste you'll want to fall right into. Here's a fabulous recipe for something sweet that enhances all of these flavors. Give it a try and let us know the results!
Harvest Pumpkin Ale Cupcakes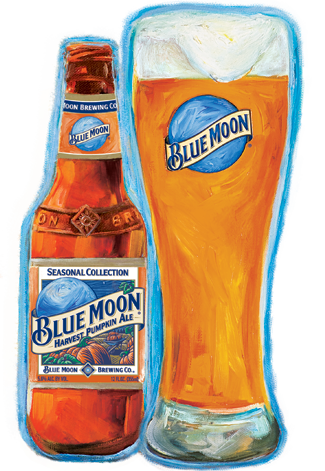 Serves: 12-15 Cupcakes
Prep Time: 20-30 Min.
Cook Time: 20-25 Min.
Difficulty: Easy
Ingredients
2 cups cake flour
2 teaspoons baking powder
1/8 teaspoon salt
1/2 cup unsalted butter, softened
3/4 cup granulated sugar
1/2 cup brown sugar
2 eggs
1 teaspoon vanilla extract
3/4 cup Blue Moon® Harvest Pumpkin Ale
2 tablespoons whole milk
1/2 cup pumpkin pie filling
1/2 teaspoon cinnamon
1/2 teaspoon nutmeg
5 oz. chocolate chips
Cream cheese frosting:
8 oz. cream cheese, softened
1/2 cup unsalted butter, softened
5 cups powdered sugar, sifted
2 tablespoons pumpkin pie filling
2 teaspoons vanilla extract
Directions
Preheat oven to 375°F. In a mixing bowl, sift and combine cake flour, baking powder and salt; set aside. Cream butter and sugar together until completely blended, scraping the sides as you go. Add eggs one at a time, continuing to scrape the sides as you mix. Then add vanilla. In a separate mixing bowl, whisk together beer, milk and pumpkin pie filling along with the cinnamon and nutmeg. Slowly add the pumpkin mixture into the butter mixture. Once combined, start adding in the flour mixture a little at a time until fully incorporated. Finally, fold in chocolate chips. Fill cupcake liners 1/2 – 2/3 full. (Makes about 12–15, depending on the desired size.) Bake for 20–25 minutes until golden brown and a toothpick inserted in center comes out clean. Transfer cupcakes onto a cooling rack, and allow to cool completely.
Cream cheese frosting:
Cream together butter, cream cheese, sugar, pie filling and vanilla until it reaches an icing consistency.