Tom Flores' career in pro football was punctuated by milestones.
First Latino starting quarterback. First to win a championship as a player, assistant coach and head coach. First minority head coach to win it all. First minority team president and general manager.
Despite his status as a football pioneer and a Raiders legend, one thing has eluded Flores: a spot in the sport's hall, an honor Coors Light thinks is long overdue.
That's why the brand this week is launching a campaign to help support The Iceman's bid for football immortality. It includes a 30-second national TV spot that will run in English and Spanish, limited-edition cans emblazoned with Flores' face and a petition to support his election to the hall.
"Year after year, people rally around Tom Flores, hoping this will be the year he's elected to the hall," says Mauricio Suarez, associate marketing manager for Coors Light. "There are a lot of conversations about why he's not in the hall yet. That's why Coors Light wanted to give Tom our platform to let people know about his accolades and why he should be in Canton."
Through Feb. 6, legal-age fans can log onto CoorsLight.com/Iceman to sign the petition of support saying that Flores belongs in the hall. To drum up additional support for his bid, limited-edition Tom Flores cans will begin rolling out in the Las Vegas area, available for purchase at retail locations and on e-commerce platforms.
The TV spot, which features Flores and his grandson, began airing today and will run through Feb. 6. 
 "Although I have a good shot to be in the Hall this year, it's still nice to get a little extra support from my favorite beer -- a beer that I used to distribute back in the day," said Flores. "Self-promotion is not really my thing, but I admit that it's flattering to see my picture on a Coors Light can."
The beer brand is also giving away up to 30,000 beers in the form of a rebate so legal-age fans can toast Flores should he be inducted into the hall next month. (Details can be found at CoorsLight.com/Iceman.)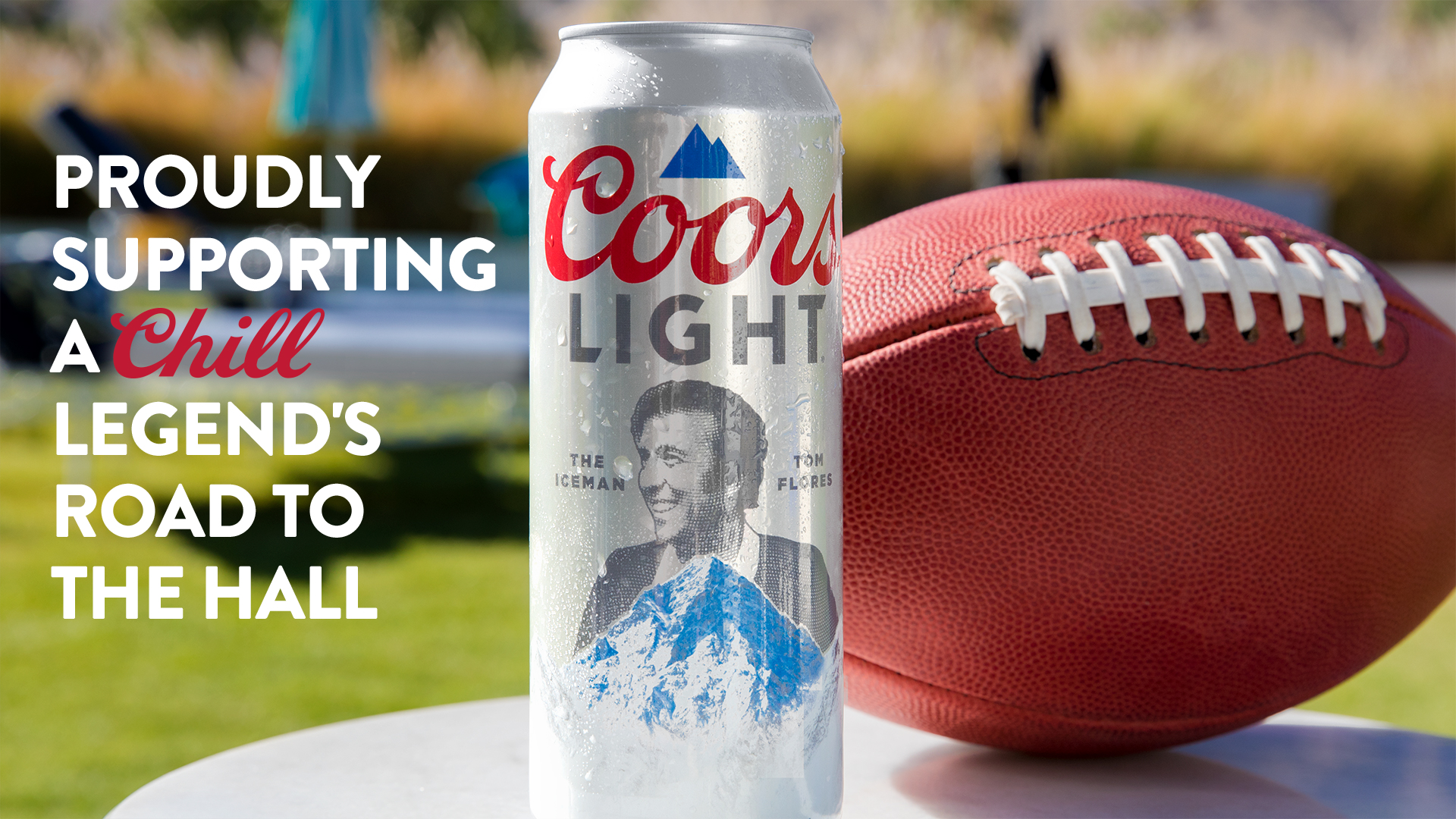 Flores began his playing career in 1960 as an original member of the AFL's Oakland Raiders. In 1969, he won a championship with Kansas City, the franchise's only trophy until it won the title last season. Flores is one of only 20 players to play for the AFL's entire 10-year existence.
His coaching track record is even more impressive. He helped guide the Raiders to a title in 1977 as an assistant coach. And he led the team to two championships, in 1980 and 1983, as a head coach. He is second all-time in league postseason wins, and he boasts the highest winning percentage of all Raiders coaches, three of whom already are in the hall.
After his coaching days, Flores owned a company that distributed beer, including Coors Light. When Coors Light learned of the connection, it only made sense to support his Hall of Fame bid, Suarez says.
"Tom Flores embodies 'chill,'" Suarez says. "He was called 'The Iceman' because he didn't feel the pressure. There's a natural connection between Coors Light and this trailblazer."
Now he has the chance to be enshrined in the Hall.
"We're honored to put Tom on our cans, but we won't chill until he's carved out of bronze," said Marcelo Pascoa, global vice president of marketing for Coors Light. "With few Latino players currently in the hall, we believe 'The Iceman' deserves to be recognized for being an outstanding player and coach who broke barriers for other Latino athletes. We hope this platform helps Flores inspire even more people than he already has."
In July, Molson Coors Beverage Company was named an official partner of the Raiders and a founding partner of Allegiant Stadium, their new home in Las Vegas. To commemorate the partnership, the beverage maker put the Raiders' emblem on cans of Coors Light sold at the stadium and around the Las Vegas area.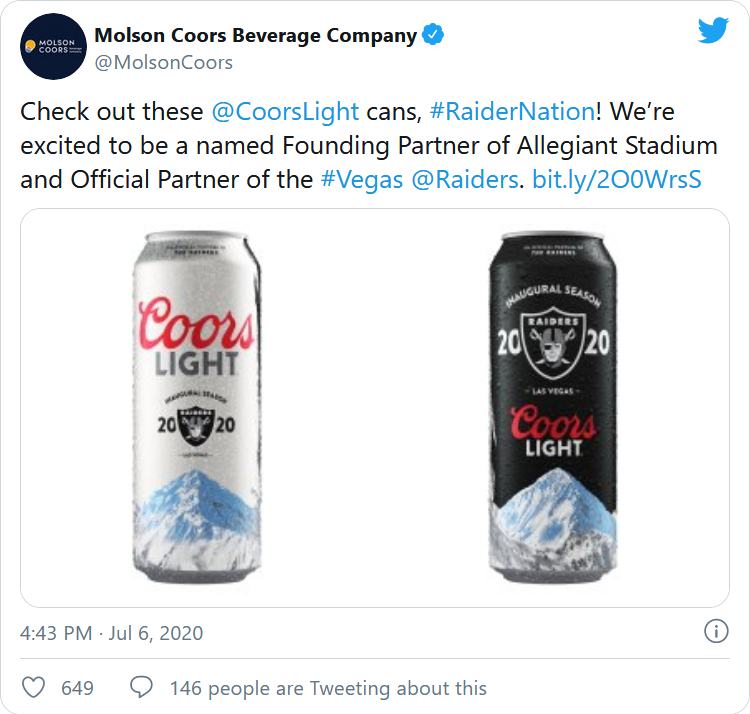 Check out these @CoorsLight cans, #RaiderNation! We're excited to be a named Founding Partner of Allegiant Stadium and Official Partner of the #Vegas @Raiders. https://t.co/YVtEhMS7jn pic.twitter.com/9jVNKtWPnn

— Molson Coors Beverage Company (@MolsonCoors) July 6, 2020