Coors Light's summer is looking bright.
The latest installment of the beer brand's "Made to Chill" campaign is a new seasonal look that marries its famous snow-topped Rocky Mountain iconography with a ubiquitous symbol of summer: A pair of shades. And, just like the mountains on Coors Light's standard cans, the sunglasses feature the same technology that turns them blue when the beer is cold and ready to drink. 
The brand's new sunglasses-themed cans and packages debuted earlier this month, and mark the first time Coors Light is using its new logo: an avatar of a mountain that appears above the traditional Coors Light script. The brand is also rolling out a new TV and digital advertising campaign along side a consumer promotion supporting the packaging this week.
"Sunglasses are an iconic symbol of summertime chill, and we're hopeful that linking the technology to the frames on our can will introduce a new wave of legal-age drinkers to a truly unique element of our packaging," says Katie Powell, associate marketing manager for Coors Light.
Coors Light's new packaging, which is anchored by a pair of oversized sunglasses is now in stores, just in time for the important and competitive summer stock-up season. The new cardboard packs also make for an eye-catching, stackable display that's easy for retailers to execute, a critical feature to win floor space during a time of year when beer sales are taking off, says Powell. 
"Because it looks so different, the new packaging commands a display, and it's really easy to execute," she says. "You can drop it and get the summer iconography without having to put up additional POS. Plus, the sunglasses frame is literally a window into our signature mountains. The package is unmistakably Coors Light but executed in a fun way for summer."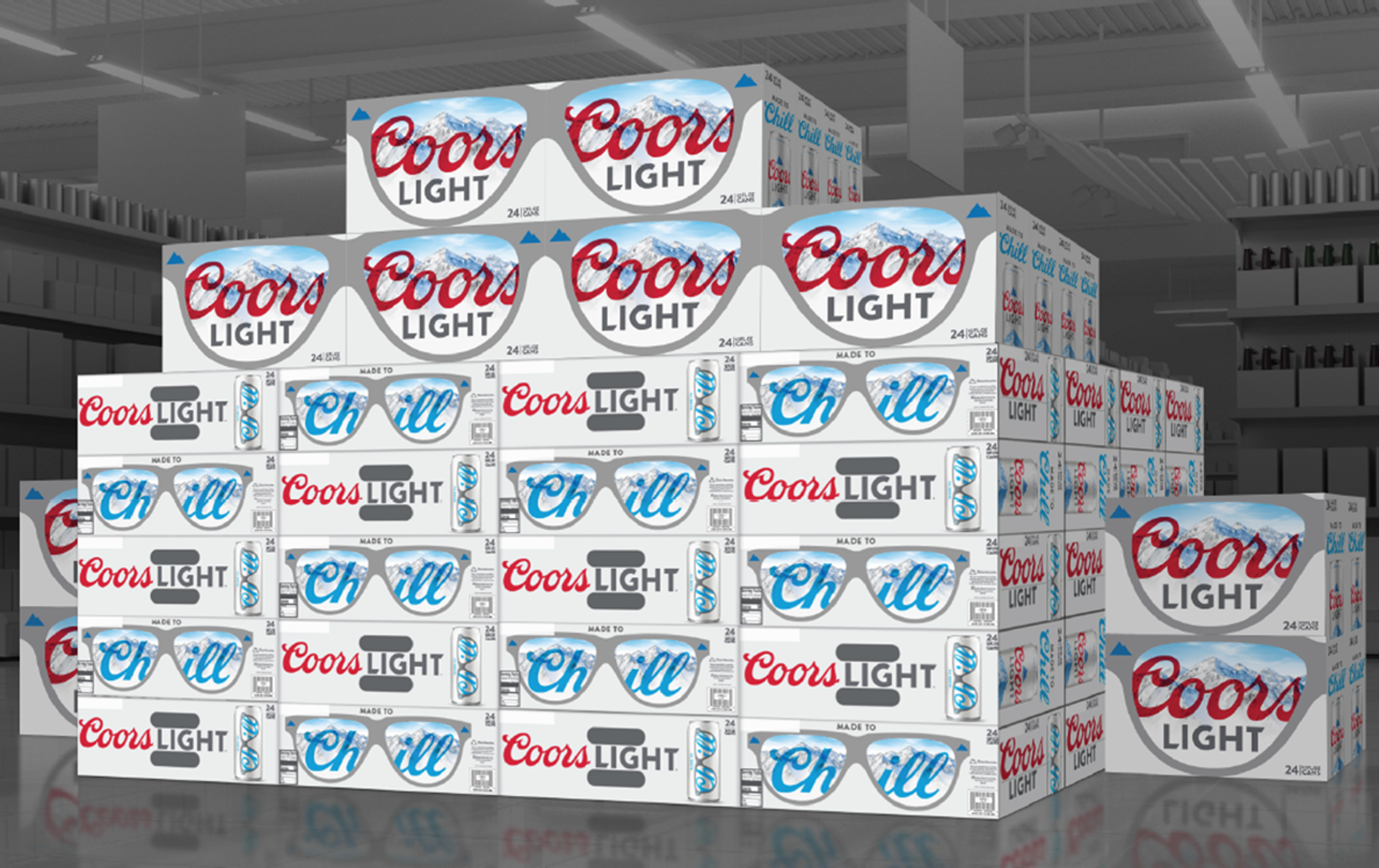 And because the new summer packaging is a departure from what consumers are used to seeing, Powell says the brand is excited to see how it performs.
"The one thing we know about Coors Light, especially in the summer, is that when we are on display, we have a higher lift than most of our competitors. This packaging gives our network a great tool to execute at retail, and hopefully drive volume for the brand, our retailer and distributor partners," she says.
The brand is backing the campaign, which went live last week, with new 6- and 15-second ads, called "Float," featuring Coors Light's signature mountain in the background as the new summer cans float along a river in a valley below. The spots will air across television, digital and online video mediums.
Its new packaging and updated campaign come as Coors Light has been on a hot streak, fueled in part by the trend of pantry stocking as more consumers are under stay-at-home orders. That's spurred a movement of consumers into larger packs of trusted brands, and Coors Light has benefited, with case volume up 6.4% year-to-date and 14.3% over the most-recent four-week period, according to Nielsen all-outlet and convenience store data through May 9. It also has picked up 0.8 points of share in the premium lights segment over that same period, joining Miller Lite, which also has gained 0.8 points. Both brands' share gains come at the expense of chief competitor Bud Light, which has shed 1.6 points of share.
And while much remains uncertain about how this year's summer selling season plays out, Coors Light's summer campaign and its whimsical "chill" packaging aims to connect with drinkers – whether at home or again among friends – with an interactive component on its thermochromatic cans, which turn blue when they reach the ideal drinking temperature.
"We hope the sunglasses design on the can encourages consumers to have some fun and interact with our packaging," says Powell. "Once you see it, you can absolutely envision someone holding it to their face, snapping a photo and sharing it on social."
Legal-age drinkers who post a photo on Instagram or Twitter of themselves holding the can up to their eyes, along with the hashtags #TakeTimeToChill and #Sweeps, will automatically be entered to win one of 1,000 pairs of Ray-Ban sunglasses, Powell says. The promotion begins today and runs through Memorial Day.