The holidays are quickly approaching, and for many of us, this is the time of year we open our homes to friends and family. You've probably been skating by at social occasions by whipping out some beer...and what? Making sure it's cold enough? Talking about how delicious it is? Telling folks where they can get it?
What if you took it one step further? What if you blew people's minds with a beer DINNER? What if you spent just a few minutes talking to them about the ingredients in the beer and how they mingle with the food, and forever imprinted your beer magic into their brains?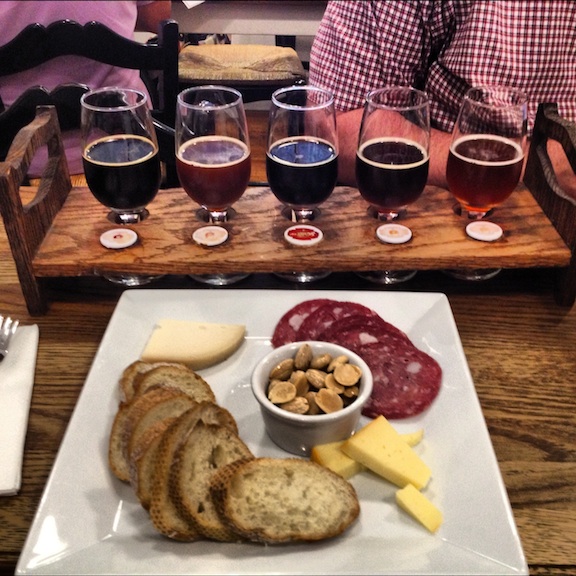 It sounds tough, right? Like a lot of work? Not really. More work than ordering a bunch of pizza? Yes. But worth every minute? Absolutely! A beer dinner is more than just grabbing a bite to eat and selecting a brew. It's an immersive experience that lasts several hours in order for attendees to truly understand the intricate nature of their meal and pairings to go with each item.
While the permutations are endless, in order to efficiently plan, you need to know how big your audience will be and what your format will be. This round, we're going to focus on an actual sit-down dinner. Look for a future write-up on pairing party snacks for larger gatherings.
Considerations:
Beer
Food
Serving Method
Glassware
The Beer:
Generally when I put together pairing menus, I like to start with the beer. I think about what is in season, what's available in my market, managing the order of the beers and what my audience might like.
You'll typically want to run from lighter styles to darker and heavier styles. No point in busting the palate early on. This will also mirror your food choices. If you want, you can hold onto something sweeter (think Crispin Original or Leinie's Berry Weiss) for a dessert course, but you're not limited to those. You can also stick to all one brewery if you like, but I like to brag about all of our beers, so I'll typically pull from across the portfolio.
You'll also want to consider how much beer you need. For some of the darker, heavier beers, I might not expect my guests to drink an entire bottle. In fact for most of the pairings I'll start with 6-oz. pours to go with each course, but have extra of everything on hand in the event someone would like seconds. We always want to encourage responsible consumption, though!
Also, pick a manageable number of courses. We have so many great beers; my initial list is always too big! For doing something in your home, start off with four courses to make your life easy. Once you're used to the flow and become legendary for your beer dinners, you can grow them. When we do these for retailers or at a restaurant, we typically have catering and serving staff to assist. In your own home, you're going to be doing all the running, so keep things easy so you can enjoy yourself as well.
The Food:
I am working under the assumption that if you are taking on this endeavor that you like to cook. But it's not the only route. I've put together entire beer pairings with carry-out and delivery from assorted restaurants. But for now, I am going to pretend you like to cook.
Bonus—we have a perfect recipe resource created by MillerCoors. Pints and Plates works on your phone and your computer, and you can refine your search by course. AND, it gives you a shopping list. It will basically do all your planning for you.
Timing with a multi-course meal is a big deal. And frankly, if you have to get up and down 15 times to serve your guests, that's stressful for you and probably also makes them a little uneasy. So my suggestion, for this first-time beer dinner in your home, is to go appetizer –> salad –> main –> dessert. If you want to incorporate more beer into the menu, consider actually cooking with it (now I'm blowing my own mind!)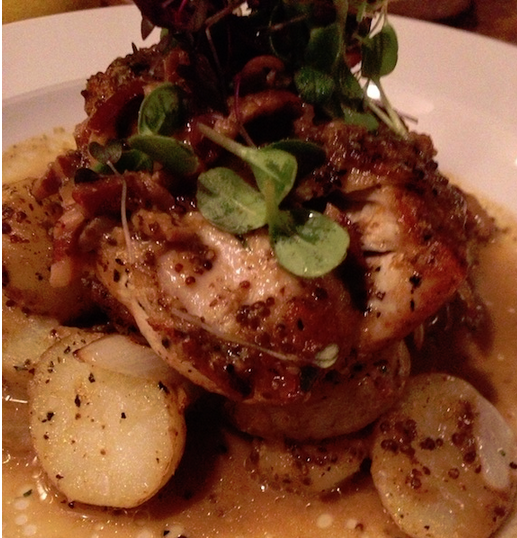 Serving Method:
Again, the goal here is to minimize your trips to the kitchen and maximize your time with your guests!
For the appetizer, you can go hot or cold and have it ready when your guests arrive. It can give them a chance to mingle while you're wrapping up in the kitchen, and since it would likely be paired with a lighter style of beer, you can feel okay about handing them a full bottle to go with it.
You can prep the salad ahead of time and either have it pre-plated in chilled bowls or just provide a large serving vessel for people to serve themselves from on the table. If you're offering some specialty toppings as part of your pairing (goat cheese, mandarin oranges, candied nuts, etc.), consider passing those separately so people will get all of them on their servings.
For the main course, it may be easiest to plate in your kitchen and serve. Depending on how intricate you go and how many sides you involve, you may also offer these items passed at the table.
Dessert can also be hot or cold (Crispin Honey Crisp Cider Floats, anyone?), so you'll just need to determine the best way to get these items to your guests. If you go warm, consider some individually baked cobblers or chocolate cakes for ease of serving.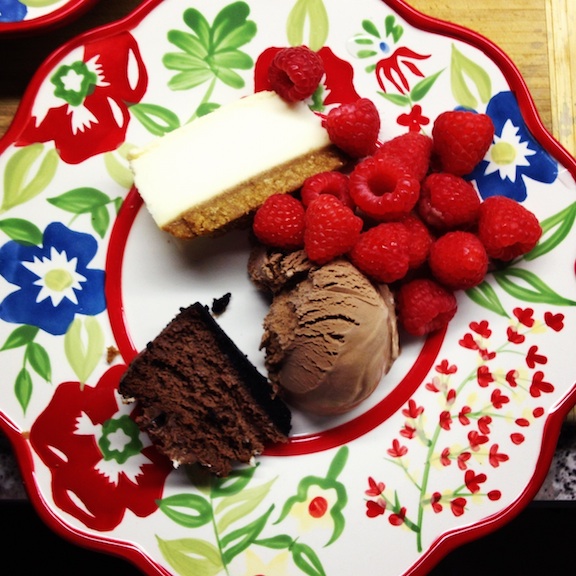 You can keep the actual bottles chilled in a nearby cooler in your dining area or a few buckets around the table. Just be sure to direct your guests on what to pour when. Have bottle openers handy (even for twist-offs) to keep it classy.
Glassware:
When thinking about getting the beer to people, focus on making your life easier here as well. If you have enough glassware for each course, great, but if not, pick one good glass (I'd recommend a snifter) and provide some pitchers and dump buckets for people to give a rinse in between courses. And please, start with beer clean glasses!
Sample Menu:
So, those are the basics. You might want to prepare a few notes on each course so you can wow your guests with your knowledge of hops or why that chicken tastes so good with that Leinie's Hoppin' Helles (which Pints and Plates handily offers!). People love factoids about their beer and our breweries, so I always like to jot down some historical information and awards or other recognition the beer has in the marketplace.
Appetizers:
Mini Quiche Lorraine paired with Blue Moon Belgian White
Creamy Dill Cucumber Toasties paired with Miller Lite
Salad:
Winter Fruit Salad with Lemon Poppyseed Dressing paired with Crispin Original
Main + Side:
Grilled Pork Chops paired with Pilsner Urquell
Cinnamon Orange Glazed Carrots made with Orange Shandy
Dessert:
Chocolate Cream Pudding paired with Leinenkugel Snowdrift Vanilla Porter
Boom! You are now an international beer dinner rock star. The only danger is that people will always be clamoring to come to your house for dinner and you'll suddenly be wildly popular. But there are worse problems to have. Cheers!